Kings' Tanner Pearson is suspended four games, including first two of regular season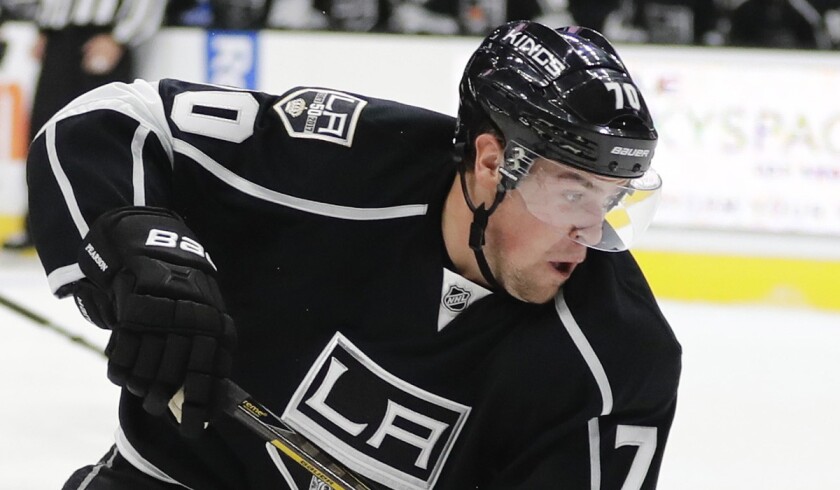 The Kings are dealing with issues up front as they will be without two of their top forwards next week for the start of the regular season.
On Wednesday, the NHL's Department of Player Safety suspended left wing Tanner Pearson for four games — two exhibition and two regular-season contests — for an illegal check to the head of Edmonton Oilers defenseman Brandon Davidson.
The incident occurred in Sunday's preseason game between the Kings and Edmonton at Vernon, Canada.
"How they come up with that, I don't really know," said Kings Coach Darryl Sutter, adding the contact was accidental and "not premeditated."
Already, the Kings were without winger Marian Gaborik, who will be out for several more weeks after suffering an injury to his right foot during the World Cup of Hockey last month. Center Nick Shore's status is unclear. He has been off the ice since an undisclosed injury from a fall in an exhibition game last week against Colorado.
The Kings have two more preseason games, both at Las Vegas, on Friday and Saturday. Their regular-season opener is at San Jose on Wednesday and they play host to the Philadelphia Flyers at Staples Center on Oct. 14.
Pearson will be eligible to return Oct. 18 at Minnesota.
Some believed Pearson, who loses $15,555.56 in salary, might receive a lesser penalty because he is not a repeat offender.
"I didn't really mean to contact the guy. … The way the game is now ... it's one of those things," Pearson said of the hit. "It happened. It's over with. And I've got to pay the consequences."
The nature of Gaborik's foot injury has limited his training and he remains on crutches, Sutter said.
"A lot of times with boot injuries, you can start walking," Sutter said. "He can't because it's got to be non-weight-bearing, just the way it's broke. Otherwise, he's going to move those bones around. ... He can't do anything yet."
After six players were sent to the Kings' minor league affiliate in Ontario, 34 players remain in training camp.
Follow Lisa Dillman on Twitter @reallisa
---
Get the latest on L.A.'s teams in the daily Sports Report newsletter.
You may occasionally receive promotional content from the Los Angeles Times.