Prospects Linden Vey, Tyler Toffoli join Kings after long strange trip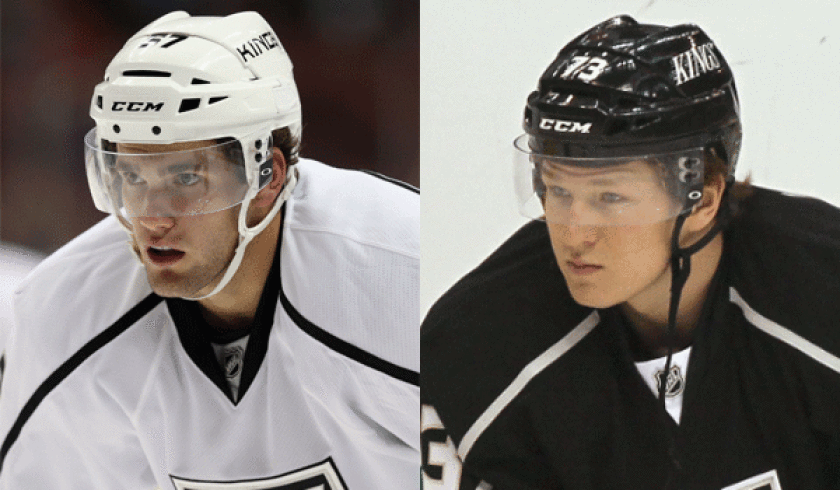 Their day started at the airport at 6 a.m. in Manchester, N.H., and they finally touched down in Orange County late Friday night.
In between, there were two canceled flights and a trip back to Linden Vey's place in Manchester. They were among the masses of travelers affected by flight delays around the country in the aftermath of the shooting at LAX.
This resulted in a rerouted trip to Southern California for Vey and Manchester linemate Tyler Toffoli, starting in Boston and going through Chicago.
But the two prospects looked like eager kids on the first day of school after Saturday's morning skate in El Segundo. They have been playing and prospering with the Kings' American Hockey League affiliate in Manchester and were called up after Jeff Carter's injury, though they were routed through Ontario (Calif.) of the East Coast Hockey League, a move done on paper because of salary cap and roster issues.
You might say they didn't get here the easy way.
"It was a long day but we're excited to be here, obviously," said Vey.
Vey is poised to make his NHL debut but it was unclear whether it would be Saturday night against Nashville. He was scheduled to center the fourth line.
Toffoli, who played 10 games last season and 12 more in the playoffs, was listed on the second line with left wing Daniel Carcillo and center Mike Richards.
Toffoli said he was taking a nap and missed several calls from Vey and one from Kings General Manager Dean Lombardi on Thursday night. Lombardi wanted to meet with the players, but they were initially worried.
"I didn't really know what to expect. . . . We were just trying to go through our heads and see what we did wrong for Dean to have this meeting with us," Toffoli said. "Fortunately, it was a good meeting for us."
Kings Coach Darryl Sutter cautioned against high expectations for the kids. Vey is 22, Toffoli is a year younger. They combined for 23 points in Manchester's first 10 games.
"We put too much pressure as an organization on those players to play on the team, when they're just boys," Sutter said. "It's not like we're a last-place team. It's not like we have a division title clinched. He's trying to play on a good team. It's not that easy.
"We should get excited about all those players. . . . You should get excited about them, but they're boys. Let them take baby steps. If you expect them to take a big step, then you're not being fair to the player."
Twitter: @reallisa
---
Get the latest on L.A.'s teams in the daily Sports Report newsletter.
You may occasionally receive promotional content from the Los Angeles Times.