Austin Wagner's speed has helped him make a quick rise in Kings organization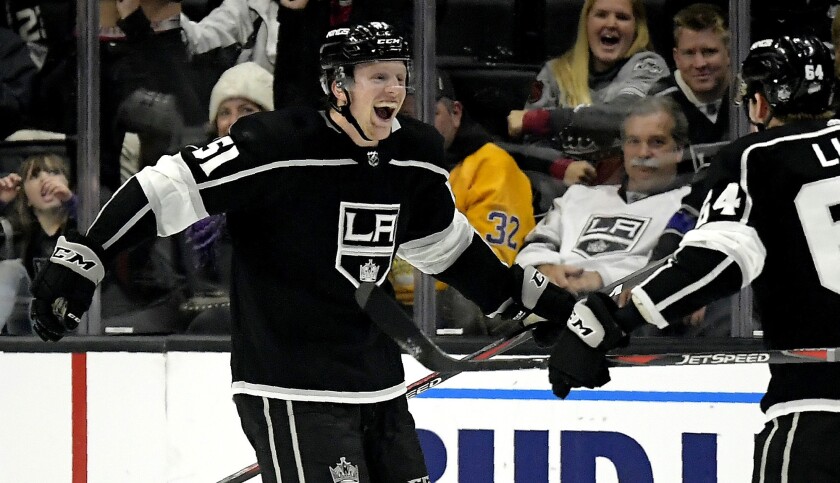 Reporting from edmonton, canada —
To get an idea of how fast Austin Wagner skates, just listen to the Kings defensemen who have to track him in practice every day.
"It's impossible to chase him down," Oscar Fantenberg said. "Keep him in front of you. That's the key. You have to control his lane a little bit more than some of the other guys. If he gets a chance [going] down the ice, he's gone."
Paul LaDue said he just turns around and skates forward when Wagner gets a head of steam. Dion Phaneuf, a 14-year veteran, said, "I look at his speed, and it's world-class speed."
Wagner once called it, "God's gift, I guess," and it's made him one of the more intriguing forward prospects to come through the Kings organization recently. In his NHL debut, Wagner served notice when he slipped behind San Jose Sharks defenseman Erik Karlsson for a chance. He's a threat for a breakaway on every shift, and that threat alone helped him make the Kings roster out of training camp.
Wagner scored his first goal on Nov. 21, and his rookie season is expected to take a personal turn Friday when he has a homecoming in Calgary, along with fellow Calgary-product Sheldon Rempal. On a line with Adrian Kempe and Matt Luff, Wagner is trying to make the most of his second call-up, especially with injuries to Carl Hagelin and Trevor Lewis and the demotion of Ilya Kovalchuk.
"There's a break-in period with these kids, for sure," general manager Rob Blake said. "But he's got a special unique talent that we lack. It's high end. It's not just average."
The red-headed Wagner is lean at 6 feet 1 and 178 pounds, and he generates speed with a stride in which his upper body is bent forward more.
"It worked for me when I was young," Wagner said. "I never found a reason to change it and tweak it. Yeah, there were people when I grew up that tried to tweak it, but I always went back to how I feel was most comfortable."
Wagner, 21, never took power-skating lessons and said he didn't start to use his speed in the right way until he was 17. He credits his junior coach, John Paddock, for giving him more opportunity by playing him in all situations. Wagner scored 78 goals in three seasons with the Regina Pats and was a fourth-round pick in 2015. The only other player from that Kings' draft class to play in the NHL is Erik Cernak, since traded to the Tampa Bay Lightning, with Peter Budaj, in the 2017 deal that brought Ben Bishop and a draft pick.
The next step is for Wagner to finish on the scoring chances he creates. Assistant general manager Michael Futa remembers sitting next to Colorado Avalanche general manager Joe Sakic at a game in Kelowna, Canada.
"Who do you have?" Sakic asked Futa.
"We've got the Wagner kid," Futa told Sakic. "You're going to love him. He's an NHL skater already. He's probably going to have, like, three breakaways tonight."
Sakic laughed before Futa said, "I'm not sure he's going to score on them."
Futa said it's a matter of Wagner slowing the game down in his head as he hones in on a scoring chance. Prolific scorers in junior hockey often have trouble translating that to higher levels, but Futa said Wagner can put it together for, at the very least, modest production in the NHL.
"And there's no question that once he gets a little more comfortable at this level, he gets a couple of bounces and those are going to start going in," Futa said.
Wagner's development is ahead of pace considering he had surgery to repair a torn labrum and biceps tendon in the summer of 2017. He's only 13 games into his career and he understands the process.
"It's not easy to play here, and I'm learning that every day," Wagner said. "But I'm just trying to work on the skills I need to work on to be successful in this league, but it takes time."
UP NEXT
AT EDMONTON
When: Thursday, 6 p.m. PST.
On the air: TV: FS West; Radio: iHeartRadio (LA Kings Audio Network).
Update: Jonathan Quick could return from injury to go for his first win this season. He is 21-5-5 with a 1.85 goals-against average against Edmonton. Mikko Koskinen shut out the Dallas Stars on Tuesday to give Ken Hitchcock his first home win as Oilers coach.
Twitter: @curtiszupke
---
Get the latest on L.A.'s teams in the daily Sports Report newsletter.
You may occasionally receive promotional content from the Los Angeles Times.