Column: Kings get to celebrate more than just a victory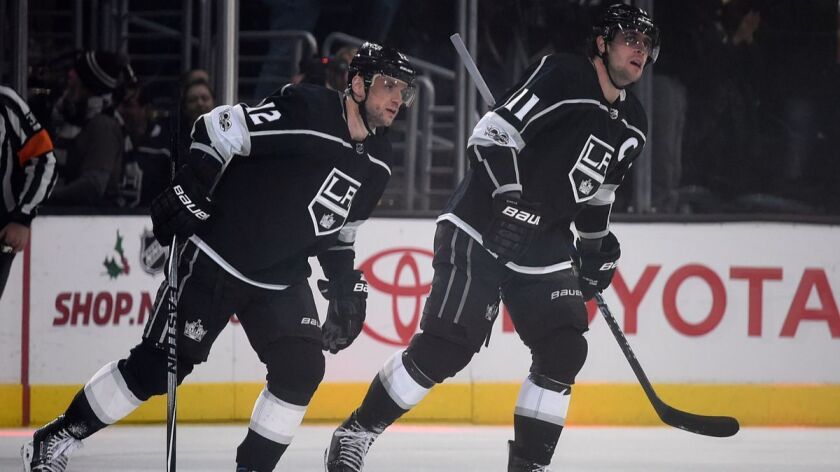 Anze Kopitar is usually thoughtful and articulate in interviews with reporters, but when a certain question was posed to the Kings captain the other day, a look of exasperation crossed his face and his tone reeked of annoyance.
What, he was asked, can he learn from the struggles he experienced during the nightmare that was his 2016-17 season? His answer was curt.
"Can we stop talking about last year at some point?" he said.
Tuesday night was that point.
Kopitar set up Marian Gaborik twice in the third period, once for the tying goal and again on a goal that was a milestone for both players, and also scored into an empty net as the Kings rallied for a 5-2 victory over the Minnesota Wild at Staples Center and extended their winning streak to six games.
On that fourth goal Kopitar won a faceoff and got the puck to Gaborik, whose shot went off the stick of defenseman Matt Dumba and past goaltender Devan Dubnyk. It was the 400th goal and 800th point for Gaborik, who is seven games into his return from a knee procedure, and the 500th assist for Kopitar.
The Slovenian center now has a team-leading 15 goals and team-best 34 points in 29 games; he had merely 12 goals and 52 points in 76 games last season, the first time in 10 seasons that he was not the Kings' top scorer.
The Kings' biggest problem once they overcame a sleepy first period was how Kopitar and Gaborik would share the puck that produced their simultaneously memorable moment. But that dilemma was solved quickly.
"I told them I'd take it," said coach John Stevens, who moved Gaborik up to the top line with Kopitar and Dustin Brown during the second period because he liked Gaborik's jump and because he thought Gaborik would fare better than Alex Iafallo was doing against Minnesota's big forwards.
"I'm happy for those guys," said Stevens, who scored no goals in his 53-game NHL career. "Kopi's just been a horse all year and Gabby's worked so hard to come back and really wants to play and be a productive player. Four hundred, it's impressive to me to see that type of numbers and Gabby at his age and the injuries he's fought to be that good a player. Kind of fitting that those two guys would partner up on a milestone like that."
Kopitar and Gaborik, 35, had played together before, and their chemistry was obvious as soon as they were reunited Tuesday.
"You give him the puck in the areas that he needs them to score, more often than not he's going to put it in," Kopitar said. "And that's what we're going to need from him going forward, too."
The Wild had scored first, at 10 minutes 30 seconds of the second period, when defenseman Charlie Coyle got a step on Kings center Adrian Kempe and darted into the slot to redirect a pass from Chris Stewart past Jonathan Quick. The Kings matched that at 14:24, on a goal by defenseman Jake Muzzin. Nick Shore made it possible with a slick backpass to Drew Doughty, who earned the first of his three assists when he found Muzzin at the top of the left circle for a slap shot that got past Dubnyk's glove.
Minnesota came back to regain the lead at 15:34 after Tyler Ennis' second wraparound attempt got past Quick, but the Kings took over the rest of the way.
"The third period was huge for us," said Gaborik, who began his NHL career with Minnesota. "We were more desperate. We tried to create more energy within our group and tried to play more in their zone and just desperation."
That paid off when Gaborik finished off a two on one with Kopitar and tied it at 4:35. The Kings got a lucky bounce when Kempe's centering pass caromed off defenseman Jonas Brodin and into the net at 12:38, and benefitted again when Gaborik's shot deflected off Dumba and into the net for a 4-2 lead at the 14-minute mark.
Kopitar sealed it with the empty-netter with 56 seconds left, giving the announced sellout crowd more reason to celebrate.
"I'm very proud of it," Gaborik said of his 400 goals. "Congrats to Kopi for his 500th assist. It's kind of ironic he gets it on my 400th goal and it's against my former team as well."
Follow Helene Elliott on Twitter @helenenothelen
---
Get the latest on L.A.'s teams in the daily Sports Report newsletter.
You may occasionally receive promotional content from the Los Angeles Times.