Kings, Ducks use top picks on promising European centers
Rasmus was the name of the day at the NHL draft. Will it be the name of the future for the Kings?
Their top pick, Rasmus Kupari, was one of three players named Rasmus taken in the first round Friday, and though he didn't carry the hype of Buffalo's No. 1 selection Rasmus Dahlin, the optimism of draft day still percolated down the board.
The Kings and Ducks stocked up on European centers with Kupari as the Kings' No. 20 pick and Isac Lundestrom as the Ducks' No. 23 pick on a draft day with only one significant trade.
Kupari and Lundestrom are similar in size and career trajectory and fill depth needs in giving the Kings and Ducks strong-skating forwards to eventually plug into their lineups. The Kings had discussions but did not come close to moving up in the draft and were satisfied with the 6-foot-1, 188-pound Kupari, an 18-year-old from Finland who compares well with Kings winger Adrian Kempe.
"We've got to keep adding to our shelves," Kings assistant general manager Michael Futa said. "We've got some good young players coming up. This guy brings an element of speed. His skating is very comparable to the way Kempe skates. He's got a great shot off the rush.
"Holding on to our first-round pick — you see some of these teams that don't have picks, it's got to be frustrating for them. For us, to be able to continue to add … untapped talent — we've got to find it everywhere."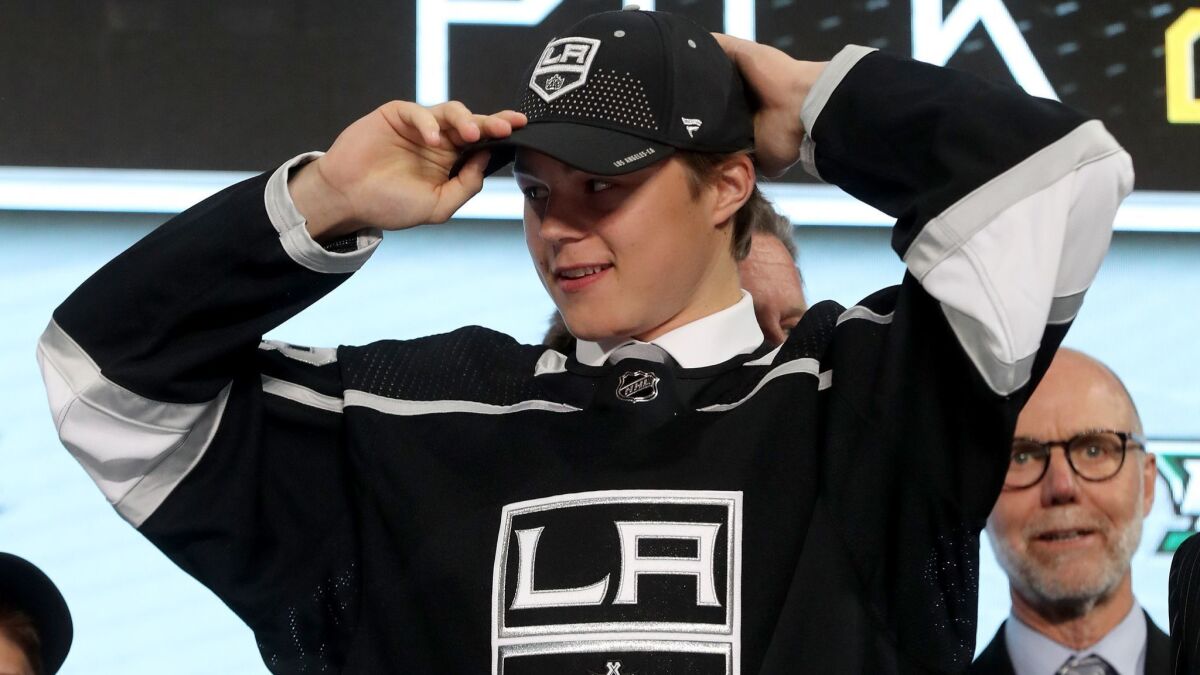 Kupari's skating is considered his biggest strength. He played against older players in Finland's top professional league, which fast forwarded his development.
"You have to be much more smarter and there are bigger guys and you have to be tough in battling situations," Kupari said. "I'm quite smaller and I have to look for ways how I can survive and do my things."
Kupari is expected to play another season in Europe before he adapts to the North American game, much like Kempe did. His cultural adaptation will be another aspect. He's never been to Los Angeles. One of his idols, Teemu Selanne, is a Southern California resident.
"It's been my dream all my young career and I'm very happy and excited for that," Kupari said. "I think I'm going to work hard and believe my dream that I'm going to play in the NHL."
The 6-foot, 185-pound Lundestrom, like Kupari, cut his teeth early. He became the youngest scorer for his Swedish team, Lulea, just before his 17th birthday. Lundestrom skated on the top line for Sweden in the World Junior Championships and has been compared to Henrik Zetterberg.
"He plays the right way, a solid two-way player," Ducks general manager Bob Murray said. "He had a great World Junior tournament and that's saying something. Very bright. We are really happy with him."
Lundestrom was aware that the Ducks have a notable Swedish flavor with Hampus Lindholm and Rickard Rakell, among other countrymen.
"I obviously looked up to them as a kid," Lundestrom said. "I know they're good hockey players and they've done a lot for Anaheim now. They're really, really good players. I hope I will be one of them."
It was an underwhelming day for transactions. The only major trade was the Washington Capitals sending Phillip Grubauer and Brooks Orpik to the Colorado Avalanche for a second-round pick to clear salary cap space.
But there are some loose ends hanging. The Kings are one of a reported four teams with an offer to Ilya Kovalchuk, a 35-year-old scoring winger looking to get back into the NHL after five seasons spent in Russia.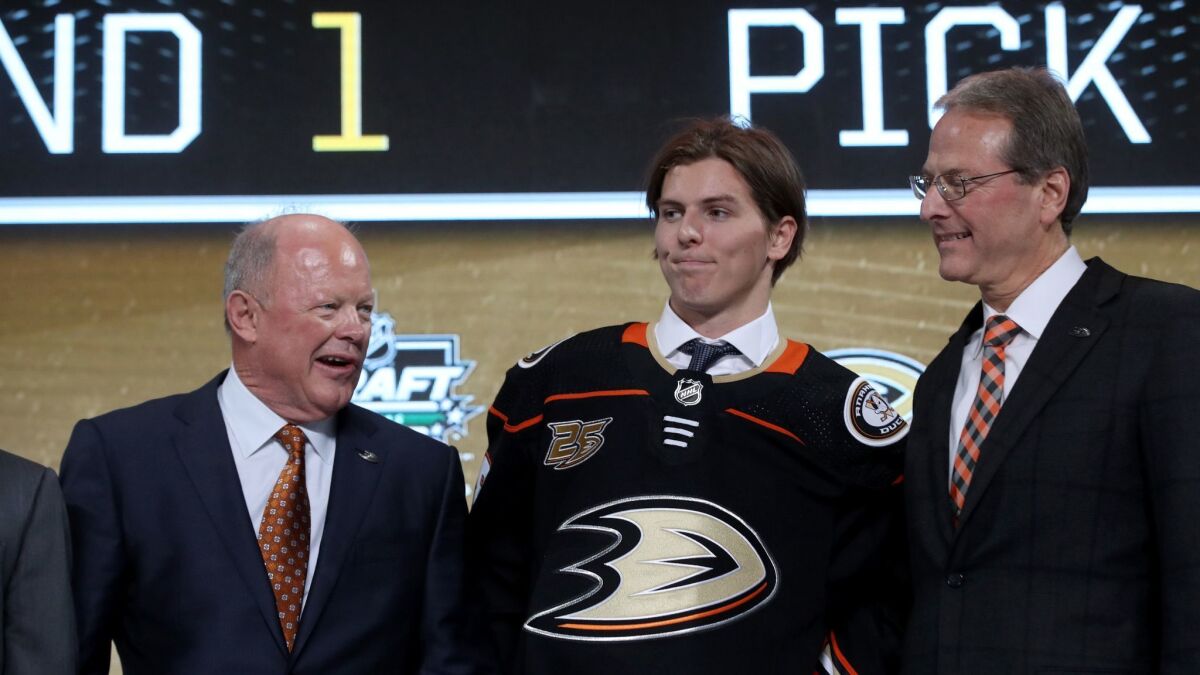 "Still early in the works," Kings general manager Rob Blake said in a television interview. "We'll kind of see how that plays out."
Dahlin became the first defenseman to be selected first overall since Aaron Ekblad in 2014, followed by Andrei Svechnikov, considered to be the most skilled offensive player in the class. For the first time in NHL history, the top six picks represented six different countries.
The remainder of the draft is Saturday. The lasting images of Friday were the faces of boyish-looking teenagers such as Kupari, who was on stage with Kings draft runner Scott Moeller, 12, son of Kings senior director of communications Jeff Moeller.
Said Futa of Kupari, "I think him and Moeller's son were the two youngest kids on the stage."
Ducks assistant coach Steve Konowalchuk was relieved of his duty, a team official said. Konowalchuk spent one season with the team.
Saturday: Rounds 2-7, Dallas (8 a.m. PDT; TV: NHL)
KINGS PICK
Rasmus Kupari
First round, No. 20
Position: Center
Height/weight: 6-1, 188
Finnish club: Karpat
Scoring: 2017-18, 30 games, 6-8-14
Highlights: Helped Finland finish sixth in World Junior Championships . . . Played for Karpat in Finland's top professional league as a 17-year-old for much of last season.
KINGS PICKS
Round 2, No. 51
Round 3, No. 82
Round 4, No. 113
Round 5, No. 144
Round 6, Nos. 165 and 175
DUCKS PICK
Isac Lundestrom
First round, No. 23
Position: Center
Height/weight: 6-0, 185
Swedish club: Lulea
Scoring: 2017-18, 42 games, 6-9-15
Highlights: Helped Sweden win silver medal in World Junior Championship, joining No. 1 pick Rasmus Dahlin as only draft-eligible players to make Sweden's team.
DUCKS PICKS
Round 2, No. 54
Round 3, Nos. 79 and 85
Round 4, No. 116
Round 5, No. 147
Round 6, No. 178
TOP OVERALL PICKS
1. Rasmus Dahlin
Buffalo, D, 6-2, 181
2. Andrei Svechnikov
Carolina, RW, 6-2, 188
3. Jesperi Kotkaniemi
Montreal, C, 6-2, 181
4. Brady Tkachuk
Ottawa, LW, 6-3, 191
5. Barrett Hayton
Arizona, C, 6-1, 190
6. Filip Zadina
Detroit, RW, 6-0, 196
7. Quintin Hughes
Vancouver, D, 5-10, 173
8. Adam Boqvist
Chicago, D, 5-11, 165
9. Vitali Kravtsov
N.Y. Rangers, RW, 6-3, 184
10. Evan Bouchard
Edmonton, D, 6-2, 195
Twitter: @curtiszupke
Get the latest on L.A.'s teams in the daily Sports Report newsletter.
You may occasionally receive promotional content from the Los Angeles Times.