Slava Voynov's suspension is reduced, but he won't play for Kings again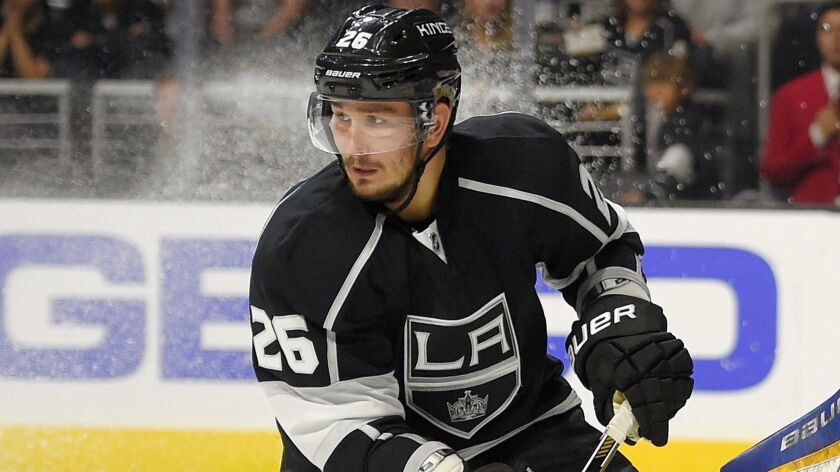 The lengthy domestic abuse case of former Kings defenseman Slava Voynov ended Thursday when the team cut ties with him after his season-long suspension was cut in half by an independent arbitrator.
The Kings in a statement ruled out the possibility that Voynov would play with them when he is eligible to return to the NHL halfway through next season, more than five years after a Halloween party episode in which he allegedly punched, choked and shoved his wife.
"From our perspective, the player will not be playing for the Kings," the statement read. "We will now determine the impact of the arbitrator's decision on our rights to the player and consider our options going forward."
Voynov's suspension for the 2019-20 season was upheld Thursday by arbitrator Shyam Das, but Das "found that he is to be credited with having already served 41 games of such suspension during the 2018-19 regular season," according to a joint statement by the NHL and NHL Players' Assn.
The Kings are believed to retain Voynov's rights through his status on the voluntary retired list. They terminated Voynov's six-year, $25-million contract in 2015. Voynov, 29, was a member of their 2012 and 2014 Stanley Cup-winning teams and last played for the Kings in October 2014. Kings general manager Rob Blake declined to comment when asked if other teams have inquired about Voynov.
In a separate release, the NHL said that Das cited various "highly unusual facts and circumstances [which] were not contemplated by the drafters of the [Collective Bargaining Agreement] and do not easily fit into its procedures."
The league's release went on to state that "while we do not believe Mr. Voynov was entitled to any 'credit' for time missed during the 2019-20 season, we accept Arbitrator Das' conclusion that the precise factual context here was unusual — including the fact Voynov has not played in the NHL since October of 2014, and that he did not play professional hockey at all during the 2018-19 season."
The NHL does not have a policy on domestic abuse, but there is language in its CBA that allows the league to suspend a player "where the failure to suspend the player during this period would create a substantial risk of material harm to the legitimate interests and/or reputation of the league."
The ruling should be the final disciplinary action for Voynov in a case that began with an incident in October 2014. His wife, Marta Varlamova, told police that Voynov punched her and choked her with both hands during a party. Varlamova also alleged that Voynov shoved her into the corner of a flat-screen television.
"My blood, all over bedroom and bathroom," Varlamova said in a recording. "And it's not the first time." Varlamova also said of Voynov that "he's very aggressive every time."
Voynov pleaded no contest to a misdemeanor charge of corporal injury to a spouse in 2015. He was suspended by the league indefinitely and served nearly two months in jail before he returned to Russia. Voynov had the misdemeanor domestic abuse conviction expunged last summer. Los Angeles Deputy Dist. Atty. Frank Dunnick objected to the dismissal because of a lack of evidence that Voynov complied with his court-ordered requirements and argued that Voynov could not be properly monitored in Russia.
Voynov played for St. Petersburg SKA in Russia's Kontinental Hockey League for three seasons, following a 190-game NHL career. He was the Kings' second-leading scorer among defensemen in the 2013-14 season, and former coach Darryl Sutter once said that Voynov was integral to their Cup success.
The NHL blocked Voynov from playing in the 2016 World Cup of Hockey but Voynov was permitted to play for the gold-medal winning 2018 Olympic Athletes From Russia team. Voynov was not believed to have talked to Western media at the Olympics. His agent, Rolland Hedges, has not responded to messages from The Times. Voynov and Varlamova remain married and had a child, according to Voynov's 2018 Olympics biography.
The announcement Thursday comes eight months after Das reduced Nashville Predators forward Austin Watson's 27-game domestic violence suspension to 18 games, plus the preseason. Watson pleaded no contest to domestic abuse last July following an incident in which he allegedly struck his girlfriend.
The NHLPA said in a release that the appeal process is designed to ensure that disciplinary procedures are fair and consistent and that it "continues to work with the NHL to educate players about domestic violence."
Times staff writers Nathan Fenno and J. Brady McCollough contributed to this story.
Sign up for our daily sports newsletter »
Twitter: @curtiszupke
---
Get the latest on L.A.'s teams in the daily Sports Report newsletter.
You may occasionally receive promotional content from the Los Angeles Times.