Jarome Iginla isn't ready to retire and considers the Kings an option — if they want him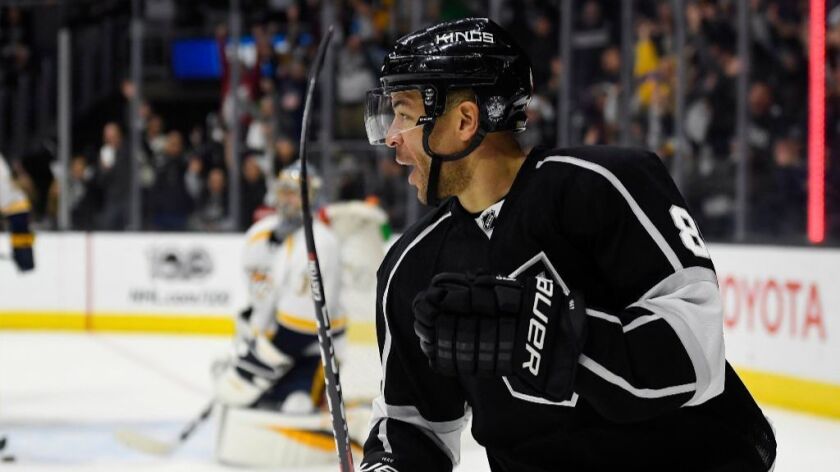 Future Hall of Fame forward Jarome Iginla, who brought a dose of competitiveness to the Kings' lineup after they acquired him from Colorado just before the NHL trading deadline, said he had so much fun in his short stint with the team that he'd like to continue his career after he turns 40 on July 1. He said returning to Los Angeles would be an option for him, though he's not sure if the new management group headed by General Manager Rob Blake will want him back.
Iginla had six goals and nine points in 19 games with the Kings, who acquired him for a conditional 2018 fourth-round draft pick. He ranks 34th on the all-time NHL scoring list with 1,300 points and is tied for 15th with 625 goals. His contract ended after the just-completed season.
Speaking on a conference call with reporters on Wednesday, Iginla said he was not 100% sure he would play another season but added that his confidence and enjoyment increased during his time with the Kings. He said he had been 50-50 about continuing his career while he played for the struggling Colorado Avalanche. "I thought sometimes maybe it's time," he said of hanging up his skates.
"But going to L.A., it was a really good experience to be back and have fun and play with the group there and have a good opportunity to play in meaningful [games] .… I know we didn't make [the playoffs], but up until our last four every game felt like a big deal. It was a big deal with the standings and stuff. It was exciting and I would like to keep playing."
The Kings, after missing the playoffs for the second time in three seasons, are expected to focus on getting younger and faster, areas in which Iginla wouldn't help. But he set a good example for the Kings' young players last season with his competitive nature and his professional attitude, assets that Blake and the next coach might find useful.
"I don't know if they're an option from their point of view. They have to take time and do their analysis. From my point of view that would be an option," he said. "I did enjoy it. It was great for me. Part of it was also getting a chance to play for Darryl [Sutter] again. That was exciting and I enjoyed that part. It is a top organization …
"If anyone can turn it around quickly, they would be one of those organizations with that kind of core that can bounce back and have a great year."
He recognizes that he might not have many options at his age and with his declining scoring totals, but he said he has other things to offer. "I'm not maybe as prolific a goal scorer, point producer, whatever. But I think I can have a really good year for a team and compete hard and battle and stuff like that," said Iginla, who has never won the Stanley Cup. "I'm not saying I'm going to score 50 goals. I think I can still do other things effective and be helpful on a team."
Follow Helene Elliott on Twitter @helenenothelen
---
Get the latest on L.A.'s teams in the daily Sports Report newsletter.
You may occasionally receive promotional content from the Los Angeles Times.