What we learned from the Kings' 6-3 loss to the Buffalo Sabres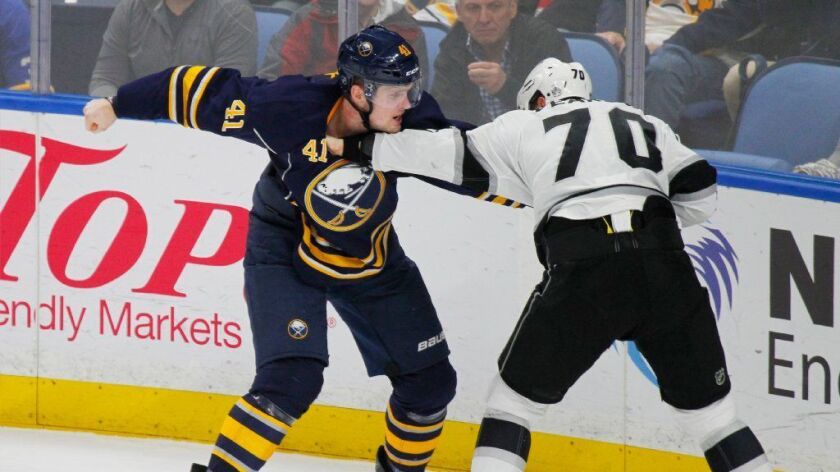 Reporting from BUFFALO —
What we learned from the Kings' 6-3 loss at Buffalo on Tuesday:
It's good the Kings play in Buffalo only once a season
Their losing streak at KeyBank Center (which has undergone several sponsor-name changes since it opened in 1996) reached eight. It's not like the place is especially forbidding or loud: The fans actually were quiet after the Kings took a 2-0 lead early in the second period.
But Ryan O'Reilly woke up the crowd — and his teammates — with a fine individual effort that wasn't impeded by anyone on the Kings, the first in the Sabres' four-goal spree in the second period. "It wasn't a real energetic game to that point," Sabres Coach Dan Bylsma said. "We needed to get angry. We needed to take control. … The whole shift he was taking over and taking the game on his stick."
And taking it away from the Kings.
The Kings' goaltending situation is shaky
Their salary cap constraints make it tough for them to acquire an elite goaltender who would add to their payroll without giving up a key player, so they've tried to piece things together since Jonathan Quick sustained a groin injury in the season opener.
But Coach Darryl Sutter has completely lost confidence in Jeff Zatkoff since Zatkoff pulled himself from the Kings' game at Ottawa on Nov. 11 because of a groin problem. That means Sutter has sent Peter Budaj into the net 25 times in the last 26 games, and that's too big a burden. Quick is still in the very early stages of rehabbing his injury, so a timetable hasn't been established for his return. But it's clear this situation will be a problem for a while. Can the Kings afford to trade for a top-notch goalie? Can they afford not to?
Anze Kopitar hasn't forgotten how to score goals
It just seemed that way. The Kings' captain scored the team's first goal Tuesday, his first goal since Oct. 25. He went 16 games without a goal, in addition to five games he missed because of a hand/arm injury. But ending his drought didn't console him at all. "I'd much rather win and not score goals than the other way around," said Kopitar, who has scored only three goals this season "So it doesn't matter."
This trip won't get any easier.
The next stop is Detroit's Joe Louis Arena, where the Kings are 3-6-1 in their last 10 games. They haven't won there since March 9, 2011. And Thursday's game will be the first of a back-to-back sequence that concludes Friday at Pittsburgh against the defending Stanley Cup champion Penguins. These next two games should give a good indication if they intend to battle back into a playoff position or if they'll let the season slip away like they let Tuesday's game slip away in that awful second period.
Follow Helene Elliott on Twitter @helenenothelen
---