What we learned from the Kings' 3-0 loss to the New York Rangers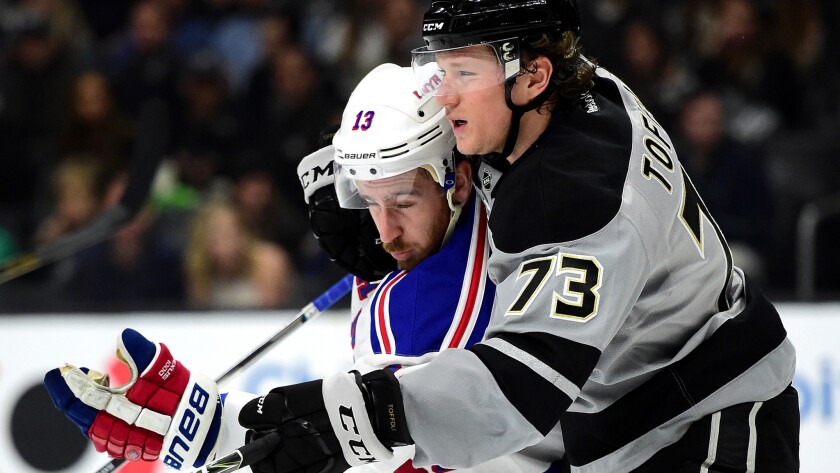 What we learned from the Kings' 3-0 loss to the New York Rangers
Not enough offense
This is more an affirmation than a revelation, but the Kings' inability to score will be their undoing. After being shut out for the 10th time this season (and second in three games), they ranked 25th in the NHL in goals, at 2.41 per game. They ranked fifth in goals-against, at 2.46, but the one basic rule of hockey that hasn't changed is that you can't win if you allow more goals than you score. "If we knew we probably wouldn't be in this position," center Jeff Carter said when asked about how the Kings could fix their scoring woes. "I don't know. I couldn't tell you. It needs to change."
Carter, who carried the Kings' offense most of the season, has no goals in his last seven games and only one in his last 13. He and linemates Tanner Pearson and Tyler Toffoli were active Saturday but ultimately were blanked. "That line had a hell of a game," Coach Darryl Sutter said. "Five-on-five, they were the one line that gave us a lot of possessions, shoot, go to the net, all that."
Incidentally, veteran winger Jarome Iginla, acquired for his locker-room presence and in hopes he'd boost the Kings' anemic offense, was held without a goal for the fourth straight game. He has one assist in that span. In addition, he was -1 defensively in each of those four games.
The Rangers are a quality team
They aren't a league-leading 27-9-1 on the road by accident. They're quick and opportunistic and they out-battled the Kings at just about every opportunity. "We played a team that's one through four lines a pretty deep team," Sutter said. "They've given up [81] goals all year on the road, which is why they're such a good hockey club." Plus, they're expected to get No. 1 goaltender Henrik Lundqvist back on Sunday, two weeks after he sustained a lower-body injury.
Impressive NHL debut for Jonny Brodzinski
Unfortunately, it wasn't as happy an impression as the Kings' rookie forward would have liked. He was set up by Nic Dowd for a breakaway in the second period, but goalie Antti Raanta got in front of the shot. Brodzinski said the puck rolled and wasn't flat. "I couldn't get it to settle down, so I just decided to take a shot," he said. "It ended up just lying there, so I tipped it back to Andy [Andreoff] and he got a shot, too, and almost got another rebound, so it almost went in a few times."
Alas, "almost" doesn't count. "I wish we could have gotten the win," he said. "If we score on that breakaway I had, it's a totally different game."
Sutter agreed. "I'd like to see him score on the breakaway and so would he. Would've made it 1-0," Sutter said.
Instead, it was another case of would have, could have, should have in a season full of them.
---
Get the latest on L.A.'s teams in the daily Sports Report newsletter.
You may occasionally receive promotional content from the Los Angeles Times.