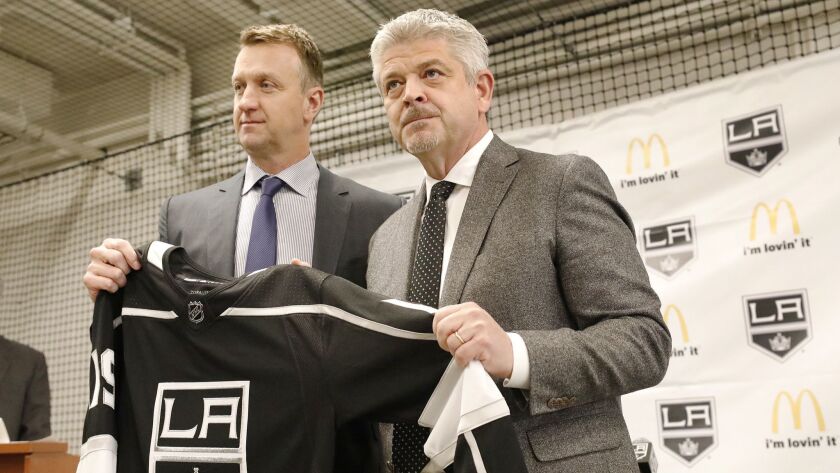 When the Kings hired soft-spoken John Stevens to replace hard-driving Darryl Sutter two years ago, they said Stevens was the right guy to be their coach because he had "innovative and creative" ideas for generating the scoring they needed without compromising their staunch defensive play. "We believe John has the ideal qualities to lead our hockey club," general manager Rob Blake said.
That didn't work out so well. They made the playoffs in 2017-18 but were swept out, though Stevens can't be blamed for being unable to squeeze goals out of an old, slow team playing in a young, fast league.
When the Kings fired Stevens in November after a 4-8-1 start, Blake went outside the organization to recruit Willie Desjardins and said he was the right guy to be their interim coach. "What Willie will bring — what we want to bring back — is we want to get the compete level up in our players. We've got to get the passion back in the game," Blake said then. "We expect fully that he can right that and take us in the right direction."
That didn't work out so well either. The Kings' trademark defense collapsed, goaltender Jonathan Quick struggled, and forward Tyler Toffoli called their practices "kind of pathetic." Forward Ilya Kovalchuk, promised $18.75 million over three years because Blake somehow saw the Russian forward as the missing ingredient to a championship roster, was benched, left behind for the final trip, and was criticized by Blake for not buying into the team's philosophy. The Kings plunged to 30th overall but didn't get the ultimate consolation prize in the draft lottery, instead landing fifth.
When the Kings introduced Todd McLellan at a news conference on Wednesday, Blake called him the right guy to be their coach. And we should believe it this time because …
"Personal experience, probably. And that's what I relied heavily on," said Blake, who played for McLellan when the 51-year-old Saskatchewan native coached the San Jose Sharks. "You can sit in an interview for a few hours and you can get probably the right answers to the questions you're asking. I went through about 160, 180 meetings probably, four rounds of playoffs, different situations, but I got to see how he reacted, first and foremost.
"When I was looking at filling this position and understanding the task at hand I wanted to make sure that there was somebody that I knew pretty much every situation that was going to occur, I would understand how he would handle it."
If Blake is wrong about his third coaching hire, he probably won't be around to make a fourth hire. He smiled when asked if he felt pressure from his bosses to be sure his latest "right guy" truly is the right guy. "I feel pressure from myself to get this right, to be honest with you," he said. "I need to get it right. You're 100%."
McLellan has a lot going for him, though most Kings fans associate him with the collapse of the Sharks after they had built a 3-0 series lead over the Kings in the first round of the 2014 playoffs. He has been condemned for not achieving more while coaching superstar Connor McDavid and the Edmonton Oilers, but unfairly. It's difficult to imagine anyone doing much better with a terribly constructed team that has consistently had holes on defense and in goal despite collecting an array of premier draft picks management could have leveraged to fill holes on the roster.
The Oilers were 9-10-1 when McLellan was fired this season; they finished 35-38-9 and missed the playoffs under Ken Hitchcock, who ranks third all-time in NHL coaching wins. McLellan got them to the playoffs in 2016-17 for the first time in 11 seasons, but they lost to the Ducks in the second round.
Among McLellan's assets are his strong presence behind the bench and his willingness to adapt. Based on his experiences with his 23- and 20-year-old sons, he realized young players are "visual learners," and he shifted his teaching from verbal instructions to video. He said he has learned to be patient but won't relax his standards when it comes to practice habits and effort.
He's also a realist. Unlike Desjardins, who thought he was getting the at-their-peak 2012 and 2014 Kings and expected great things they were no longer capable of producing, McLellan knows he's getting a long-term project. "I like to use analogies. We're running a marathon and we're at Mile 1," he said. "We're going to have a lot of hard work ahead of us but it's something we're looking forward to."
It's worth remembering that Blake's predecessor, Dean Lombardi, made three coaching hires — Marc Crawford, Terry Murray and Sutter — before he got the right guy. True, the situations are different: the Kings needed Sutter to motivate them through the final steps of a rebuilding process, while McLellan was brought in to navigate the early stages of a plan they only recently realized they'd have to accelerate. But for the sake of the Kings' future, for the sake of fans who have come to expect better than the mess they saw last season, Blake must be right this time.
Follow Helene Elliott on Twitter @helenenothelen
---