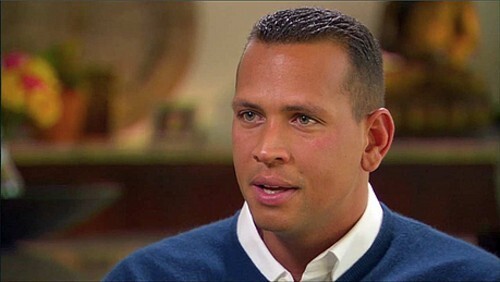 13 Images
MLB's tainted legacy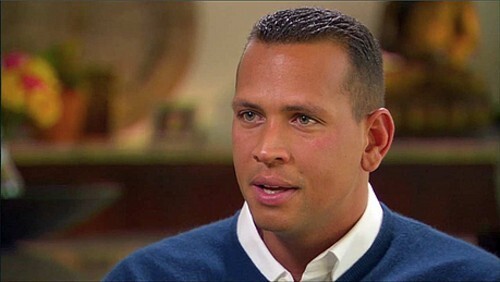 Yankees third baseman Alex Rodriguez admits during an interview with Peter Gammons on ESPN that he used performance-enhancing drugs from 2001 to 2003, saying he did so because of the pressures of being baseball's highest-paid player. On Tuesday, he would apologize for his "immature" and "amateur" behavior during a news conference upon his arrival at spring training.
(Screen Grab / Associated Press)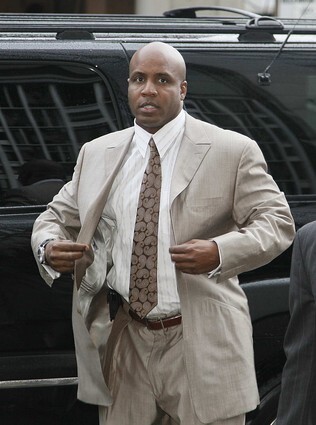 Former San Francisco Giants slugger
Barry Bonds
faces multiple counts of lying to a federal grand jury and obstruction of justice after he denied that he ever knowingly used steroids. His former personal trainer, Greg Anderson, refuses to testify against him. Anderson, who has close ties to the BALCO scandal, pleaded guilty to conspiracy to distribute steroids and to money laundering.
(Eric Risberg / Associated Press)
Seven-time
Cy Young Award
winner
Roger Clemens
, who has been accused of using human growth hormone and steroids by trainer
Brian McNamee
in the Mitchell Report, testified before Congress that he never used any banned substances.
(Pablo Martinez Monsivais / Associated Press)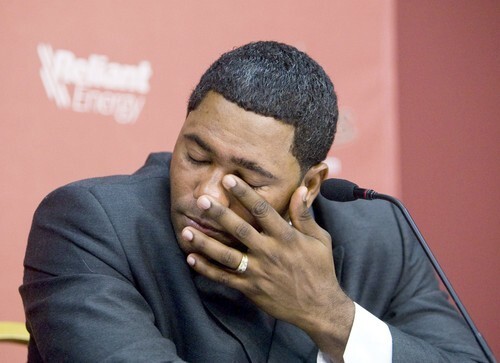 Houston Astros
shortstop
Miguel Tejada
wipes his eye as he makes a statement during a news conference at Minute Maid Park in Houston. Tejada pleaded guilty at the federal courthouse in Washington earlier in the day that he made misleading statements during a transcribed interview with congressional staffers in 2005 over the use of banned performance-enhancing substances.
(Bob Levey / Getty Images)
Barry Bonds
had a much smaller physique here early in his career with the
Pittsburgh Pirates
. He was a three-time National League MVP before he was linked to possible steroid use in the late 1990s.
(Getty Images)
According to "Game of Shadows," a book written by two San Francisco Chronicle reporters, Bonds allegedly used a vast array of performance-enhancing drugs, including steroids and human growth hormone, for at least five seasons beginning in 1998.
(Eric Risberg / Associated Press)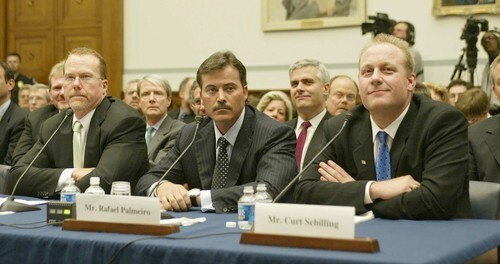 Former Oakland A's and St. Louis Cardinals slugger Mark McGwire, former Texas Rangers and
Baltimore Orioles
slugger
Rafael Palmeiro
and
Boston Red Sox
pitcher
Curt Schilling
testified before Congress during a hearing held by the House Government Reform Committee on the use of steroids in baseball. Palmeiro, who swore he had never used any banned performance-enhancing substances, was later suspended for 10 games after he tested positive for a banned substance. He blamed a tainted vitamin B-12 shot from teammate Miguel Tejada for the positive result.
(Chris Kleponis / U.S. Presswire)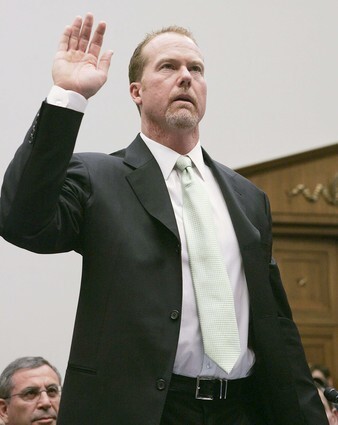 Former Oakland A's and St. Louis Cardinals slugger
Mark McGwire
is sworn in during a House committee session investigating Major League Baseball's effort to eradicate steroid use. McGwire did not confirm or deny steroid use in congressional testimony.
(Mark Wilson / Getty Images)
Jose Canseco
appeared on "60 Minutes" with Mike Wallace the day before the release of his first book, which accuses numerous major leaguers of using steroids. Canseco spoke about his use of steroids during his career and about injecting performance-enhancing drugs into the bodies of some of baseball's biggest stars, including
Mark McGwire
.
(Associated Press)
Although his power numbers were slightly inflated from his Texas Rangers days, Alex Rodriguez's build seems very similar in these photos from 2003 and 2008 with the Yankees.
(Photos by Linda Kaye and Kathy Willens / Associated Press)
New York Yankees
first baseman
Jason Giambi
, with manager
Joe Torre
, apologizes for his involvement in the BALCO scandal and with trainer Greg Anderson during a news conference at Yankee Stadium in 2005. He refused to talk about his involvement in the use of banned substances.
(Ray Stubblebine / Associated Press)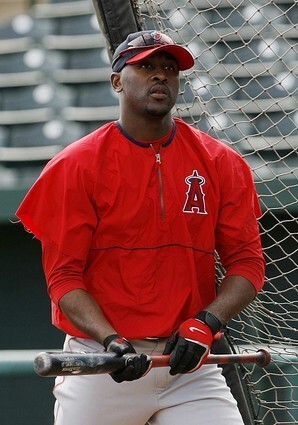 Angels outfielder
Gary Matthews
Jr. was linked to a shipment of human growth hormone in 2007 during a federal investigation into an alleged steroid ring that involved more than two dozen doctors, pharmacists and business owners in four states. Matthews denied using human growth hormone.
(Ross D. Franklin, Associated Press)
In a statement to reporters, former Dodgers and current Milwaukee Brewers reliever Eric Gagne apologizes but stops short of admitting to using banned substances. He was tied to shipments of human growth hormone from Kirk Radomski in the Mitchell Report.
(Morry Gash / Associated Press)