Get that degree and move on — to a major-college sports program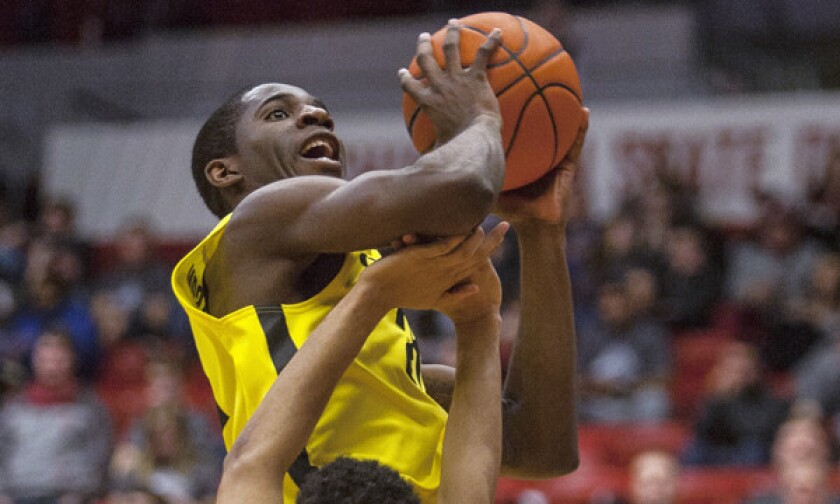 What happened with Mike Moser in Vegas didn't stay in Vegas.
What happened was, after a freshman season spent languishing near the end of UCLA's basketball bench, Moser transferred to Nevada Las Vegas and had a breakout first season.
The forward averaged 14.0 points and 10.5 rebounds for the Runnin' Rebels as a sophomore in 2011-12, and even though he was slowed by elbow and hip injuries last season, he was a productive reserve, averaging 7.1 points and 6.1 rebounds.
But then he decided to move again — this time closer to his family in Portland.
Moser took advantage of an NCAA rule that allows athletes who have graduated to transfer without the penalty of sitting out a season. Having received a degree in sociology from UNLV last spring, he enrolled at Oregon, where he studies planning, policy and management — and is second on the Ducks with a 13.9 scoring average and the team leader in rebounds at 7.7.
"He filled a big hole for us," said Oregon Coach Dana Altman, whose team plays UCLA in Eugene on Thursday.
The rule that allowed Moser's transfer to Oregon is not new, but it is somewhat controversial. Russell Wilson put a spotlight on the rule when he left North Carolina State for Wisconsin in 2011 and led the Badgers to the Rose Bowl. On Sunday, he'll be at quarterback for the Seattle Seahawks in the Super Bowl.
What worked for Wilson and other athletes has left some coaches uneasy.
Duke Coach Mike Krzyzewski went as far as calling the rule a "farce." And even coaches whose teams have benefited from such transfers would like to see changes.
"I think we've reached a point with the epidemic of transfers that it would probably make sense to have everybody sit out a year regardless of circumstances," said Arizona State Coach Herb Sendek, whose second-leading scorer, Jermaine Marshall, left Penn State after graduating. "We really have a free agency market in the spring."
The Division I Leadership Council was expected to discuss the rule at the NCAA convention two weeks ago but the matter was tabled. One potential change to the rule would be to grant transferring graduate students an extra year of eligibility and then force them to sit out a season before they use it.
Those who like the rule as it is point out that players are getting their degrees, and argue it gives the player a small amount of control over his career. Opponents say the rule robs mid-major teams of talent while allowing more prominent programs to add experienced players.
Oregon has benefited from graduate student transfers the last four seasons: guard Jay-R Strowbridge in 2010-11, forward Olu Ashaolu in 2011-12, forward Arsalan Kazemi last season and now Moser.
The Ducks lost productive senior forwards E.J. Singler and Kazemi from last season's team, but Moser's arrival softened that blow.
Though he said Moser had "been a little inconsistent," Altman acknowledged Moser's important contributions for a team that has been ranked as high as 10th in the nation. Altman would not allow Moser to be interviewed for this article.
Moser averaged 4.7 minutes in 15 games for UCLA during the 2009-10 season, but he developed into one of the Mountain West Conference's top players after moving to UNLV.
Moser has said little about why he left UNLV, but Altman said, "He let it be known about the time of the Final Four that he was graduating and looking to leave."
UCLA Coach Steve Alford, who as New Mexico's coach faced Moser and UNLV during conference play, remembers a dominant player. "He's a guy in our league who put up points, inside and out, and rebounded," Alford said. "It looks like he's doing that again at Oregon."
Alford, who has coached at UCLA and Iowa as well as in smaller programs at Missouri State and New Mexico, laments that the mid-major schools "are the ones investing all the time and effort, and when a kid finally becomes a senior and you think you're going to get his best year, he ups and goes to an elite school. It's been a tough rule to swallow."
San Diego State forward Josh Davis sees it differently. He developed into a solid inside player at Tulane but graduated last spring and said he wanted to further his education and play on a bigger stage.
"The opportunity to play professionally and receive a master's degree was a win-win situation," said Davis, who is studying postsecondary educational leadership at San Diego State. "There is a little more exposure. People are able to see aspects of my game that I wasn't able to show at Tulane."
Davis is fourth nationally in rebounds, averaging 11.6 per game, and San Diego State is ranked fifth in the Associated Press media poll.
"This was a better opportunity that I couldn't pass up," Davis said.
Moser and Davis are not isolated cases. Guard DeAndre Kane left Marshall for Iowa State and is a big reason the Cyclones are ranked 16th. Evan Gordon of Indiana, Lasan Kromah of Connecticut, Coron Williams of Wake Forest and Antonio Barton of Tennessee have become key role players after transferring as graduate students.
"I don't know if the intent of the rule is what it has become," Arizona Coach Sean Miller said.
Miller has experience in the matter.
Mark Lyon, who played for Miller at Xavier, transferred to Arizona to rejoin his coach before the 2012-13 season. He then led the Wildcats in scoring.
"We play with the rules we're given," Miller said.
Twitter: @cfosterlatimes
---
Get the latest on L.A.'s teams in the daily Sports Report newsletter.
You may occasionally receive promotional content from the Los Angeles Times.