Column: Alabama reminds Washington why it is No. 1 with 24-7 win in Peach Bowl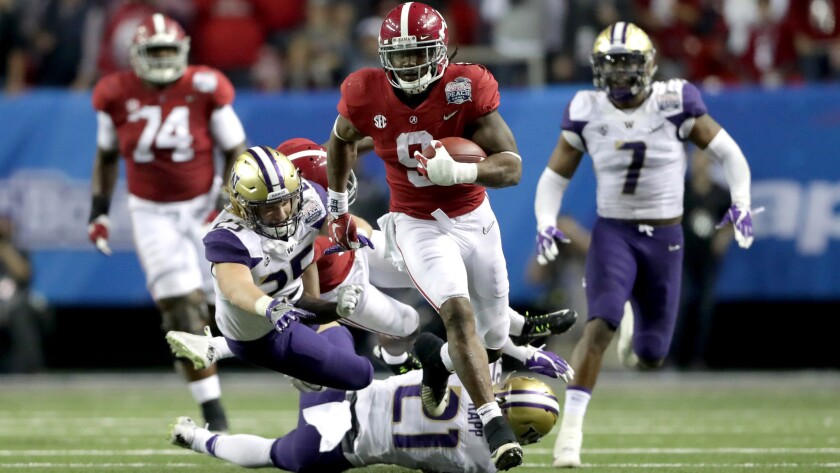 Reporting from Atlanta —
Anthony Averett was a high school junior in his home state of New Jersey when Alabama won its second national championship under Nick Saban.
Alabama allowed a touch more than eight points per game in that 2011 season. The Crimson Tide were No. 1 in the country in total defense, scoring defense, rushing defense and passing defense.
"That was one of the reasons I came here," Averett said. "I wanted to be part of a defense like that."
Now, as a redshirt junior safety for the top-ranked Crimson Tide, he is.
So, yeah, nothing's really changed at Alabama. It's more of the same for Saban and the Crimson Tide, a 24-7 Peach Bowl victory over No. 4 Washington on Saturday in a College Football Playoff semifinal final offering an opportunity to play for a second consecutive national championship. Alabama (14-0) will take on No. 2 Clemson on Jan. 9 in a rematch of last year's final.
There's a feeling of repetitiveness in all of this, as Alabama used the same defense-oriented formula to claim four of the previous seven national titles. But that shouldn't take away what the Tide is doing to opposing offenses this season. This might not be once-in-a-lifetime special, but it's special.
Of course, the more dominant the defense, the more boring the game, and the triumph over Washington (12-2) at the Georgia Dome was especially tedious to watch for anyone who wasn't wearing red and barking the words of the Alabama fight song.
Alabama was up by 10 at halftime and it felt as if the game was already over. The Huskies scored on their second drive and never came close again. Their record-setting passer, Jake Browning, was sacked five times and intercepted twice. All-American receiver John Ross was limited to 28 yards receiving.
"They kind of are what we thought they were — really, really elite, championship defense," Washington Coach Chris Petersen said.
Washington was limited to 44 yards on the ground. Alabama's 13 previous opponents ran for an average of 63.4 yards per game.
"It's pretty frustrating," Ross said.
Alabama wasn't moving the ball well, either. While Bo Scarbrough ran for 180 yards and a couple of touchdowns, the Tide had only two more first downs than the Huskies. Quarterback Jalen Hurts, a true freshman, rushed for 50 yards but passed for only 57.
This is where a defense like Alabama's becomes particularly useful. This is a group that also creates offense.
With the score tied late in the first quarter, 7-7, Ross caught a short pass from Browning and turned upfield, only to have the ball swatted out of his hands by Averett. All-American defensive end Jonathan Allen recovered the fumble, which set up a 41-yard field goal by Adam Griffith to start the second quarter.
"It was a game-changer," linebacker Reuben Foster said of Averett's play. "Changed the momentum."
The Tide effectively ended the game shortly before halftime.
Foster noticed running back Lavon Coleman was lined up wide, leading him to believe Coleman would make himself available as a receiver. Foster called on linebacker Ryan Anderson to cover Coleman. Anderson was lined up as an end on the play.
"I knew he was going to flare," Foster said.
When Washington snapped the ball, Coleman drifted to Browning's right. Two Washington linemen were occupied by the ferocious Allen, which allowed Foster to make an unobstructed run at Browning. The quarterback reflexively lofted the football toward Coleman, only to have Anderson step in front of him, intercept the pass and and return it 26 yards for a touchdown.
"It totally changed the momentum of the game," Browning said. "They've had some games where it's been close and then they'll get a defensive touchdown and get rolling."
The touchdown was the 11th of the season for Alabama's defense, with Anderson becoming the ninth defensive player to score. Alabama has 15 non-offensive touchdowns, including three on punt returns and one on a blocked punt. No other major college team has more than seven.
The Tide was up, 17-7, and on its way to its 26th consecutive victory.
Unless Clemson can figure out something that 14 other Alabama opponents couldn't, that streak should reach 27.
Follow Dylan Hernandez on Twitter @dylanohernandez
---
Get the latest on L.A.'s teams in the daily Sports Report newsletter.
You may occasionally receive promotional content from the Los Angeles Times.