Angels pitcher Andrew Heaney believes luck is the eye of the beholder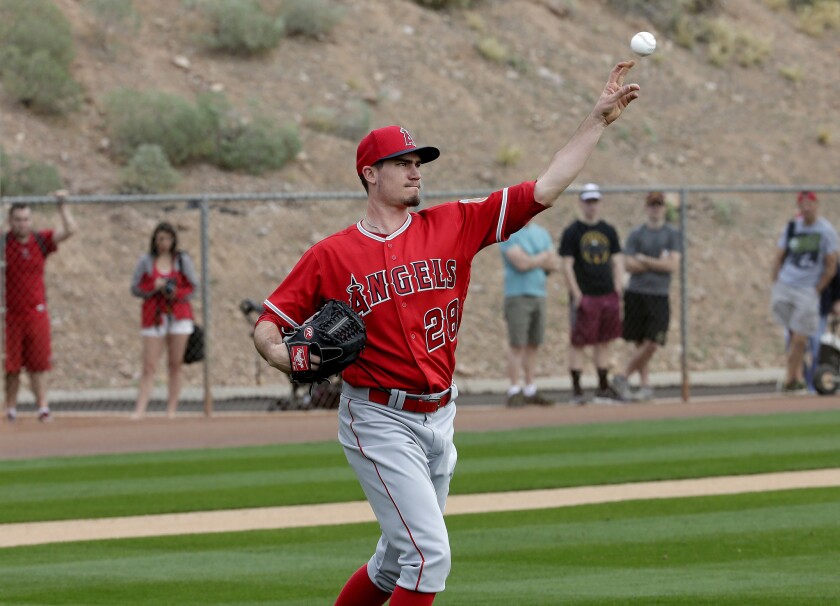 Reporting from TEMPE, Ariz. —
On a muggy Sunday afternoon in September, the Angels led Houston by a run with two men out in the top of the ninth inning. The stakes had not been higher all season, as a victory would bring the Angels within 2 1/2 games of the division-leading Astros.
Rookie Carlos Correa drilled a fastball from Huston Street up the middle and rookie second baseman Taylor Featherston dove to his right. He corralled the ball after one bounce, leapt to his feet and readied a throw to first base.
But the baseball would not leave his glove.
The ball was hit so hard that it stuck halfway through the webbing on Featherston's mitt and stayed there. Correa reached base and the Astros took the lead in the next at-bat. The Angels' season never recovered.
Andrew Heaney started that game for the Angels and did not give up a run. In the intervening five months, he has thought about the way it ended and has concluded that it is a primary example of luck influencing baseball.
"I just don't like to believe in luck," Heaney said Monday. "Because then it makes you feel like nothing you do really matters, and it's all about the flip of the coin anyways. I don't like believing in that. I totally believe that everybody controls what they do, whether they know it or not."
He amended the statement when asked whether luck never plays a role in the game.
"I'll give you bad luck if somebody hits it and then, all of the sudden, the gale force brings it back in out of nowhere," Heaney said. "Hits a bird mid-flight? That's unlucky. When Featherston had a ball stick in his ... web like that? That, that was unlucky.
"There's no variable for planning for that. Maybe you could say he should have had the confidence to lace his glove up tighter. But, no, that's just unlucky."
Studies have shown that major league playoffs are mostly decided by randomness. Games are decided on the equivalent of a coin flip all season.
But studies also have shown that positive thoughts can improve the performance of athletes, and Heaney is focused on those studies.
"It sounds stupid, but if you go to bed every single night and imagine yourself throwing a good arm-side fastball that hits the corner and freezes a guy for strike three and you think all those things, you feel all those things, eventually it becomes habit," Heaney said. "That is a real thing. But there are some guys that close their eyes at night and all they see is the fastball down the middle and a guy hitting it. It is a mental strength that some people have and some people don't."
Manager Mike Scioscia would not say whether Heaney will be in the Angels' rotation this season. The left-hander had a 3.49 earned-run average in 105 2/3 innings last season.
Scioscia has said that Heaney needs to execute his secondary pitches this season to go along with a 92-mph fastball, which is average for a 24-year-old left-hander.
Heaney said he is concentrating on not giving up big innings when runners reach base.
"There is something within guys," Heaney said. "I know statistics don't like to take into account anomalies, but when I see a guy with a high rate of success, I think he does something really well when he has runners on. I don't know what it is, but I know it is something. Sometimes it's not a physical thing, it's a mental thing."
Short hops
The Angels are in the process of hiring an interpreter to work with South Korean first baseman-outfielder Ji-Man Choi, who will compete for a reserve role this spring. Choi, a Rule 5 selection, must be offered back to the Seattle Mariners if he is not on the Angels' 25-man roster out of camp. … Mike Trout arrived at camp, one day earlier than the mandated date for Angels position players. … Former Angels catcher Bengie Molina has joined camp until Thursday as a special instructor, working alongside his brother, Jose, who is the Angels' catching coordinator.
---
Get our high school sports newsletter
Prep Rally is devoted to the SoCal high school sports experience, bringing you scores, stories and a behind-the-scenes look at what makes prep sports so popular.
You may occasionally receive promotional content from the Los Angeles Times.