UFC and boxing move up weigh-ins to give fighters more time to rehydrate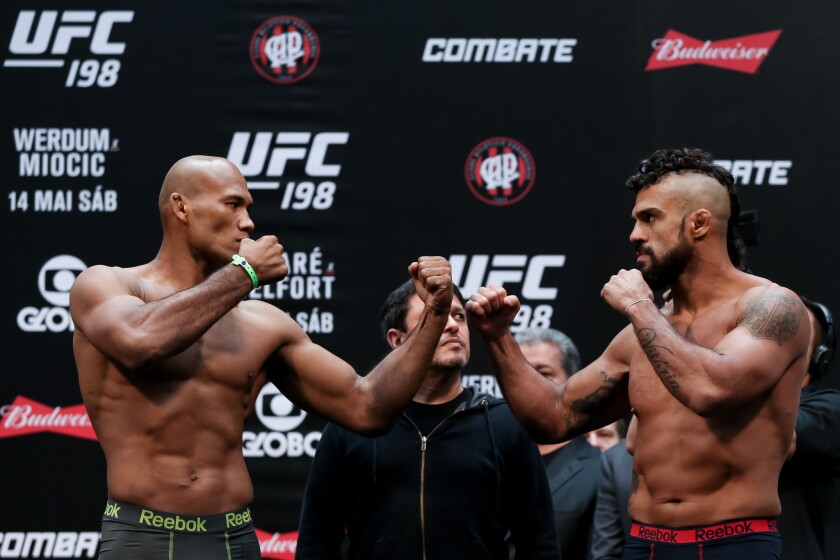 In a departure for the Ultimate Fighting Championship and boxing, there will be Friday morning weigh-ins for Saturday night's separate title-fight cards in the Southland as a safety measure to give fighters more time to rehydrate before their bouts.
Weigh-ins have been typically reserved for nationally telecast, late-afternoon productions. But this is part of an experiment by the UFC and California State Athletic Commission to address the dangers associated with fighters' sudden weight loss to make their contracted weight limits.
Shifting the weigh-ins to 10 a.m. for the UFC 199 double-title card at the Forum, and 11 a.m. for the Francisco Vargas-Orlando Salido World Boxing Council super-featherweight boxing match at Carson's StubHub Center, will give fighters five or six extra hours to rehydrate.
"When someone is severely dehydrated, that includes lost fluid around the brain and there's some research that shows that's the last thing to replenish," said Jeff Novitzky, the UFC's vice president of athlete health and performance. "You could be talking about some real brutal, serious safety issues – [death] being one of them."
After the mixed martial arts fighters step on the official commission scale in the morning, the UFC will have a "staged" public weigh-in Friday afternoon at the Forum.
"You'll see us now full, healthy, ready and un-parched – able to talk into the mic," said Luke Rockhold, the UFC middleweight champion who'll fight England's Michael Bisping in the UFC 199 main event Saturday.
On April 22, the California commission introduced the early weigh-in on a boxing card at the Forum headlined by middleweight champion Gennady Golovkin.
Novitzky and Andy Foster, executive officer of the California State Athletic Commission, both had safety concerns after repeatedly watching drained, lethargic fighters at weigh-ins about 24 hours from battle.
Foster sought to do something different after hosting a weight-cutting summit in December. That month Chinese mixed martial arts flyweight Yang Jian Bing died as a result of cardiopulmonary failure connected to a weight reduction before his ONE Championship bout in the Philippines.
The UFC was moving toward something similar after the U.S. Anti-Doping Agency, which oversees UFC's drug-testing program, banned the use of IV rehydration in October.
Foster expects, along with the UFC, to press the Assn. of Boxing Commissions throughout the U.S. to make the early weigh-in the new standard.
"You better believe I'll be there at 10, and I guarantee you every single person will be there in line at 10 a.m." said UFC bantamweight champion Dominick Cruz, who'll defend his belt against er rival Urijah Faber at the Forum. "You get all of those extra hours to rehydrate now … the better your body will be on fight night."
Foster, a former MMA fighter, has witnessed a variety of troubling fighter episodes in his three years on the job.
"This has been an MMA epidemic," Foster said, pointing to the culture of fighters drastically cutting weight. "These people look awful at weigh-ins. They don't respond well to questions, they're very drawn out. Lives are on the line."
Karl Santiago, a smaller-league Smash Global MMA fighter, told of cutting from 210 pounds to 170 before his San Diego fight was scrapped and he was hospitalized for two days in November with acute kidney damage.
"Guys should be fighting at a higher weight," said Santiago, who said he's routinely cut 40 pounds for fights. "Cutting so much weight is damaging. I'm 26, and I feel like I'm an old man."
UFC President Dana White said at Thursday's news conference, "We're 100% supportive of it. This is like a trial run to see how this works."
The UFC has also instituted guidelines for fighters to arrive at the beginning of fight week no more than 8% over their fight's weight limit.
Novitzky, the former IRS investigator who led the famed BALCO steroid raid that ensnared Barry Bonds, Marion Jones and Shane Mosley, advocated the earlier UFC weigh-ins after consultations with medical advisors and fighters.
"Our fighters are some of the toughest individuals on the planet, so when you start talking about what's good for you and what can hurt you, a lot of them feel they're bulletproof," Novitzky said. "But when we say, 'This will make you perform better,' that's when their ears perk up...
"Performance increases. The majority realize we're doing this for them, so they can have great, healthy lives."
Twitter: @latimespugmire
---
Get our high school sports newsletter
Prep Rally is devoted to the SoCal high school sports experience, bringing you scores, stories and a behind-the-scenes look at what makes prep sports so popular.
You may occasionally receive promotional content from the Los Angeles Times.