Column: Twins Bob and Mike Bryan doubled down on tennis and became champions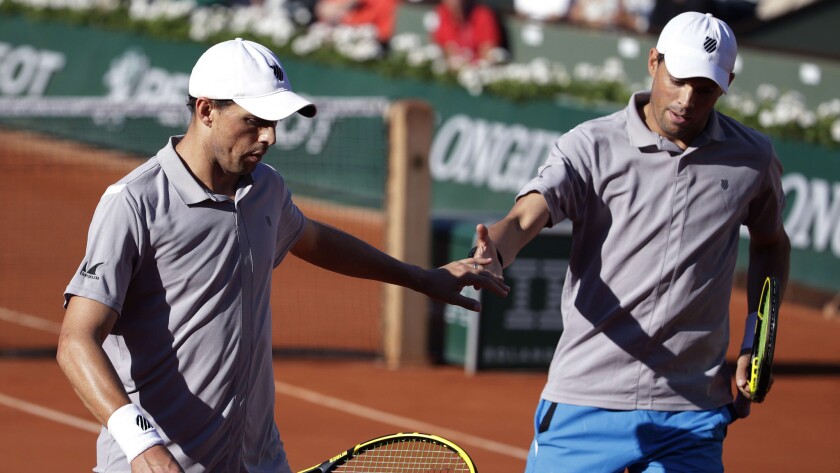 FROM LONDON —
When Bob and Mike Bryan take the court for one of their doubles matches at Wimbledon this week, they might smile and tell each other they have played on better grass courts than this at home.
Because they have.
As rightfully proud as the All England Lawn Tennis and Croquet Club is of its manicured green stuff, it would be hard-pressed to top the backyard on Ramona Drive in Camarillo.
"Sure, they've hit on this," says father Wayne, while showing a guest around. "We've had a net up here. The bounce is true, perfect."
The Bryan brothers no longer need their dad's agronomist skills. They could play on volcanic ash and win. They are 37-year-old twins who have been, almost without question, the best at what they do since 2003, and show no signs of slowing up.
Hard to quit when you are No. 1, after all.
They lost at Wimbledon last year in as exciting a doubles match as you'll ever see, and they are expecting to be in the mix this year to win yet another Grand Slam title. They already have 16 majors, including three Wimbledons.
Showing no signs of slowing up is their 68-year-old father. In the tennis world, he is the energizer bunny. You don't interview Wayne Bryan. You show up, shake hands, sit down and take notes.
He has a law degree but never practiced. Luckily for the other side, which wouldn't have been able to get in a word.
He owned and operated the Cabrillo Tennis Club in Point Loma for 26 years. And, along with his wife Kathy, a former top player herself with four Wimbledon appearances, taught and raised the hands-down best doubles team ever to play the game.
"People always talk about me with the boys," he says, "but it was their mother who got them started."
Whoever gets the credit, here's what the Bryans created and developed, a doubles team that:
• Has made 158 pro finals and won 106 of them;
Has been, since 2003, the No. 1 team in the world every year but two and was ranked second in 2004 and 2008;
Has been in 26 Grand Slam finals, winning six Australian Opens, two French Opens and five U.S. Opens to go with those three Wimbledon titles;
Has had a role in 11 more major titles, Bob taking seven mixed-doubles Grand Slams and Mike four;
Has never won fewer than five tour events in any year since 2002 (they have three so far this year);
Won an Olympic gold medal (London 2012); a Davis Cup, doing the clinching themselves against Russia in 2007; and a "Golden Slam" (taking the next four majors after the Olympic gold).
Has held the No. 1 ranking seemingly forever, Mike for a record 437 weeks and Bob for 422. The next closest is John McEnroe at 270.
Has won about $13 million each on tour; or, for perspective, a bit more than either McEnroe or Jimmy Connors earned in total prize money, including far more lucrative singles competition.
There is so much more. A book of Bryan brothers stats would be the tennis equivalent of "War and Peace."
They were reared without the benefit of TV (perhaps that should be with the benefit).
"When we wanted to see something, like a big game or an important event like the 'Roots' series," Wayne Bryan says, "we showered and went to a neighbor's house."
When his about-to-be-teenage sons rebelled because their friends had not only TV but video games, Wayne says he and Kathy relented only a tad.
"They had to make their beds every morning, shower every day and take the garbage out every week," he says. "For a year."
When that happened, and the Bryans had no choice but to relent, they bought a $146 Atari game and limited play to one hour a week. When the twins were caught leaving tennis practice early to play more than that one hour, it brought a family meeting. The night before, Wayne wrote 10 pages of lecture notes on a yellow legal pad. Then, realizing the attention span of 10-year-olds, he boiled it down to about three sentences.
Basically, either the Atari or the tennis would have to go. Play all the video games you want, but forget being lugged to practice and tournaments.
Soon, as Wayne describes it, he had the Atari on his shoulder and was walking toward a deep ditch at the end of the backyard toward a barranca. Trailing were two crying twins who had decided it was tennis they wanted, not video games.
Wayne heaved the Atari into the barranca, where pieces remain today, a symbol of the end of wasted time and the beginning of the greatest tennis doubles team ever.
"'60 Minutes' came to do a story about the boys several years ago and I told that story," Wayne says. "They kind of didn't believe it, so we went down and found the old Atari. That was probably 20 years later."
They also didn't believe Bryan when he told the TV program that in his Hawthorne High yearbook, he had made a prediction.
"I said that I wanted to grow up, live in San Francisco and have my son be the No. 1 tennis player in the world," Wayne says.
He missed slightly on the geography and needed the plural, not the singular. Otherwise, quite a prediction.
He never wavered in his approach to parenting.
"The 18 years that you have your kids under your roof," he says, "sets up their entire life."
The Bryan brothers rose through the national ranks, dominating in the juniors. They often ended up scheduled for matches against each other in singles and their parents set up a system in which that seldom took place. They just alternated defaulting to each other.
"That happened hundreds of times," Wayne says.
Between ages 16-18, they played each other 16 times, and the outcomes were similar to the identical way in which they do everything: gestures, facial reactions, mannerisms.
Each won eight times.
Now, the tennis goals that 10-year-old twin brothers put on the refrigerator in the house on Ramona Drive in Camarillo have all been met. All the Grand Slams, all the Davis Cups, Olympic gold medals and No. 1s have been achieved.
But the memory of Jack Sock's rifled forehand that split the twins and converted match point in the Wimbledon final last year remains vivid. And so, there will be more Bryan brothers grass-hopping across the pond in the next two weeks, while Wayne and Kathy Bryan pace and bite their fingernails from afar, having cut back on travel.
That doesn't mean Wayne will sit in a quiet corner, tracking Wimbledon results on his phone. He is about as sedentary as a two-month-old puppy.
He coached a World Team Tennis team for 13 years. He plays in his own band. He makes motivational speeches and is often hired by tennis tournaments as the on-court announcer.
One tournament director, Anne Worcester in New Haven, once said that Wayne "could make a rain delay seem fun."
But more immediate on his agenda last week was grass — that precious backyard, the manicured plot where twins once pretended they were at Wimbledon.
Where, now, they are.
Wayne Bryan calls his backyard the "Ancient and Memorial Course." Saturday, he held one of his goofy croquet tournaments there. Earlier in the week, he was pruning and fretting over the grass and assuring that there would be "no bad bounces here."
The tournament players are friends, neighbors and countrymen. The stakes are trophies and T-shirts, all provided at little cost and with little discretion by the course groundskeeper and tournament director.
"There'll be trash-talking, lots of arguments," Wayne says. "Maybe one of the mallets will end up on the roof. That's happened."
There is always talk about playing where the famous twins first trod, and much pride about how they once chose tennis over Atari.
Maybe somebody even climbed into the barranca to see if any pieces could still be found.
Twitter: @DwyreLATimes
---
Get the latest on L.A.'s teams in the daily Sports Report newsletter.
You may occasionally receive promotional content from the Los Angeles Times.