Dodgers made 'strong and shorter' offer, but Bryce Harper settled on Phillies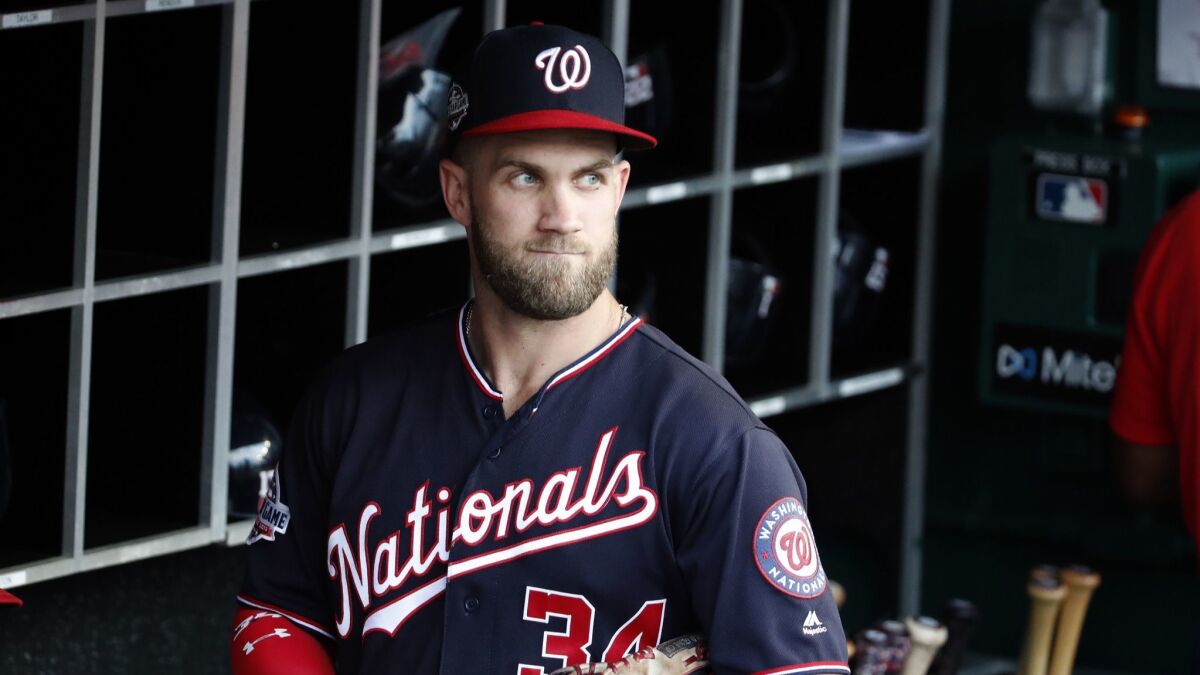 The news floated through the Philadelphia Phillies clubhouse, absorbed by a group suddenly capable of challenging the Dodgers for supremacy in the National League. The players viewed the information on iPhones with their eyes, repeated it aloud with their voices, disbelieved it with their ears.
"Seriously?" All-Star pitcher Aaron Nola said when he heard.
Seriously. After 117 days of waiting, wondering and tracking the flight logs of private planes, the baseball industry knows where star free-agent outfielder Bryce Harper will ply his trade in 2019 — and for a dozen seasons after that. Harper has agreed to a 13-year, $330 million contract with the Phillies which sets a record for the largest free-agent deal in the history of North American sports, effectively guarantees Harper will finish his career in the City of Brotherly Love and rejuvenates a franchise that has not reached the playoffs since 2011.
The addition of Harper, a six-time All-Star and former MVP, adds an electric bat to Philadelphia's lineup and finishes a sensational winter of additions. The Phillies outbid the Dodgers and the San Francisco Giants, during a frantic week of negotiations, with representatives from all three organizations decamping to Harper's home in Las Vegas to meet with the player and his agent, Scott Boras.
The contract will end in 2031, and it does not contain an opt-out clause. Boras indicated this aligned with Harper's goal in free agency. Harper sought the long-term security offered by the Phillies over the short-term enticement provided by Dodgers.
"Bryce has real goals," Boras told The Times. "He wanted to get the longest contract he could get. He wanted to stay in one city. He wanted to look for a ballpark he hit the ball well in, saw the ball well in, and a franchise that was successful and had the wherewithal to give him a chance to win every year."
Philadelphia provides that opportunity. After winning the World Series in 2008 and collecting five consecutive National League East titles, the Phillies have bumbled through six consecutive losing seasons. The front office of general manager Matt Klentak used this offseason to enhance a roster that had 80 victories in 2018.
In winning the sweepstakes for J.T. Realmuto, the Phillies acquired a catcher considered the best in baseball. The addition of outfielder Andrew McCutchen improved the lineup. The signing of reliever David Robertson bolstered the bullpen. A trade for shortstop Jean Segura should improve a defense that was porous behind starting pitchers such as Nola and Jake Arrieta last year.
And Harper offers the sort of left-handed clout that will play well within the cozy dimensions of Citizens Bank Park. On Thursday afternoon, his new teammates speculated on his power potential there: 50 home runs in a season? Sixty?
The thought is bold but possible. During the past three seasons, Harper has averaged 29 home runs and an .897 on-base plus slugging percentage. Those years pale next to his MVP campaign in 2015, when he hit 42 homers with a 1.109 on-base-plus-slugging percentage for the Washington Nationals.
Sign up for our Dodgers newsletter »
"We felt like we were a complete team," McCutchen said. "We're even more of a complete team. It's going to be a lot of fun."
The conclusion of Harper's free agency offered relief to a sport that spent the winter waiting for a resolution. The intensity of discussions escalated over the past week as owners and executives flew to Las Vegas. The first billionaire to make the foray during these late stages was Phillies owner John Middleton on Feb. 22.
In November, Middleton had raised the expectations for this winter when he indicated his franchise was willing to be "a little bit stupid" in their spending. Their two primary targets were Harper and infielder Manny Machado. When Machado took a 10-year, $300 million deal with the San Diego Padres, Klentak suggested the price exceeded Philadelphia's valuation on the four-time All-Star.
"There's a significant cost that we're willing to pay to add, but we have to be willing to walk away at some point," Klentak said.
The Phillies walked away from Machado. But they flew to Harper. Soon, so would representatives from the Dodgers and the Giants. Harper and Boras met with owner Mark Walter, president Stan Kasten, president of baseball operations Andrew Friedman and manager Dave Roberts on Sunday. Two days later, Harper and Boras received Giants owner Larry Baer and president of baseball operations Farhan Zaidi, who had formerly been Friedman's chief lieutenant in Los Angeles.
The Giants discussed a 10-year contract with Harper, according to NBC Sports Bay Area. Multiple Phillies officials expressed their fear that San Francisco might snatch Harper from their grasp. The Dodgers were a less likely threat, preferring a briefer partnership, perhaps as short as three or four seasons.
"The Dodgers, like most teams that are smart, had strong interest in Bryce," Boras said. "Their position on it was more of a strong and shorter term."
For months, the Dodgers lurked on the sidelines of the chase. Their offer probably shattered the record for a player's average annual value in salary, currently held by Arizona Diamondbacks pitcher Zack Greinke at $34.3 million. Even so, that lure did not align with Harper's goals, Boras said. Harper did not want to re-enter the free-agent market in his 30s.
"It was just his goal," Boras said. "He said, 'I just want to wear one uniform, I want to be known as the person in that uniform, and I want to stay there and I want to live in a city and I want to be associated with a team and a franchise and I don't want to leave. I want to stay there as long as I can.'"
Over the past two weeks, as Harper remained unsigned, the locals in Philadelphia grew restless. One well-known broadcaster tweeted at Harper, asking him why he did not want to play for the Phillies. On Thursday, about seven hours before the agreement became public, a radio host at sports-talk hub WIP tweeted that Harper "can go to hell."
The reception will be much sunnier when Harper dons his red pinstripes. The ballpark tittered as the news reached social media. A security guard opined that his crew would need more bodies this weekend. Clubhouse attendants joked about printing up jerseys with Harper's No. 34.
Inside the dugout, as the Phillies and Baltimore Orioles lazed through a forgettable Grapefruit League affair, Phillies manager Gabe Kapler kept hearing from a quartet of fans behind him. They insisted that Harper was coming to Philadelphia. They called out the terms and named the reporters breaking the news. Kapler spun around so they could hold up their iPhones for him to see.
Kapler had met with Harper in Las Vegas during a round of meetings earlier this winter. He referred to Harper as "one of the best players in baseball." Even so, Phillies officials declined to confirm the agreement. They also declined to hide their glee.
"If the reports are true, that we acquired Bryce Harper, certainly franchise-altering, certainly season-altering for the Philadelphia Phillies," Kapler said. "We were a great club without Bryce Harper coming into spring training. If the reports are true, we're going to be an even better ballclub, with Bryce Harper."
---
Get our high school sports newsletter
Prep Rally is devoted to the SoCal high school sports experience, bringing you scores, stories and a behind-the-scenes look at what makes prep sports so popular.
You may occasionally receive promotional content from the Los Angeles Times.