Sochi's ice makers tested by variety of Winter Olympics sports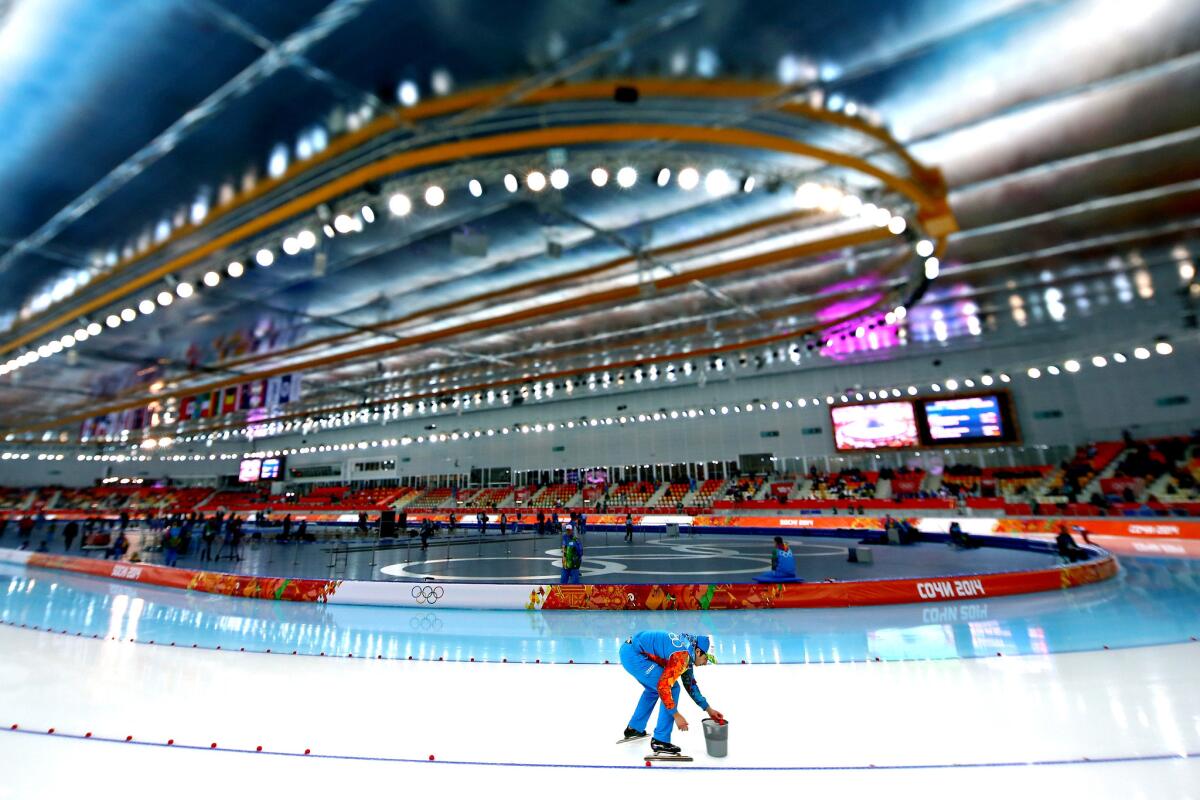 At the 2014 Sochi Winter Olympics, a team of technicians works to make the ice meet the different specifications for hockey, figure skating, speedskating and curling.
At the 2014 Sochi Winter Olympics, a team of technicians works to make the ice meet the different specifications for hockey, figure skating, speedskating and curling.
The slightest shift in temperature — a few degrees either way — can make all the difference.
If the ice at his arena becomes too cold or brittle, Sergey Pliner will hear grumbles from figure skaters who want a soft landing for their triple axels.
So the refrigeration engineer from Moscow has learned a trick. He adds a fine layer of warm water, quickly freezing it to a not-so-rigid consistency.
"There are many peculiarities," Pliner said. "Technical things we can do."
Anyone who thinks that ice is just ice has never been to the Winter Olympics.
The organizers of the 2014 Sochi Games have enlisted a select group of technicians from around the world, men who understand the idiosyncrasies of each sport.
People have no idea what we go through."

— Hans Wuthrich, ice specialist
They know that speedskaters like a hard, fast track, and hockey players need a smooth surface to keep the puck from skipping. They use only purified water — without calcium or magnesium — to ensure consistent throws at the curling center.
Working long hours behind the scenes, fussing over subtle variations in texture and humidity, these ice makers set the stage for gold-medal performances.
"Oh, there's lots of pressure," said Hans Wuthrich, an ice specialist for curling from Canada. "People have no idea what we go through."
All of the skating and curling competitions in Sochi are taking place at arenas beside the Black Sea. The subtropical climate — relatively warm and humid for winter — has a way of sneaking inside.
Last fall, the Canadian women's hockey team played here and struggled with a soft rink.
"Really soft," defenseman Jocelyne Larocque said. "Everyone had to get their skates less sharp because it felt like we were digging into the ice."
The crews at Bolshoy Ice Dome and Shayba Arena — the venues for men's and women's hockey — have adjusted since then.
They have experimented with surface temperature and air conditioning. They have fiddled with the settings on the Zamboni-like resurfacers that scrape and refinish the top layer of ice between periods.
Dimitry Ulanov usually minds the ice at a major arena in Moscow that hosts international hockey tournaments and ice skating shows. In Sochi, he must nurse the rinks day by day. After the second period of each game, when conditions often deteriorate, he digs the blades of his resurfacer a little deeper to get at the cold stuff underneath.
"I know how to do this," he said. "I am a professional."
After a morning practice this week, the Canadian players talked about sweating in the humid air but said the ice stayed playable.
"It's better than last time," Larocque said. "The biggest thing is just making sure your passes are really hard, putting an extra oomph on the passes."
The situation is even trickier at the Iceberg Skating Palace, which figure skaters share with short-track speedskaters. With some of their sessions only a few hours apart, Pliner must accommodate two very different preferences.
Jumps and spins require a 25-degree surface temperature; high-speed racing works best at 20 degrees. The difference might not sound huge, but the cooling system built into the concrete floor beneath the ice does not adjust quickly.
"The main difficulty is time," Pliner said.
It takes at least two hours to cool the surface by five degrees for races. When the ice makers switch back to figure skating, they add that layer of warm water.
Pliner said this is the first major arena to be constructed in this part of Russia, adding, "We're learning."
In the early days of these Olympics, the figure skaters seemed content. Yulia Lipnitskaia of Russia said: "It's easy to skate, easy to push off."
The short-trackers, though, felt like second-class citizens, forced to practice on slower ice.
U.S. racer J.R. Celski said the ice makers tend to cater to figure skaters. But he added, "We're prepared for anything they throw at us."
So far, no such complaints have emanated from the Ice Cube Curling Center. Still, Wuthrich was worried.
The former grain farmer arrived with two colleagues — another Canadian and a Brit — weeks in advance to prepare four side-by-side sheets. They began by lowering the temperature of the concrete floor to 21 degrees, then added a base of that purified, slightly acidic water, which holds up well when frozen.
Next came white paint and sealant, followed by the red and blue painted rings that make up the target, or house, at either end of the sheets. After a few more layers of water, they reached the most crucial part of the process.
Curling requires a textured surface known as "pebble" to control the speed and curl of the rocks.
With small water tanks strapped to their backs, the ice makers moved in short, quick steps, waving a nozzle that looked like a shower head. They were laying down an even coating of droplets that froze on contact.
"You can go to school to learn this, but that doesn't mean you are going to be good at it," said Wuthrich, who has devoted three decades to his craft. "You need to have the knack."
Left as is, the pebbles would wear down during games, making for inconsistent play. So Wuthrich used a scraping machine that resembled a floor polisher, its blades cutting off — or nipping — the tops of the tiny bumps.
"When the pebble is fresh, it feels so crisp," U.S. skip John Shuster said. "You can actually hear it going under your shoes."
During practices this week, Wuthrich and his colleagues continually watched the ice from different angles, bending down to rub it with their hands. When official play began, they scraped away and replaced the pebble after every game.
At one point, the air-conditioning system began acting up, so they made a habit of huddling around a computer to keep track of air temperature, humidity and dew point inside the arena.
"Every time Hans is the head ice maker, it's world-class," Shuster said. "When we get a chance to play on this great ice, we're grateful."
Wuthrich shrugged off the compliment, saying: "The players aren't complaining now."
With elite athletes so picky about the frozen stuff under their feet, ice making is never that simple.
Looking ahead to a full schedule of games before the medal round next week, Wuthrich knew that conditions — and those flattering words — could turn sour in an instant.
"The less we hear from the curlers, the better," he said. "If we hear nothing, that means things are good."
Full coverage: 2014 Sochi Winter Olympics
Follow David Wharton(@LATimesWharton) on Twitter
Get our high school sports newsletter
Prep Rally is devoted to the SoCal high school sports experience, bringing you scores, stories and a behind-the-scenes look at what makes prep sports so popular.
You may occasionally receive promotional content from the Los Angeles Times.