Column: Rams were much more at home in their L.A. victory over the Chargers
Whose town?
Rams' town!
It's taken more than a year now, but the obvious became official Sunday afternoon in an emotional battle for a city's pro football soul.
Amid dueling roars from a Coliseum crowd dressed in clashing horns and bolts, the Rams completed their formal occupation of Los Angeles by beating the Chargers in the one place they haven't faced them, on an actual football field in a regular-season game.
By the time the exhausted players staggered out underneath the stands where Melonheads squeezed between Charger flags, the giant scoreboard read 35-23.
The L.A. team won. The Chargers lost.
The L.A. team took an early lead and rolled. The Chargers could never catch up.
The L.A. team overcame its mistakes. The Chargers could not.
This wasn't so much a game as a metaphor for two franchises who have headed in different directions since they became neighbors before last season.
The Rams continue to grow roots while the Chargers continue to drift. The Rams are gaining steam while the Chargers keep fighting ghosts.
On a day when they gained 521 yards and scored five touchdowns and still weren't thrilled — "You can feel the sentiment in the locker room, we're not exactly happy about that win,'' punter Johnny Hekker said — the Rams felt real, unbeaten real, even potentially Super Bowl real.
On this same day, even though they scored on three spectacular plays, including a breathtaking finger-tip diving catch by Mike Williams, the 1-2 Chargers felt as if they're still trying to figure exactly where they are.
It is the Chargers who coined the phrase, "The Fight for L.A," but it is the Rams who have turned it into an early knockout.
Walking through the stands after the game, I was stopped by a gentleman asking me to give props to the surprisingly large number of Chargers fans who showed up, their powder-blue jerseys impressively breaking up the sea of dark blue while accounting for about 40 percent of the crowd.
The Chargers and Rams played each other Sunday in a regular season game. So is there a real rivalry and fight for Los Angeles? Hear what fans of both teams had to say.
The guy was immediately shouted down by a Rams fan who said, "Get out of here, you belong in San Diego!''
James Chavez, that Rams fan, later added, "They had a lot of fans here but this is our city, we run L.A., and this game solidified it.''
Duty compels us to pause and note that Raiders fans would disagree with this column. They have long claimed Los Angeles as their own, and they certainly have the numbers and passion to back it up. But their point is growing weaker by the week. As Jon Gruden runs their team into the ground before it runs off to Las Vegas, it seems as if the Rams are slowly building a groundswell of support to eventually threaten the Raiders' presence.
Sunday was another big step in that direction. Just ask the former USC receiver and local kid who had 10 catches on 11 targets for 104 yards and two touchdowns.
"At the end of the game, you knew whose house it was, and who was the L.A. team,'' Robert Woods said with a smile.
The tone of domination was set by public address announcer Sam Lagana, who continually boomed, "Los Angeles Rams'' while simply saying, "Chargers.''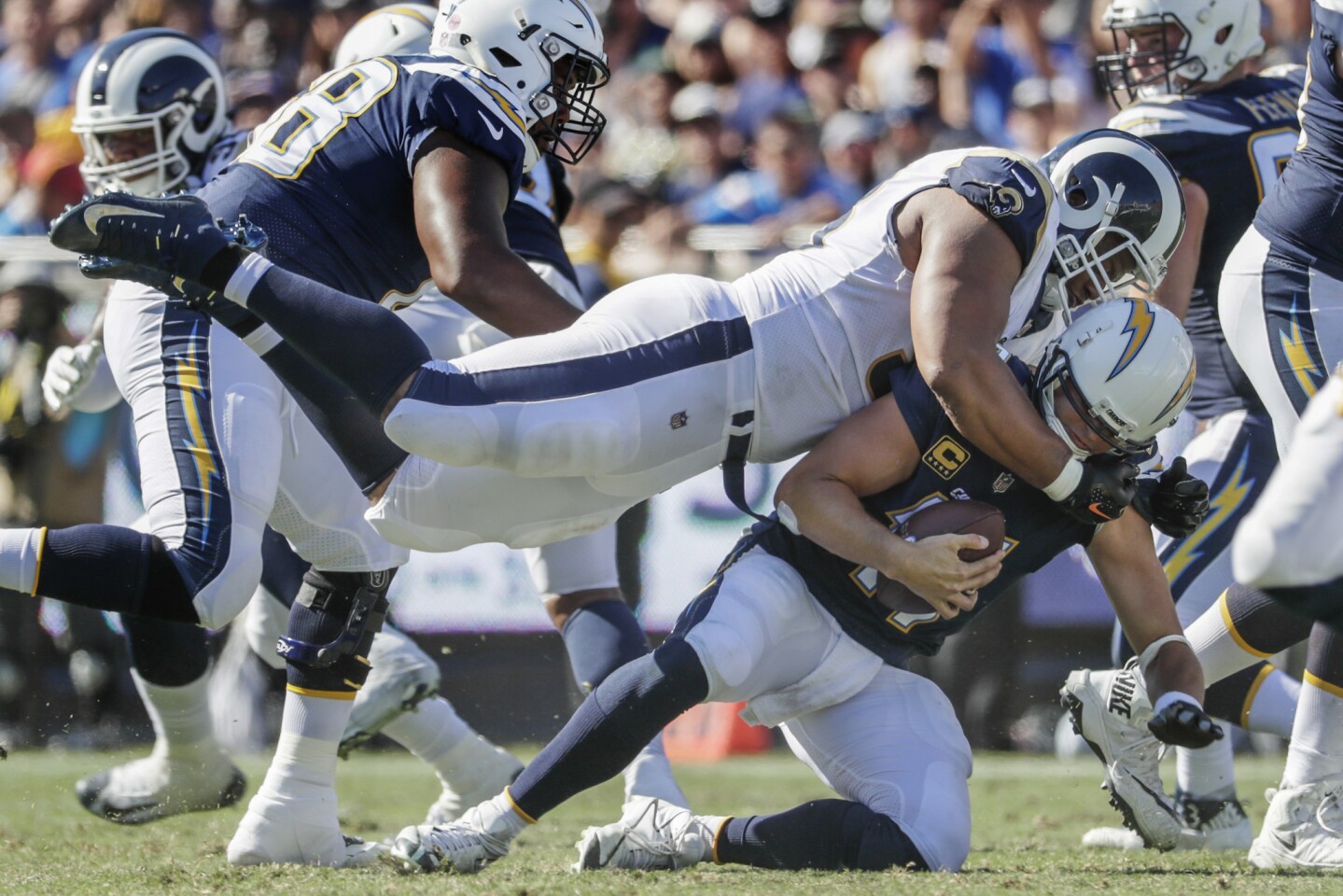 Chargers quarterback Philip Rivers is sacked by Rams defensive lineman Ndamukong Suh during a third quarter drive on Sept. 23
(Robert Gauthier / Los Angeles Times)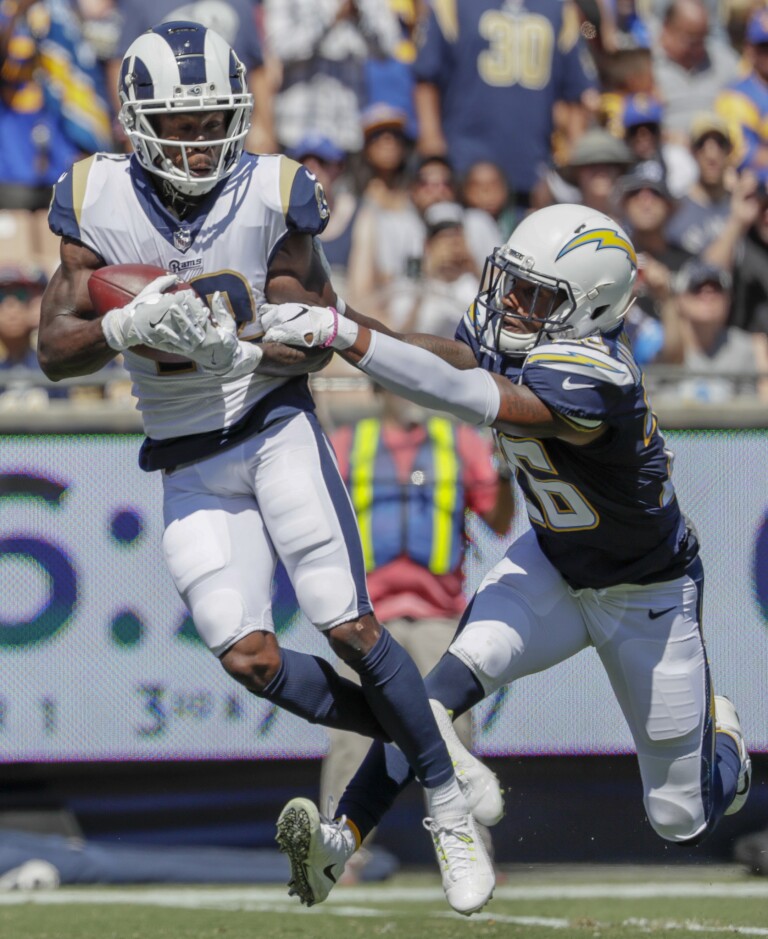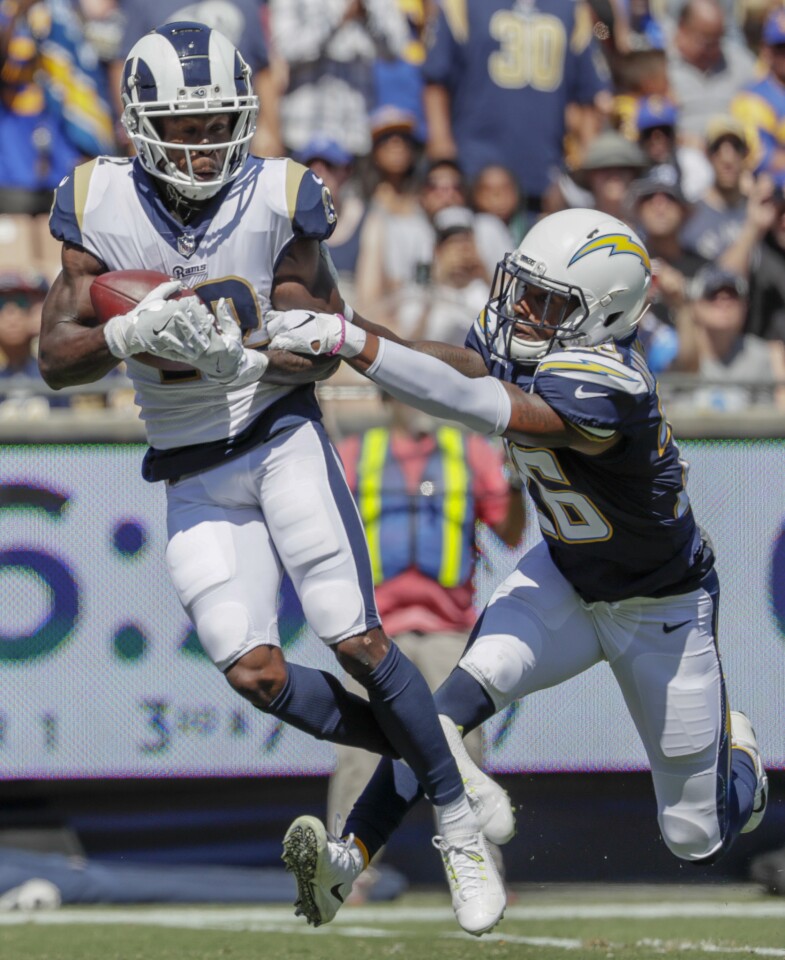 Rams receiver Brandin Cooks hauls in a 17-yard pass over Chargers cornerback Casey Hayward Jr., landing at the one-yard line, setting up the Rams' first touchdown on Sept. 23.
(Robert Gauthier / Los Angeles Times)
Chargers quarterback Philip Rivers throws downfield to receiver Mike Williams for a 16-yard gain during the third quarter on Sept. 23.
(Robert Gauthier / Los Angeles Times)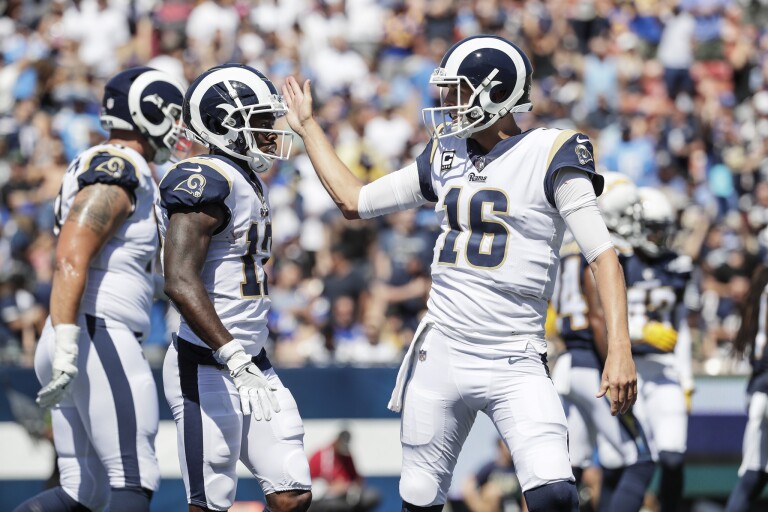 Rams quarterback Jared Goff congratulates receiver Brandin Cooks after hooking up for an apparent touchdown pass in the first quarter against the Chargers at the Coliseum.
(Robert Gauthier / Los Angeles Times)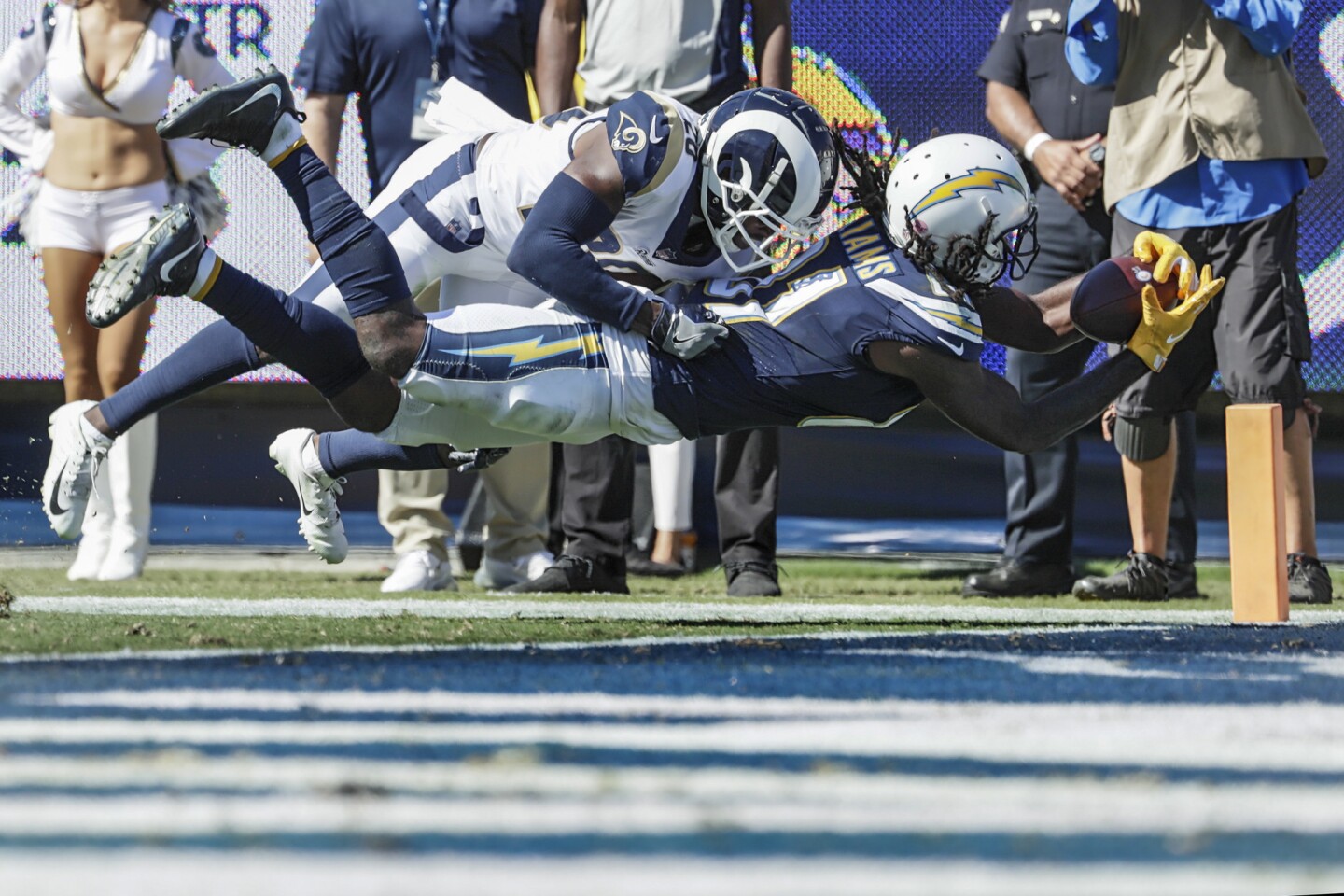 Chargers receiver Mike Williams dives into the end zone past Rams safety Lamarcus Joyner for a 20-yard touchdown from quarterback Philip Rivers at the Coliseum.
(Robert Gauthier / Los Angeles Times)
Rams running back Todd Gurley is tackled by Chargers defenders Kyzir White, left, and Derwin James at the Coliseum.
(Robert Gauthier / Los Angeles Times)
Fans reach for an autograph from Rams receiver Josh Reynolds before a game against the Chargers at the Coliseum.
(Robert Gauthier / Los Angeles Times)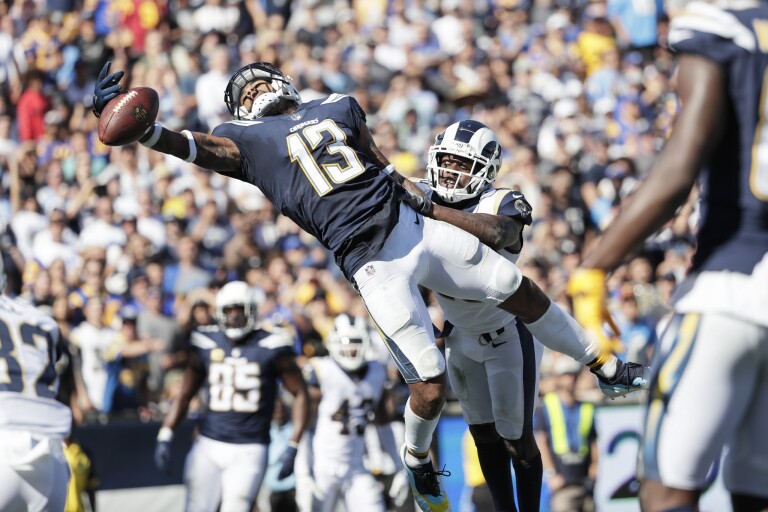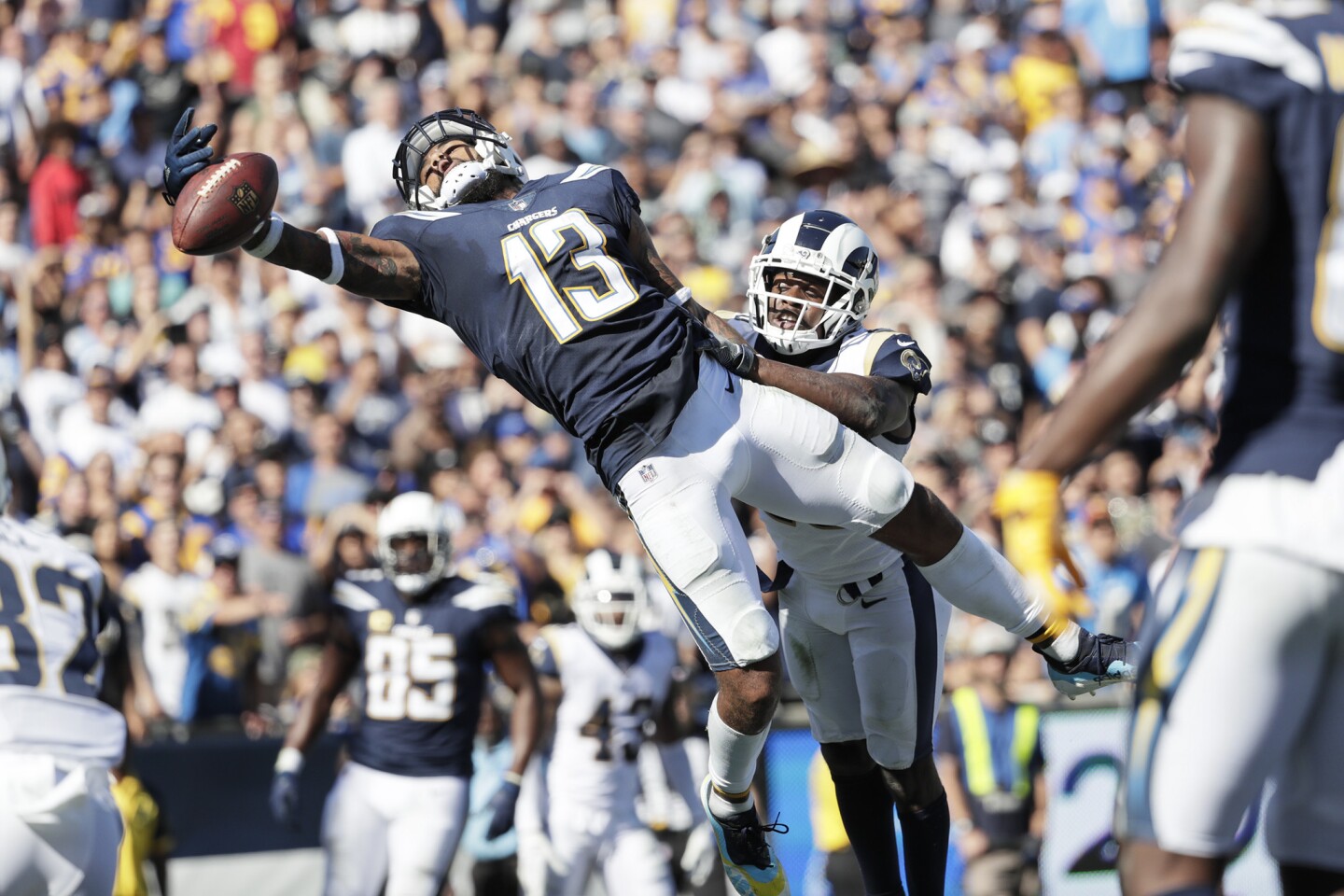 Chargers receiver Keenan Allen can't haul in a potential touchdown pass late in the fourth quarter as Rams safety Lamarcus Joyner defends on Spet. 23.
(Robert Gauthier / Los Angeles Times)
Rams receiver Cooper Kupp slips the tackle of Chargers cornerback Trevor Williams for a 53-yard touchdown pass on Sept. 23.
(Robert Gauthier / Los Angeles Times)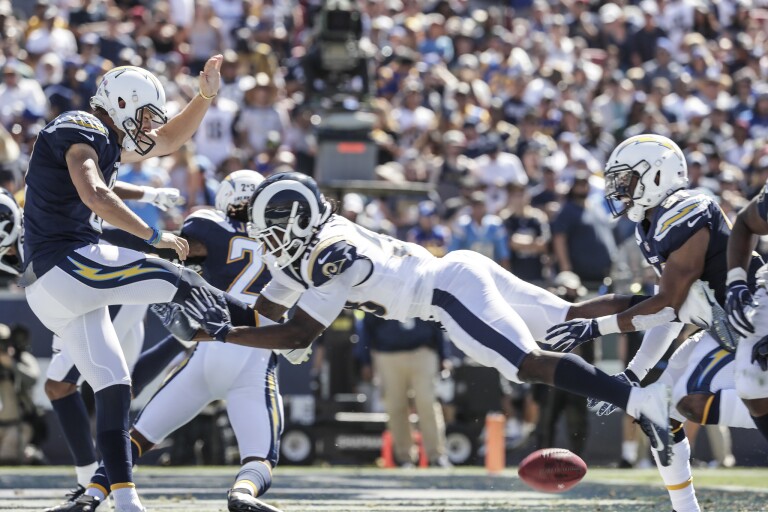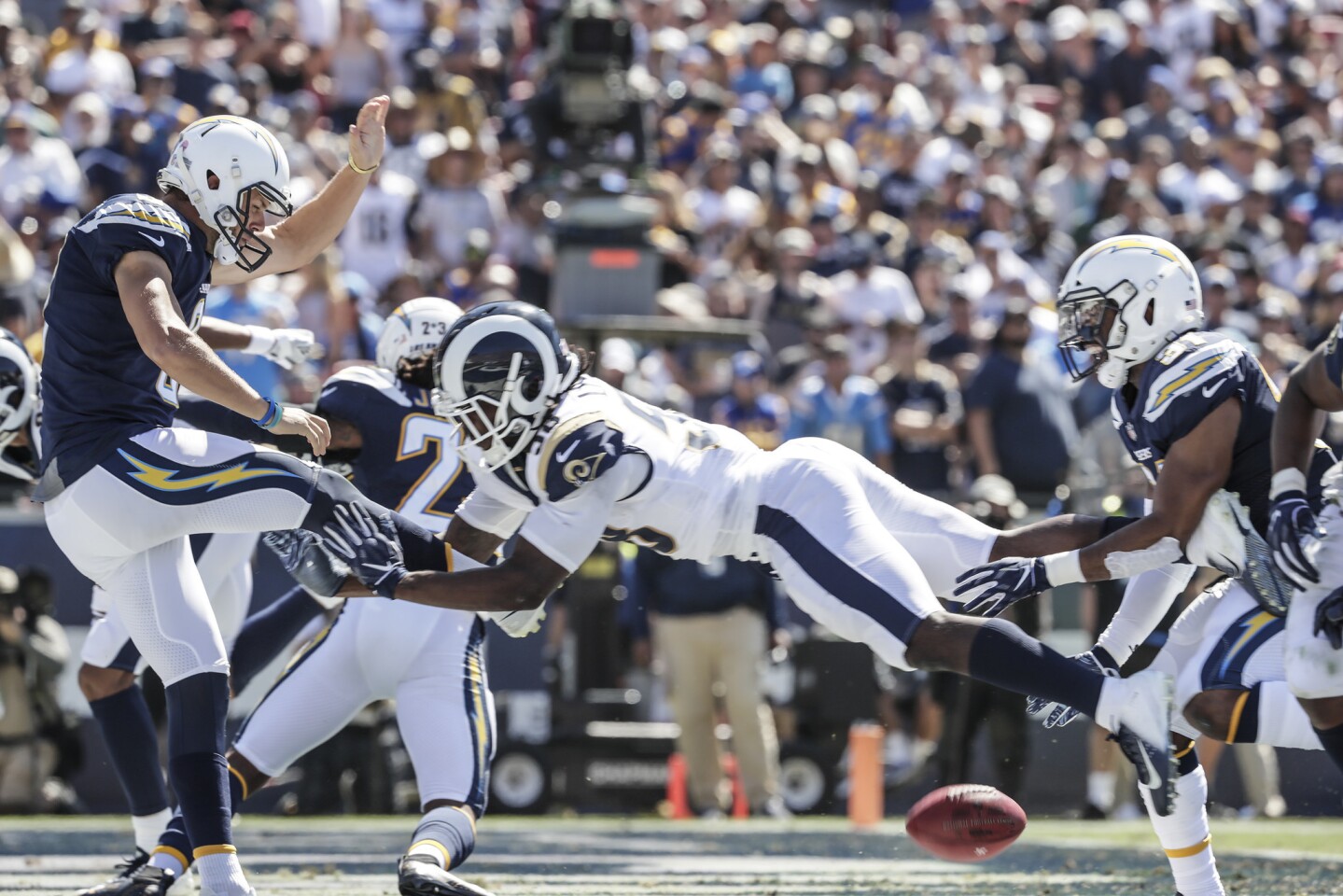 Rams linebacker Cory Littleton blocks the punt attempt of Chargers punter Drew Kaser, resulting in a Rams touchdown in the second quarter on Sept. 23
(Robert Gauthier / Los Angeles Times)
It continued when a plane flew overhead and towed a banner claiming the Chargers didn't belong in L.A., and we thought those had long since been grounded.
Finally, the teams took the field, and every time the Chargers pushed forward, the Rams would shove them back — again and again — fighting through a lost fumble, an interception in the end zone, a missed field goal and several big-play-erasing penalties.
"You need some of that adversity, now and then, when you have to sit back and say, 'Next time we get the football, we're going to win this game,' '' tackle Andrew Whitworth said. "And we did that.''
Todd Gurley lost that fumble on the Rams' first possession. His offense recovered with an ensuing 80-yard touchdown drive that included pinpoint Jared Goff passes to Woods and Brandin Cooks and ended with a Gurley plunge.
"We find holes, we find gaps, and Jared keeps his eyes open,'' Woods explained simply.
The Chargers rebounded to score on Williams' amazing 42-yard touchdown catch, but the Rams countered in less than four minutes, scoring on a 75-yard drive that featured a 16-yard run and textbook slide by, yes, Goff himself.
It was surprising that Goff ever needed to run, as a strong Rams offensive line plus the absence of injured Chargers defensive star Joey Bosa allowed the quarterback to stand unbothered in the backfield for seemingly hours at a time.
"Did you like my slide? Thank you,'' Goff said. "Played baseball growing up.''
The Chargers came up with a big play again when rookie Derwin James intercepted Goff in the end zone, but the Rams responded again. Soon after the pick, Cory Littleton blocked a punt by Drew Kaser in the end zone, and it was recovered for a touchdown by Blake Countess to give the Rams a 21-6 lead.
The Chargers closed to within 21-13 at halftime after Melvin Gordon's bruising 11-yard run, but again the Rams pushed back. Early in the third quarter, Keenan Allen was stripped of the ball by Aqib Talib, it was recovered by Lamarcus Joyner and three plays later Goff hit Kupp for a 53-yard touchdown pass to essentially clinch it.
By then, the Rams fans had taken over, cheering "Cooop" on the touchdown and later screaming, "Suuuuh'' when celebrated Ndamukong Suh recorded his first sack as a Ram. With Yasiel Puig playing down the street, and Luke Walton coaching around the corner, Los Angeles sports fans have now cornered the market on guttural elongation of last names.
"Today was a great show,'' said Hekker, who had the best seat in the house with only one punt, and now a career-low five in his first three games. "L.A. showed up.''
He's right, all of L.A. was here, Chargers fans so loud that even Goff noted, "You can tell there were two sides in here.''
But in the end, it was an L.A. that belonged to the Rams, three seasons back and completely at home.
Rams beat writer Gary Klein discusses the team's 35-23 victory over the Chargers with reporter Annie Heilbrunn.
Get more of Bill Plaschke's work and follow him on Twitter @BillPlaschke
---
Get our high school sports newsletter
Prep Rally is devoted to the SoCal high school sports experience, bringing you scores, stories and a behind-the-scenes look at what makes prep sports so popular.
You may occasionally receive promotional content from the Los Angeles Times.