Clippers need to put a stop to their defensive struggles vs. Thunder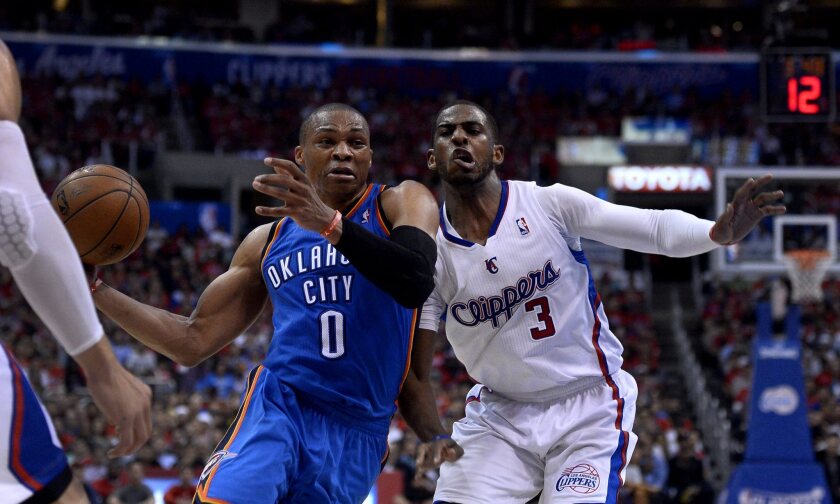 Kevin Durant crossed over Jared Dudley so easily for a layup that you wondered why the Clippers had Dudley in the game.
I think we can be a terrific defensive team.
Serge Ibaka made so many uncontested jumpers that you questioned whether the Clippers could keep track of his whereabouts on the court.
I think we can be a terrific defensive team.
Caron Butler was so open on a trio of three-pointers in the fourth quarter that you had to ask yourself if the Clippers had suddenly forgotten how to close out along the perimeter.
I think we can be a terrific defensive team.
Eleven months after Coach Doc Rivers sat on a stage inside his team's practice facility and used nine words to gush about the possibilities at his introductory news conference, the Clippers' defense has been repeatedly gashed during the Western Conference semifinals.
The Oklahoma City Thunder has averaged 111.7 points per game while making 50.6% of its shots in taking a 2-1 lead in the best-of-seven series, necessitating a different adjective for the Clippers' defense.
Terrific?
Well, at least Rivers got the first five letters right. His team's defense has been nothing short of terrible in a series that resumes with Game 4 on Sunday at Staples Center.
"We have to play harder, better, faster, smarter," Rivers said Saturday, and you felt as if maybe he was just getting started. "It's funny, I don't think we have to make a lot of adjustments after watching the tape. We have to do what we should do — our coverages — better."
They could start by never again putting Dudley on Durant, which is the equivalent of having a fourth-grade YMCA kid try to stop a McDonald's All-American. The one time Dudley was able to stay within five feet of Durant during Oklahoma City's 118-112 victory in Game 3 on Friday, he fouled the Thunder superstar on a running jumper, resulting in a three-point play.
The Clippers also had trouble staying in front of Oklahoma City point guard Russell Westbrook, and oh, wouldn't they like to be able to turn to Eric Bledsoe right about now instead of having traded the speedster for J.J. Redick and Dudley (two-for-nine shooting in the series to go with next to zero defense in Game 3)?
"It's not their speed," Rivers said of the Thunder. "It's a problem for everybody, but it's our speed that we've got to do a better job with."
Unfortunately for the Clippers, they are what they are at this point, unless Rivers can somehow manufacture a few more miles per hour out of his weary players.
The veteran coach arrived in Los Angeles having a reputation as a defensive guru, his Boston Celtics teams having finished among the top five in the NBA in points allowed five times in his nine seasons there.
Rivers anointed DeAndre Jordan and Blake Griffin the centerpieces of his Clippers defense, and the big men did an admirable job in helping their team hold opponents to 44.1% shooting during the regular season, fifth-best in the league. The Clippers had the league's top-rated three-point defense (33.2%) but gave up a middling 101.0 points per game, 14th in the league.
All of the numbers have trended in the wrong direction in this series, in part because the Clippers have been unable to stop backdoor layups and other point-blank shots.
"When you have two guys as dynamic as Russ and K.D., you have to try to limit as many easy baskets as possible," Paul said. "You know they're going to get to the free-throw line, they're going to make tough shots, so you've got to try to limit the easy ones."
The Clippers' defensive shortcomings have also largely grounded Lob City, with the team averaging a measly 13 fastbreak points per game.
The defense was so bad in Game 3 that the Clippers lost despite scoring 112 points, making 84% of their free throws and getting a combined 55 points from Griffin and Paul. It was also the first time all season the Clippers suffered a defeat after having the lead entering the fourth quarter.
"That's unusual," Rivers said of losing despite all the positive statistics. "What we didn't get is stops, though."
Two more games of this defense and the Clippers' season will come to a complete halt, its prospects having gone from terrific to terrifying.
Twitter: @latbbolch
---
Get our high school sports newsletter
Prep Rally is devoted to the SoCal high school sports experience, bringing you scores, stories and a behind-the-scenes look at what makes prep sports so popular.
You may occasionally receive promotional content from the Los Angeles Times.