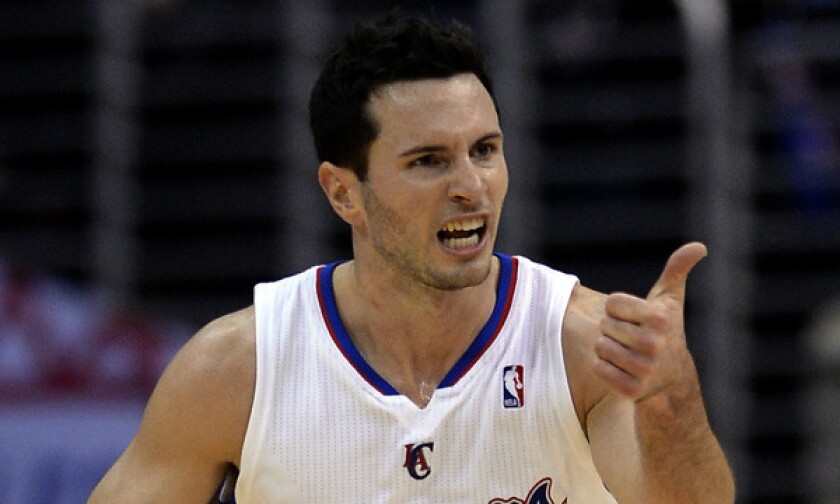 The Clippers are still making moves to improve their team.
They re-signed point guard Maalik Wayns on Wednesday, but perhaps the best news was hearing Coach Doc Rivers say that guard J.J. Redick, who has been out since Nov. 29 because of a broken right wrist and torn ligaments on the side of the wrist, "has a very good chance of playing Friday" against the Lakers.
"If he's ready, we'll probably start him," Rivers said. "If he's ready for those type of minutes. I don't think he would be. But I don't know."
Rivers also said that free-agent forward Hedo Turkoglu will work out for the Clippers on Thursday at the team's practice facility.
The Clippers watched Turkoglu, who was waived by the Magic last week, work out in Orlando over the weekend.
Turkoglu also had been told to stay away from the Magic this season. He played for Orlando in only 11 games last season because of injuries and a 20-game suspension for performance-enhancing drugs.
The Clippers are hoping that the 6-10 Turkoglu still has the ballhandling skills to play small forward.
"Well, we're looking at him," Rivers said. "We're going to bring him in and work him out pretty soon. That's all I can say."
The Clippers have a maximum roster of 15 players and would have to waive a player if they signed Turkoglu.
Clippers sign Wayns
With Chris Paul out up to six weeks because of a separated right shoulder, the Clippers signed Wayns, two days after waiving him.
Wayns had been active for three games before he was released, but the second-year guard from Villanova hasn't played this season.
The Clippers signed former Laker Darius Morris to a 10-day contract Monday night, and Morris and Wayns will be the backups behind starter Darren Collison.
"I just think that while Chris is out, it's good to have literally three guards that can play that position," Rivers said. "And that's what we have."
Rivers also said that rookie Reggie Bullock, out because of a sprained left ankle, probably won't be ready until next week, perhaps when the Clippers host the Dallas Mavericks on Wednesday night.
broderick.turner@latimes.comTwitter: @BA_Turner
---