Column: Jerry West's move to the Clippers is another dagger for Lakers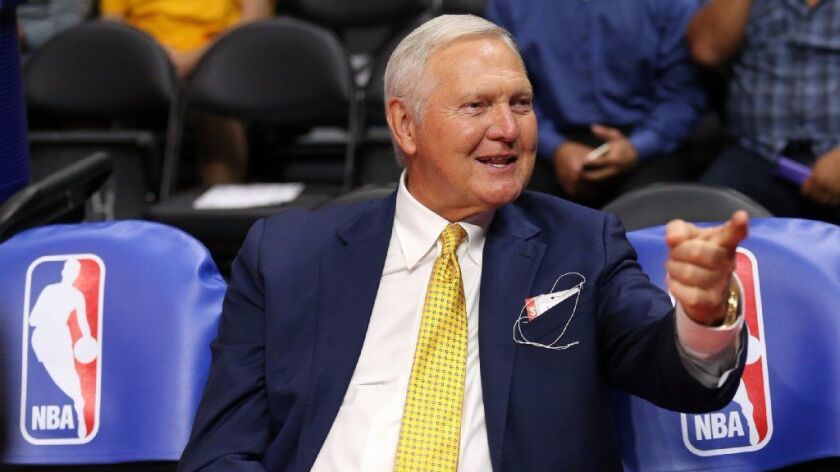 This is exactly what the Clippers needed.
This is exactly what the Lakers dreaded.
This is a move filled with Clippers' credibility and hope.
This is move full of Lakers' embarrassment and dread.
In the 34 years these two teams have shared a city, never before have they shared a transaction that has felt so utterly transformational.
Jerry West, arguably the most important Laker in franchise history, is going to work for the Clippers.
Say it loud. It sounds crazy. Tell it to your friends. They won't believe it. But league officials confirmed Wednesday that West is finalizing a deal to make it absolutely true.
The man who has seven Lakers championship rings, including one as a player, is walking down the Staples Center hallway to join a team that has languished in the shadow of those rings.
The man who built two Lakers title dynasties has agreed to work as an advisor to the team that those dynasties used to dominate.
Lakers fans used to laugh at the Clippers. Many of those laughs are now surely turning to cries of frustation at the organization that let him get away.
West, 79, will be leaving his job as an executive board member of the NBA champion Golden State Warriors and joining the Clippers in a similar position as soon as next week.
But the real story is, he wanted to serve a similar role with the Lakers, yet they never asked him. He wanted to leave the Warriors and end his career with his eternal home team, but he says he was told there was no room.
"Sometimes I thought in my life that maybe that might be something that I can revisit, or they would want me to revisit, but that didn't happen," West said recently when asked about his Lakers tenure on "The Dan Patrick Show." "It kind of sent me a message that they wanted to go elsewhere, which was fine."
When Jeanie Buss engineered the Lakers' front-office shakeup in February, ousting her brother Jim and Mitch Kupchak, she could have replaced them with a combination of the venerable West and a smart young general manager.
Instead, she chose Magic Johnson and Kobe Bryant's former agent Rob Pelinka.
Couldn't West have worked with his friend Johnson? Apparently the Lakers wanted Johnson to have the stage to himself. Wouldn't West have been a nice complement to the front-office novice Pelinka? Apparently West and Pelinka were never the closest of pals.
In the first major decision of her ownership, Buss decided to go with Johnson's star power and Pelinka's Kobe connection.
Now she can only hope that Johnson and Pelinka can turn the Lakers into winners before that decision haunts her forever. And believe it, if the Lakers have a good draft and show real signs of rebirth and eventually become contenders again, many Lakers fans will eventually ignore West's presence across town.
But not right now. During this time when it seems the Lakers would seemingly need West's wisdom the most, he's a Clipper, and that cut runs deep.
Yes, West hasn't been with the Lakers in 17 years. But he still has that magic Lakers touch. He's still Jerry West.
Since he joined the Warriors in 2011, he has helped them win two championships by doing things like championing the career of Klay Thompson, and working the phones to help lure free-agent Kevin Durant.
Now, instead of doing the same things with the Lakers, he will be in charge of hurting the Lakers, reshaping a Clippers team that has already won 18 of its last 20 games against the Lakers and could be one bit of West magic from finally reaching the Western Conference finals.
West will help the Clippers and overworked personnel boss and coach Doc Rivers decide how to deal with potential free agents Chris Paul and Blake Griffin. He will deal with the uncertain future of free agent J.J. Redick. He will help decide how to turn these underachieving stars into the kind of Lakers teams he once built. And he could do so with son Ryan, the Lakers' director of player personnel, who will probably be joining him.
West will try to do for the Clippers what he once did so well for the Lakers. He was once honored with the ultimate compliment from their ultimate leader.
"Obviously, Jerry West is irreplaceable," said owner Jerry Buss when West left the team in 2000. "What he's meant to the Lakers franchise over the past 40 years is immeasurable."
Throughout the Los Angeles basketball landscape today, it's as immeasurable as one fan's joy, and another fan's pain.
ALSO
Inglewood will vote on deal for Clippers to explore new arena
The Logo on the Clippers? The Lakers should be very afraid
How Clippers' owner Steve Ballmer is trying to create the Wikipedia of government figures
---
Get our high school sports newsletter
Prep Rally is devoted to the SoCal high school sports experience, bringing you scores, stories and a behind-the-scenes look at what makes prep sports so popular.
You may occasionally receive promotional content from the Los Angeles Times.