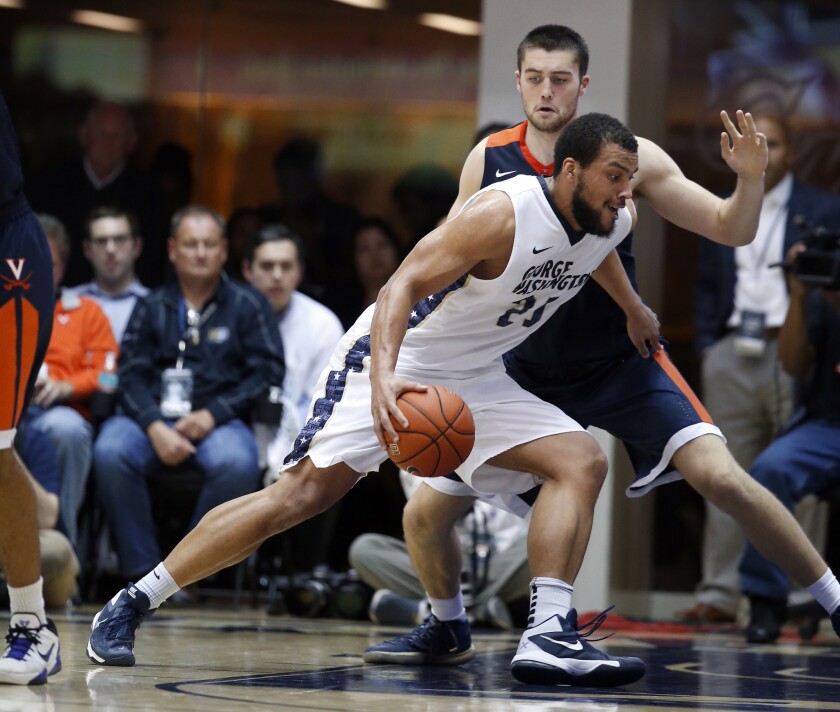 Patricio Garino and Tyler Cavanaugh each scored 18 points, and George Washington stunned No. 6 Virginia, 73-68, Monday night at Washington.
The Colonials (2-0) took control with a 10-0 run that began with Garino's three-point play for a 57-55 lead with 8 minutes 6 seconds to play.
Garino had a tip-in and then an assist on Cavanaugh's layup.
Cavanaugh made two free throws to make it 64-55 with 5:24 remaining.
Virginia (1-1) was led by Malcolm Brogdon, who had 28 points and eight rebounds.
Brogdon was the only source of offense for the Cavaliers in the final minutes.
After Evan Nolte made a three-point basket to give Virginia a 55-54 lead with 91/2 minutes left, Brogdon scored 11 consecutive points.
But after he stole the ball with 17 seconds to play and Virginia trailing by four points, he missed a three-point shot with 10 seconds to play.
"We can't [say], 'We were just off, it wasn't our game.' It wasn't that. We got outplayed. We got out-executed," Coach Tony Bennett said.
"Sometimes you forget how hard it is, and these settings remind you awfully quick."
at No. 12 Arizona 90, Bradley 60: Freshman Allonzo Trier scored 22 points and made all of his 14 free throws to help the Wildcats (2-0) extend their home winning streak to a nation-best 40 games, including 26 nonconference victories. Ryan Anderson had 15 points for the Wildcats, who shot 54%. Ronnie Suggs had 17 points for the Braves (1-1), who made only two of 14 three-point shots.
No. 16 Utah 81, at San Diego State 76: Jordan Loveridge scored 21 points and made four three-point baskets to help the Utes (2-0) end a losing streak against the Aztecs (1-1) at six games. Winston Shepard had 19 points and Dakarai Allen had 15 for San Diego State, which scored only 20 points in the paint. Utah pulled away with a 14-7 run late in the second half thanks to baskets by Loveridge, Lorenzo Bonam and Brekott Chapman. Jakob Poeltl had 15 points, 12 rebounds and one block for the Utes.
at No. 17 Vanderbilt 98, Gardner-Webb 62: Jeff Roberson scored a career-high 18 points and tied a career best with eight rebounds for the Commodores (2-0), whose defensive pressure forced 19 turnovers that led to 35 points. Riley LaChance had 13 points, including three three-point baskets, for Vanderbilt. Tyrell Nelson led the Runnin' Bulldogs (0-2) with 16 points.
at No. 23 Louisiana State 91, Kennesaw State 69: Freshman Ben Simmons scored 22 points and Josh Gray had 16 to lead the Tigers (2-0) in a regional round of the Legends Classic. Simmons had nine rebounds, six assists, four steals and two blocked shots. Kendrick Ray scored 25 points for the Owls (0-2), who shot only 38% (24 of 64) from the field and committed 17 turnovers.
at No. 24 Michigan 88, Elon 68: Duncan Robinson made every shot he took, scoring 19 points to lead the Wolverines (2-0). Robinson made all six of his field-goal attempts, including five three-point shots, and two free throws. Derrick Walton had 24 points, seven assists and six rebounds for Michigan, which led, 43-33, after the first half. Dainan Swoope led the Phoenix (1-1) with 15 points.
---