St. John Bosco quarterback DJ Uiagalelei commits to Clemson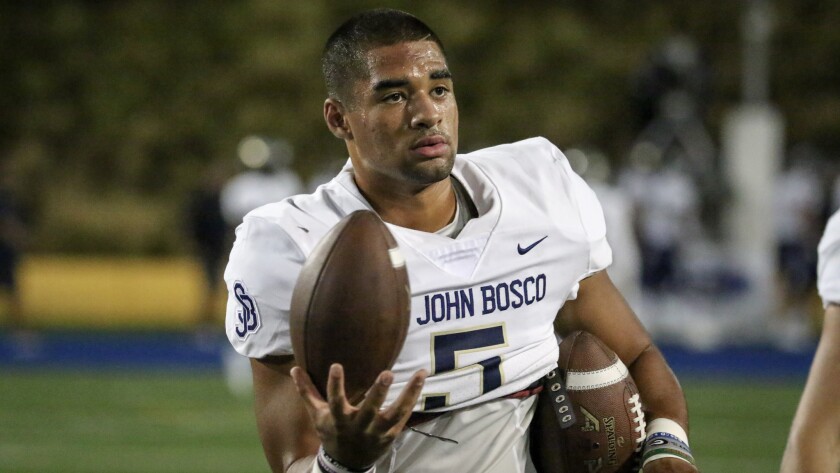 The nation's top quarterback, DJ Uiagalelei, is leaving Southern California, leaving the West Coast, and heading across the country.
Uiagalelei made his collegiate selection, announcing his commitment to national champion Clemson over finalists Oregon and Mt. San Antonio College on Sunday afternoon.
"I just felt like it was the best fit for me with everything I was looking at for a college," Uigalelei said. "The first time I walked onto the Clemson campus in June 2018, I could just feel that was the right place. I liked everything that they're doing with just building great young men from the way Coach Dabo is, just how they teach the players and how they're developing them.
"Also I want to play on the biggest stage," he added. "I want to play with the best players, play against the best people and right now Clemson is on the biggest stage. I feel like going there, that's what's going to take me to the next level."
Clemson has not had a player from California on its roster since 2011 and before signing Folsom High receiver Joseph Ngata in December, the Tigers had not signed a California high school prospect since 1991.
But Clemson was able to win over the Bellflower St. John Bosco High five-star quarterback because of the vein of spirituality that runs through the program. Coach Dabo Swinney has prioritized his faith and has routinely talked openly of his Christianity. That stood out to Uiagalelei. It enabled the national champions to come across the country to cherry-pick one of the top West Coast talents.
"Jesus Christ is the biggest thing in my life," Uiagalelei said. "He's No. 1 in my life, so going to a program where you have coaches that openly talk about Jesus Christ in their life and he's the No. 1 in their life, I could just feel that was the place for me to be at. I just remember how open they were about talking about Jesus Christ. I had never seen that in a football program. … I can just feel the Holy Spirit telling me that Clemson is the right place to go."
Uiagalelei is expected to sign in December and enroll early where he will join a quarterback room that features potential first-round pick Trevor Lawrence, who led the Tigers to a national title as a freshman. Uiagalelei is excited to learn from Lawrence, calling him one of the top two quarterbacks in college football, along with Alabama's Tua Tagovailoa.
It is anticipated that Lawrence will be a three-and-out quarterback, leaving Clemson as an early entrant into the NFL draft following the 2020 season. Uiagalelei could come in as Lawrence's backup as a freshman or redshirt his first year and take over the reins his second year as Lawrence departs. National recruiting analyst Greg Biggins of 247Sports thinks it's a perfect situation for Uiagalelei.
"As talented as he is, we think a redshirt year to learn the offense and catch up to the speed of the college game will be very beneficial for him," Biggins said. "He has only participated in one spring ball at Bosco due to baseball commitments so although physically gifted, he's still learning the game and has room for growth. The Tigers can afford to be patient with Uiagalelei.
"Like Lawrence, assuming he stays healthy, Uiagalelei is another three-and-out-level quarterback so it might make sense to let him get his feet wet as a true freshman before letting him run the show his second year in the program," Biggins said.
Uiagalelei doesn't it think it will take him long to transition to the collegiate game. He said Clemson runs a very similar offensive scheme to St. John Bosco and the Tigers are expecting him to come in and compete for opportunities.
"It fits my skill set really well," Uiagalelei said." I run the same type of offense. I feel like it's going to be the exact same thing with everything they are going through with the different reads that I make as a quarterback."
Dual-sport plans
Uiagalelei intends to continue playing football and baseball at the next level. He and his family sat down with Clemson baseball coach Monte Lee during the recruiting process.
"He said that would be fine to be able to play both sports. There's no problem," Uiagalelei said.
What role Uiagalelei could have with the team will be determined based on when in the calendar year he's able to join the baseball program. His fastball has been clocked in the mid-90s,
Mixing in Mt. SAC
Uiagalelei was never going to attend Mt. San Antonio College, so how did the community college in Walnut, Calif., remain among the finalists Uiagalelei announced every time he trimmed his list?
Several family members attended the school with Uiagalelei's father, David, and multiple uncles playing football for the Mounties. Uncle Iona Uiagalelei had been coaching at Mt. SAC since 2001 before becoming the defensive line coach under Kevin Sumlin at Arizona earlier this year.
"That's my favorite college and it always will be. Mt. SAC, that's always been my place," the quarterback said. "I know everybody. I have cousins that played on the team, friends, I just grew up a Mt. SAC guy, so that's my favorite college."
---
Get our high school sports newsletter
Prep Rally is devoted to the SoCal high school sports experience, bringing you scores, stories and a behind-the-scenes look at what makes prep sports so popular.
You may occasionally receive promotional content from the Los Angeles Times.