25 Images
Dodgers' greats
Duke Snider hit 40 or more home runs in five consecutive seasons and averaged 42 home runs, 124 RBI, 123 runs and a .320 batting average from 1953 to 1956. He led the league in runs scored, home runs and RBIs in separate seasons. He appeared in six postseasons with the Dodgers, including one in L.A. (1959).
()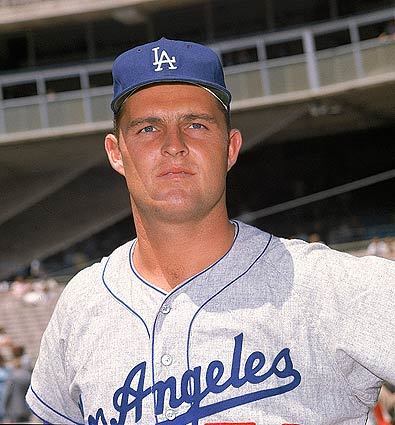 Don Drysdale teamed with Sandy Koufax during the late 1950s and 1960s to form one of the most dominating pitching duos in history. The ferocious hurler, nicknamed "Big D," used brushback pitches and a sidearm fastball to intimidate batters. And, he was great on "The Brady Bunch."
(Associated Press)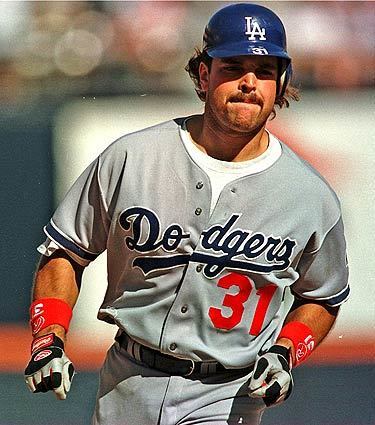 Mike Piazza's best season was 1997, when he finished second in MVP voting. He hit .362 with 40 home runs and 124 runs batted in, an on-base percentage of .431 and a slugging percentage of .638. He played six seasons for the Dodgers until he was traded to the Florida Marlins on May 15, 1998.
(Robert Gauthier / Los Angeles Times)
In 1988, Dodgers pitcher Orel Hershiser led the league in wins (23), innings (267), complete games (15) and shutouts (8) while posting a 2.26 ERA. He also finished the season with a record 59 consecutive scoreless innings pitched.
(Tom Gannam / Associated Press)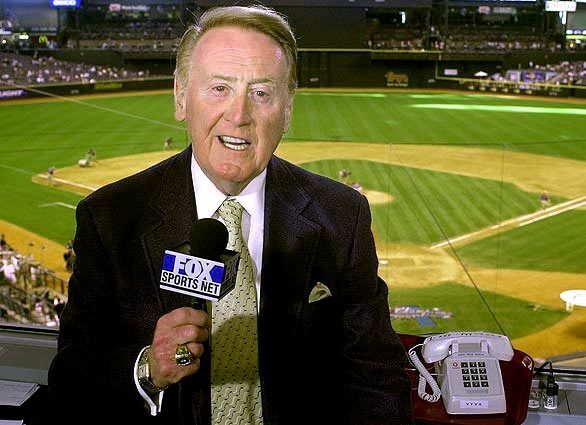 Vinc Scully has been the voice of the Dodgers since 1950 and is probably the most beloved Dodger of all time.
(Paul Connors / Associated Press)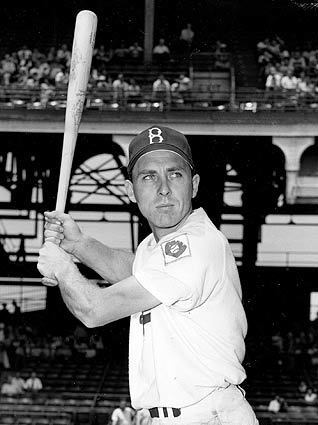 Gil Hodges drove in the last Dodgers run ever at Ebbets Field, and also the last run in Brooklyn history. He played four seasons with the Dodgers in L.A., and is considered by many to be the best first baseman in Dodgers history.
(Associated Press)
Steve Garvey is first or second in several L.A. Dodgers career batting categories and was named National League MVP in 1974. He hit over .300 in seven seasons and had six 200-hit seasons with L.A.
(Los Angeles Times)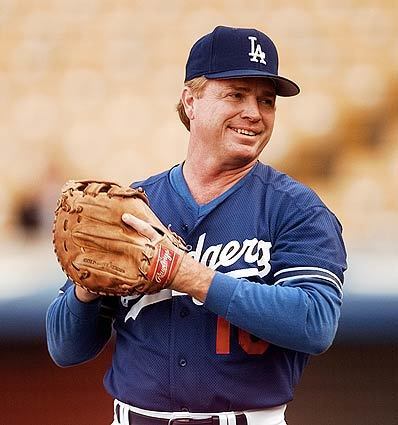 Bill Russell played his entire 18-season, 2,181-game career with the Los Angeles Dodgers and was the starting shortstop for four National League pennant winners and one World Series champion. He also replaced Tommy Lasorda as manager of the Dodgers when Lasorda retired.
(Susan Sterner / Associated Press)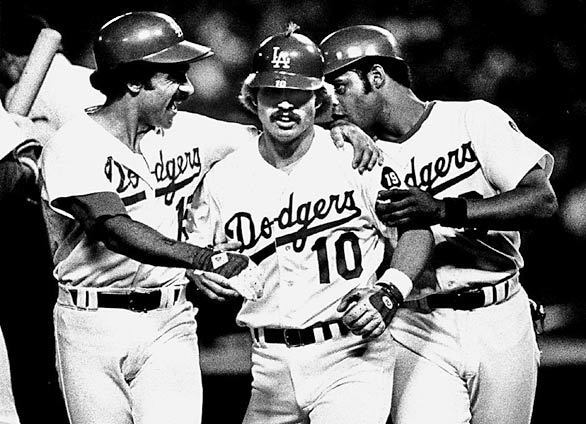 Ron Cey had a terrific 1981 World Series in which he helped spark the Dodgers to four straight victories after they had lost the first two games, including his return for the clinching Game 6 after having been hit in the head by a Goose Gossage fastball during Game 5. Cey hit 228 homers for the Dodgers, which was the all-time L.A. record until it was broken by Eric Karros.
()
Fernando Valenzuela touched off an early 80s craze dubbed "Fernandomania." In 1981, Valenzuela became the only player in history to win the Rookie of the Year and the Cy Young Award in the same season.
(Los Angeles Times)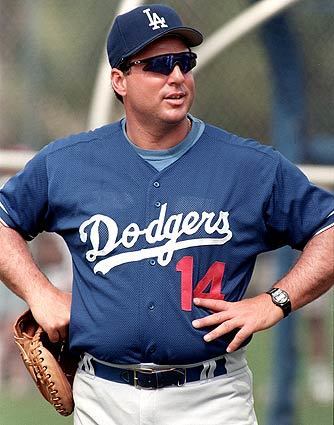 Mike Scioscia was the catcher on the Dodgers' 1981 and 1988 World Series champion teams, and is the team's all-time leader in games caught (1,395). He is best known for two things: blocking the plate, and his tying home run in Game 4 of the 1988 NLCS against the New York Mets.
(Los Angeles Times)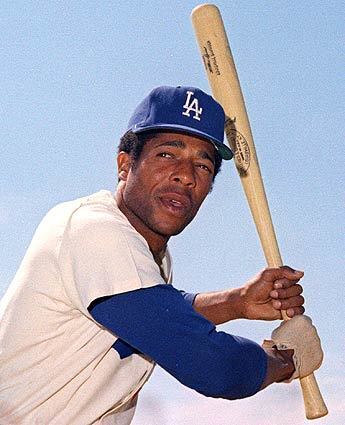 Willie Davis holds the Los Angeles team records for hits (2,091), runs (1,004), triples (110), at bats (7,495), total bases (3,094) and extra-base hits (585).
(Associated Press)
John Roseboro will always be remembered as the player that pitcher Juan Marichal clubbed over the head with a bat during a game between the Dodgers and San Francisco Giants at Candlestick Park on August 22, 1965, but Roseboro was also an excellent catcher on three World Series champions.
()
Shortstop Maury Wills was named National League MVP after the 1962 season, in which he set the all-time record (since broken) with 104 stolen bases.
(Los Angeles Dodgers)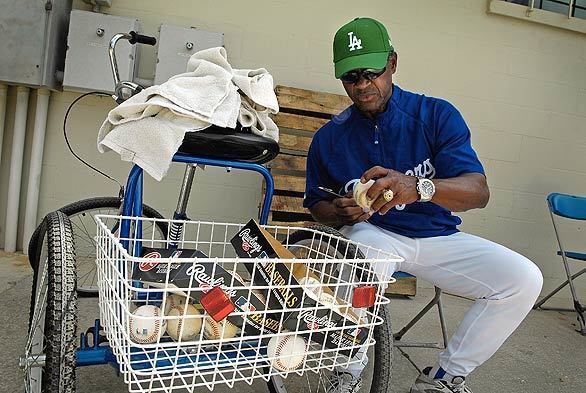 Before Manny Mota became a long-time coach for the Dodgers, he was the best pinch-hitter in the game, setting a major league record (since broken) with 150 pinch hits.
(Matthew Ratajczak / Stuart News)
Tommy Lasorda managed the Dodgers from 1977-96, during which he led the team to two World Series titles, four National League pennants and seven National League West division titles. He was elected to the Hall of Fame in 1997.
(KEVORK DJANSEZIAN / Associated Press)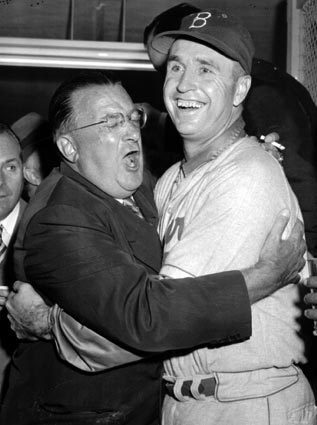 Dodgers owner Walter O'Malley, left, and Manager Walter Alston are two of the most memorable Dodgers. O'Malley moved the team from Brooklyn to L.A., and Alston managed the L.A. Dodgers to three World Series titles before retiring after the 1976 season. Alston was elected to the Hall of Fame in 1983.
(Associated Press)
Eric Karros is the all-time L.A. Dodgers home run leader, hitting 270 while he was with the Dodgers.
(Luis Sinco / Los Angeles Times)
Eric Karros played 1,579 games at first base for the Dodgers, second all-time in L.A. to Steve Garvey's 1,672.
(Robert Durell / Los Angeles Times)
Don Sutton holds several career L.A. Dodgers pitching records, including: Wins (233), losses (181), games (550), games started (533), strikeouts (2,696), complete games (156, tied with Don Drysdale), innings pitched (3,814) and shutouts (52). He was elected to the baseball Hall of Fame in 1998.
(Richard Drew / Associated Press)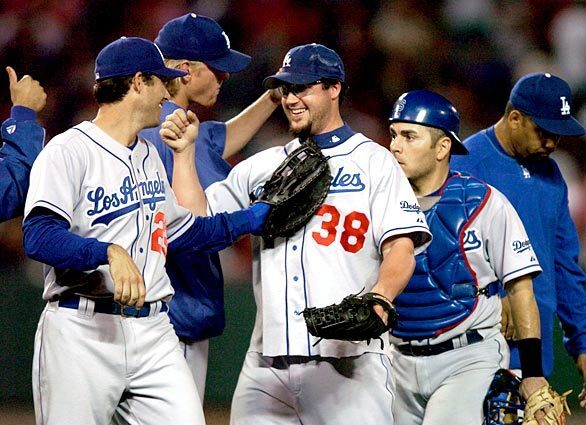 Eric Gagne successully coverted 84 conseutive save opportunities with the Dodgers and won the 2003 Cy Young Award.
(Los Angeles Times)
Shawn Green holds the Dodgers season record in home runs with 49, which he hit in 2001. He also hit four homers in one game on May 23, 2002.
(Jon Soohoo / Los Angeles Dodgers)
Fourteen years after "Fernandomania," "Nomomania" came to Dodger Stadium thanks to Hideo Nomo, who had a phenomenal rookie season in 1995.
(Alex Gallardo / Los Angeles Times)
Hideo Nomo went 13-6 with a 2.54 ERA in his rookie season, striking out 236 batters in only 191 1/3 innings. He won 16 games three times with the Dodgers: 1996, 2002 and 2003.
(Los Angeles Times)
In 1977, (from left), Reggie Smith, Steve Garvey, Ron Cey and Dusty Baker became the first four teammates in baseball history to each hit at least 30 home runs. Note: An previous version of this caption misidentified the player on the right as Reggie Smith.
(Los Angeles Times)