Column: Dodgers ballgirls who survived Las Vegas shooting spree will return to work this weekend
Two of the most resilient Dodgers will finally make their postseason debuts Sunday.
In Game 2 of the National League Championship Series at Dodger Stadium, you can find them sitting on buckets down the baselines.
On one side will be Christina Zambrana, 27, a former college softball infielder with a nifty glove.
On the other will be Amy Moore, 26, a former college softball catcher with a big arm.
They are officially known around Chavez Ravine as "ballgirls," a title that understates the night in Las Vegas when the two powerful women were giants.
When Stephen Paddock began a shooting spree on the night of Oct. 1 at the Route 91 Harvest Music Festival at Las Vegas Village, Zambrana and Moore were in the middle of a throng of about 22,000 concertgoers.
They initially ran together to hide under a tent. Then they crouched together under a table. Then, clutching each other's hands, the Dodgers teammates fled through the hail of gunfire.
At one point, Moore dragged Zambrana around a metal fence. At another, after Moore lost her shoes, Zambrana hoisted her on her back and carried her.
"We were just running for our lives,'' Moore said. "We knew if we didn't get out of there, we were going to die.''
Once they reached safety, they began helping others, Moore comforting those who had fallen around her, Zambrana quickly removing her belt to use as a tourniquet on the wrist of a badly bleeding shooting victim.
Together they survived, two of the lucky ones not among the 58 dead and about 500 wounded. Together they will return to work Sunday, embraced by their co-workers, welcomed by the players, cheered by the fans who sit behind them in the stands.
They are mourning over the bloodshed they witnessed, keenly thankful for the blessings they have been given and more excited than ever for October baseball and the eternal hope it holds, for another nine innings of life.
"It will be, like, normal,'' Zambrana said. "It will be healing.''
::
Rule one when dealing with Dodgers ballgirls: Don't be surprised if they are better baseball players than you.
"I love it when fans say, 'Hey, you throw good for a girl,'" Moore said. "I'm like, 'No, we throw good, period.'''
They warm up the outfielders with long throws between innings. They make leaping catches of errant foul balls. They deftly grab their bucket and jump into the stands to avoid balls that are fair.
It sounded like we were on a gun range. It was right on top of us.
Amy Moore, regarding the mass shooting in Las Vegas
There are videos of great Dodgers ballgirl grabs on YouTube. Look close and you can always see some unsuspecting fan sitting nearby with their face buried in their smartphone, unaware that a lunging woman just saved their neck.
"They're all athletic, they've all played baseball or softball, and they're all really good,'' said Lon Rosen, Dodgers chief marketing officer. "They're not just sitting out there; they have a job to do.''
The Dodgers employ six ballgirls and one ballboy. They are paid hourly, part-time wages. They acquire the job only through tryouts. And they dress like ballplayers because they are ballplayers.
Moore and Zambrana, who knew each other from years of competing on the Southland softball circuit, reconnected this winter when both joined the team. They both are still involved in softball — Moore plays for the British National team and Zambrana is the coach at Covina South Hills High — and they thought it would be fun.
Little did they know there would be drama.
"I once threw a foul ball into the stands, some guy caught it, then a couple of innings later he threw it back with his phone number on it,'' Zambrana recalled.
They had no idea there also might be teasing.
Moore once made a stab of an Enrique Hernandez foul line drive, after which he jokingly glared at her in the dugout, saying, "Don't you ever catch my line drives again!''
After working together for several games, Zambrana and Moore renewed their friendship in such a way that Moore invited Zambrana to join her and an entourage of several friends and family members in Las Vegas for the weekend music festival.
"We had a great time, a perfect weekend,'' Moore said. "Until the end."
They decided to leave before Jason Aldean's final songs, and were walking toward an exit when they heard a couple of pops and thought it was fireworks. Then they heard the continuous pop-pop-pop and ran for cover.
"We thought, 'Is this going to be it?''' Moore said. "It sounded like we were on a gun range. It was right on top of us.''
After briefly hiding, Moore remembered the advice of her father Steve, a retired policeman, and brother Kevin, a current policeman who also attended the concert.
I leaned over and told her to jump on my back. I had to carry her out, it was the only way.
Christina Zambrana, on escaping the mass shooting in Las Vegas by helping carry Amy Moore to safety.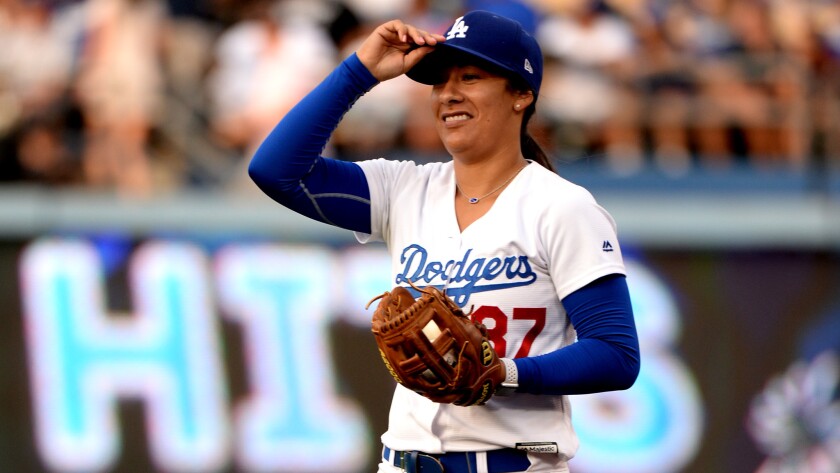 "I was always told, if you're ever in this type of situation you can't stay where you're in danger, you have to get out,'' Moore recalled, "So I said, 'Christina, we have to move.'''
Moore grabbed Zambrana's hand and they worked their way through the mass of fleeing humanity. When Zambrana was stuck against a metal fence, Moore pulled her around it. When they reached a six-foot retaining wall, they helped each other climb it.
When Moore lost her sandals and her feet began bleeding on the rock-strewn path, it was Zambrana who led the way.
"I leaned over and told her to jump on my back,'' Zambrana said. "I had to carry her out, it was the only way.''
All around them, the bullets kept coming and people kept dropping, so they kept moving until they reached the streets and reunited with Moore's brother.
"People getting shot all over the place, blood everywhere, I just kept, 'C'mon, c'mon, go, go, go,''' Moore said. "It could have been us. It was like we were protected by angels.''
After tending to some of the wounded, they returned to a nearby hotel. Soon, their phones were filled with messages from Dodgers employees who had learned that they were at the concert through social media. These employees included everyone from the Dodger bosses to Yasiel Puig.
"We're not very high on the totem pole," Moore said. "We're only ballgirls, some people don't even know our names. But the support from the Dodgers has been overwhelming.''
The Dodgers responded to the women and many others in the area who were affected by the tragedy and reached out for comfort. They sent out personalized get-well videos, letters from manager Dave Roberts, autographed jerseys and team gear.
Moore was scheduled to work the National League division series against the Arizona Diamondbacks, but the Dodgers told her to take the week off. Instead, they gave both women tickets to last Saturday's Game 2 against the Diamondbacks and offered them the services of Dodgers chaplain Brandon Cash.
"They're part of our family,'' Rosen said. "They're important to us, important to our players and fans. We're very excited that they can come back and participate on Sunday.''
When they do show up, notice the number on Amy Moore's jersey. It is a perfect symbol for the combination of Dodger miracles both past and present.
She will be the only Dodger wearing 88.
Get more of Bill Plaschke's work and follow him on Twitter @BillPlaschke
---
Get our high school sports newsletter
Prep Rally is devoted to the SoCal high school sports experience, bringing you scores, stories and a behind-the-scenes look at what makes prep sports so popular.
You may occasionally receive promotional content from the Los Angeles Times.