Column: Dodgers should retire Fernando Valenzuela's number, and others as well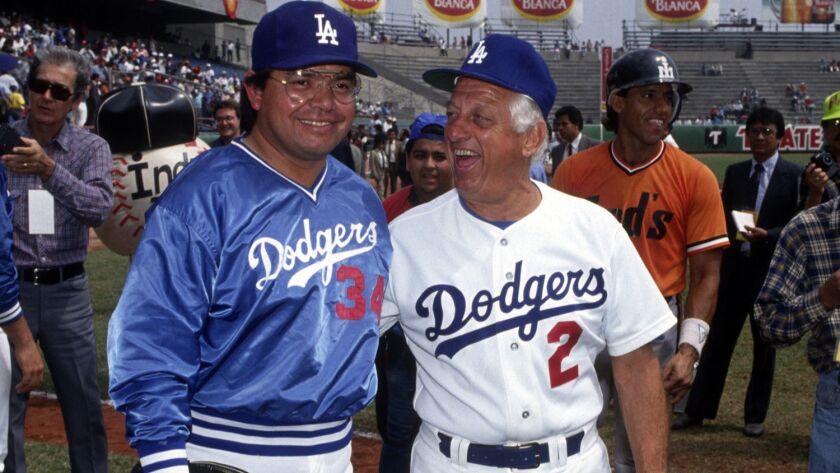 This week the Mexican Baseball League announced it is retiring Fernando Valenzuela's legendary number 34.
Yet the Dodgers will not.
The San Diego Padres have long since retired Steve Garvey's iconic number 6 in honor of his five seasons there.
Yet the Dodgers, where Garvey played 14 years including the bulk of his 1,207 consecutive games, will not.
The New York Mets have retired Gil Hodges' number 14 in memory of the four years he managed there.
Yet the Dodgers, where Hodges starred for 16 years in both Los Angeles and Brooklyn, will not.
By now it's pretty clear the Dodgers have a numbers problem. In an era when their fan connection has grown tenuous with the television blackout, during a time when their constantly changing rosters and lineups have placed even more importance on the stability of their legends, the Dodgers retired numbers just don't add up.
They have retired 10 numbers, but only one of those has no connection to Brooklyn, and none have been retired in the last 20 years. It is their policy to retire only numbers of players or managers who have been inducted into baseball's Hall of Fame, yet it is a policy followed by only about a third of major league teams, and one that the O'Malley ownership didn't strictly follow.
The number 19 of infielder Jim Gilliam was retired just after his unexpected death from a massive brain hemorrhage suffered while he was a Dodgers coach near the end of the 1978 season. Gilliam, who played on four World Series championship teams, was never inducted into the Hall of Fame.
The number 24 of manager Walt Alston was retired shortly after his retirement after the 1976 season, but it was six more years until he was inducted into the Hall of Fame.
Leo Durocher was inducted into the Hall of Fame in 1994 as a manager who recorded more than a third of his 2,008 career wins with the Dodgers, but his number 2 wasn't retired because it was being worn by Tom Lasorda at the time.
Then there's Zack Wheat and Dazzy Vance, two Hall of Famers who set franchise marks for the Dodgers in the 1920s. Wheat played in an era before baseball players wore numbers, while Vance wore a number 15 for only one Brooklyn season, and both are honored with hallway plaques.
The remaining eight retired numbers are all important honorees — Jackie Robinson, Pee Wee Reese, Duke Snider, Lasorda, Don Sutton, Sandy Koufax, Roy Campanella, Don Drysdale — but the Dodgers need to change their policy to make room for more.
By strictly adhering to Hall of Fame enshrinement, they are allowing baseball writers from around the country to dictate an important part of their local heritage. They are using enshrinement in a New York museum to determine what lives forever at Dodger Stadium. While the Guggenheim folks have done great things in strengthening the bond with the club's historical past, that sort of thinking is outdated and silly.
Notice that Sutton is the only player with a retired number who spent the entirety of his Dodgers career in Los Angeles, without an affiliation with Brooklyn. The Dodgers have been in town for 61 years and they can't come up with more homegrown heroes? Actually, they can, and here are some:
-- The number 34 of Valenzuela should be retired. This is so obvious that a generation of Dodgers clubhouse workers, without orders from above, have quietly refused to give out the jersey since he left the team in 1990.
-- The number 30 of Maury Wills should be retired. He brought the stolen base into the modern era. His impact on the organization was so great that Dave Roberts wears the number in his honor.
-- The number 36 of Don Newcombe should be retired. He helped integrate the game alongside Jackie Robinson and Roy Campanella. His legacy extends far beyond the playing field.
One could argue that the number 6 of Garvey should also be retired, even if critics will claim this means the numbers of Davey Lopes, Bill Russell and Ron Cey should also be retired. But Garvey was the most statistically accomplished. Garvey was the anchor.
But, right now, Garvey's number is seen nightly on the back of hitting coach Robert Van Scoyoc. Then there is the case of Mike Piazza, who is in the Hall of Fame as a New York Met and played the majority of his career there, yet whose number might be retired by the Dodgers if Piazza ever ended his grudge against the organization and agreed to be honored.
"Our policy is to retire the numbers of players who are in the Hall of Fame, and honor the others in 'Legends of Dodger Baseball,' '' said Lon Rosen, Dodgers' executive vice president and chief marketing officer
This "Legends of Dodger Baseball'' is a newfangled honor debuting this summer. The recipients will be given a plaque that will hang in Dodger Stadium. The first three inductees are Newcombe, Valenzuela and Garvey.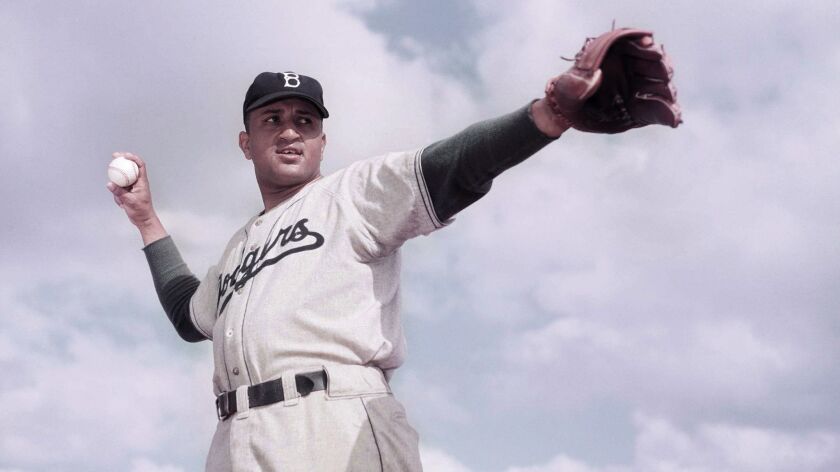 It is the club's attempt to avoid this whole retired numbers controversy, but a hanging trophy and a retired number just aren't the same. Retired numbers are living reminders of the legends' irreplaceable part of the club's history. Nobody will ever wear their uniform again. It's a big deal, one that celebrates the club's connection with the community, and some teams understand this better than others.
The Angels have retired five numbers, but only Rod Carew and Nolan Ryan are in the Hall of Fame. The other three are men who nonetheless made significant contributions to the organization – owner Gene Autry, coach Jimmie Reese, and shortstop and manager Jim Fregosi.
The New York Yankees have retired a baseball-leading 21 numbers, yet not all are Hall of Famers. Heck, the Minnesota Twins retired Kent Hrbek's number, the Kansas City Royals retired Frank White's number, and the Texas Rangers retired the number of manager Johnny Oates.
"In my judgment, no, there was a never a hard and fast rule,'' said Fred Claire, former Dodgers general manager. "And even if there was, what does that have to do with the Dodgers of today? You can never ever do enough to honor the past players. Never, ever. These are the people who created the foundation of what the Dodgers are today.''
The unspoken fear is that once the Dodgers begin retiring numbers of those not in the Hall of Fame, where do they draw the line?
"I understand those questions,'' said Claire. "You could make a case for Steve Garvey, but how do you say Garvey without saying Lopes, Russell and Cey? They are difficult decisions that create controversy, but is all of that so bad? When the conversation has to do with the greatest players in the history of the Dodgers, what's wrong with starting a discussion that might go on and on.''
Sign up for our daily sports newsletter »
The standard for a retired number should be one that applies to Valenzuela. Was he more than just a player? Was his number more than just a digit? Did his Dodger contributions change not only the game, but the franchise culture?
"Is there really a question of Fernando and what he meant and what he accomplished and his unique story?" Claire asked. "Is that a legendary number? The answer is yes.''
No matter what anybody decides, no Dodger player will ever again wear number 34. The Dodgers might as well make it official. And that should just be the start.
Get more of Bill Plaschke's work and follow him on Twitter @BillPlaschke
---
Get our high school sports newsletter
Prep Rally is devoted to the SoCal high school sports experience, bringing you scores, stories and a behind-the-scenes look at what makes prep sports so popular.
You may occasionally receive promotional content from the Los Angeles Times.