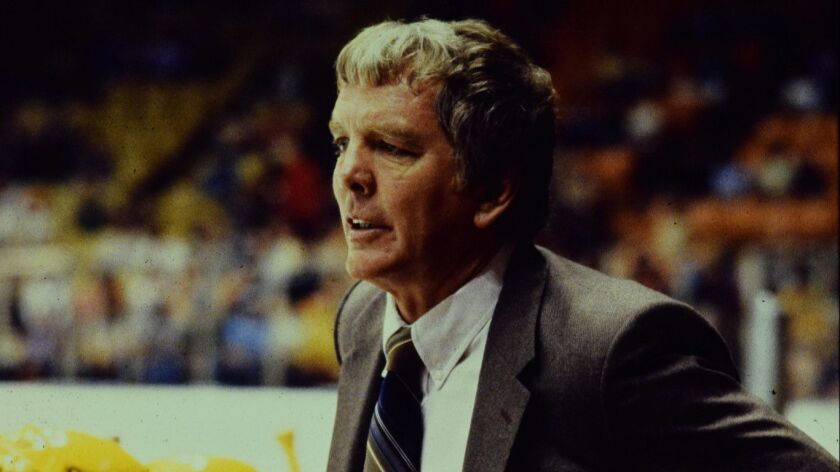 Don Perry, coach of the Kings for their famous "Miracle on Manchester" playoff victory, has died at an assisted-living facility in Arizona. He was 89.
Perry coached the Kings for parts of three seasons, from 1982 to 1984. He was behind the bench when the Kings erased a five-goal deficit in the third period against the Edmonton Oilers and won 6-5 on Daryl Evans' overtime goal on April 10, 1982, in Game 3 of the Smythe Division semifinals. The Kings lost in the next round but the comeback win stood as the most famous in franchise history until their 2012 and 2014 Stanley Cup triumphs.
Perry's death Monday was confirmed by Prestige Assisted Living at Green Valley in Green Valley, Ariz. Known as a hard-edged defenseman in his playing career, Perry carried that over to his coaching style, which former Kings forward and longtime television analyst Jim Fox described as "old school."
"He coached the game like he had his equipment on," Fox said Monday. "He was ready to play. He was all about everyone working together.
"A big part of his approach was about the readiness of the players, as opposed to relying on tactics. 'Beat the guy across from you.' That was his motivation."
Former Kings forward Dave Taylor said Perry liked tough players.
"You had to play like a man," Taylor said. "To use his words, he didn't like soft players."
When the Kings trailed 5-0 in the "Miracle" game, Perry told the team at second intermission to simply win a period and make the game respectable. But "the thing I'll always remember about that was what happened when Don was walking out of the room," defenseman Rick Chartraw told The Times in 1985. "He says, 'Give it your best effort every shift.' Then, he closes the door. A few seconds later he opens it again and says, 'Oh, by the way. Anyone who doesn't give it their best effort won't dress for the next game.'"
Perry gained notoriety during the 1981-82 season when he was suspended six games for directing enforcer Paul Mulvey to leave the bench to join a fight against the Vancouver Canucks. Perry previously coached the Saginaw Gears in the International Hockey League, winning two championships, and the New Haven Blades of the Eastern Hockey League. He had a 19-year playing career with New Haven and the Long Island Ducks, among other teams, and racked up more than 130 penalty minutes seven times.
---