Donovan McNabb thinks he 'absolutely' belongs in the Hall of Fame. Is he right?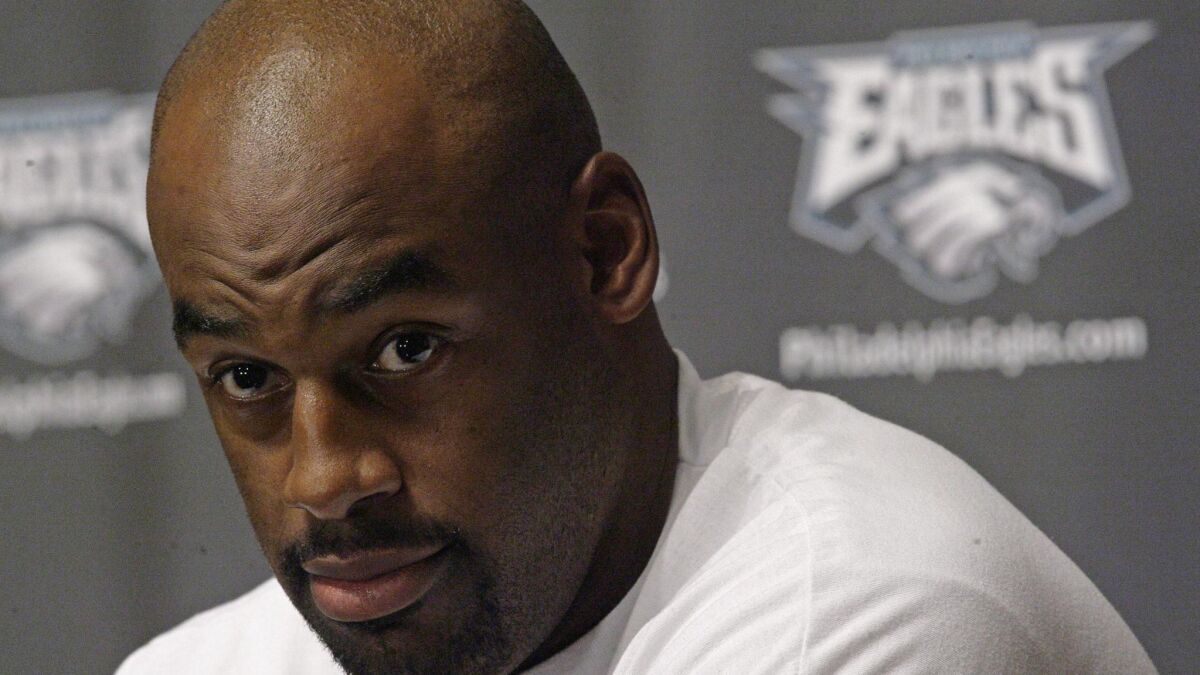 Donovan McNabb has been nominated for the Pro Football Hall of Fame every year since he became eligible in 2017, and all three times he has not made the cut.
McNabb was asked by TMZ Sports if he feels he belongs in Canton, and the quarterback who led the Philadelphia Eagles to five NFC championship games and one Super Bowl gave a firm answer.
"Absolutely, and I'm not hesitating on that," he said. "I am a Hall of Famer, my numbers speak for themselves."
Is he right? Let's try to break it down.
McNabb does have some fantastic numbers. He passed for 37,276 yards; only eight members of the Hall of Fame threw for more. He also has 234 passing touchdowns, more than all but 13 inductees.
Also, McNabb had 117 of his passes intercepted; there are 26 guys wearing gold jackets who had more passes picked off. He also rushed for 3,459 yards (only three Hall of Fame quarterbacks had more) and 29 touchdowns (bested by six enshrined QBs).
But McNabb also acknowledged to TMZ that Hall of Fame voters often look at more than statistics.
"When they look at my numbers, yeah, but then they always want to add other stuff into it," he said. "Was he an All-Pro? Was he this? How many Super Bowl opportunities? People don't realize how hard it is to get to the NFC championship and to get there five times, and then make it to a Super Bowl? It's tough."
Whenever Hall of Fame qualifications are discussed in any sport, one thing that always seems to come up is championship rings. McNabb has none.
Of the Hall of Fame quarterbacks who played the majority of their careers during the Super Bowl era, only Fran Tarkenton, Dan Fouts, Jim Kelly, Dan Marino and Warren Moon never won the big game. While Kelly played in four Super Bowls and Tarkenton three, Marino had the same number of Super Bowl appearances as McNabb, while Fouts and Moon didn't have any.
Sign up for our daily sports newsletter »
In addition, Kelly is the only one of those five quarterbacks who played in the same number of conference championships as McNabb. Tarkenton and Marino made it to three, Fouts two and Moon never made it out of the divisional round of the playoffs.
Let's go back to the stats for those five quarterbacks. Four of them threw for more yards than McNabb (Kelly had 35,407 yards). McNabb didn't throw as many touchdown passes as any of those five (he's closest to Kelly, who had 237), but he also had fewer passed picked off than any of them (Kelly is closest with 175). Only Tarkenton has more rushing yards and touchdowns than McNabb.
In short, McNabb seems to be right in there with that group of Hall of Famers in numerous categories. Will any of it be enough to put him over the top with the voters? Time will tell, but the conclusion here (just one man's opinion) is that it should. What do you think?
Twitter: @chewkiii
Get our high school sports newsletter
Prep Rally is devoted to the SoCal high school sports experience, bringing you scores, stories and a behind-the-scenes look at what makes prep sports so popular.
You may occasionally receive promotional content from the Los Angeles Times.