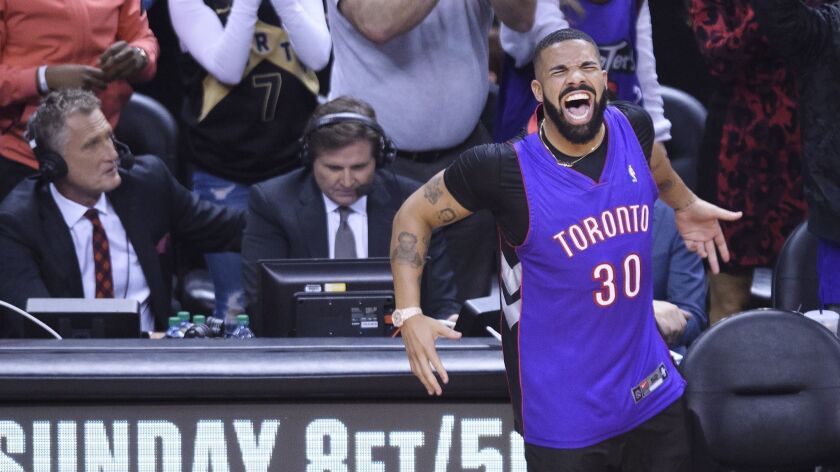 NBA commissioner Adam Silver said earlier this week he had a talk with Toronto Raptors super fan Drake about how "there's got to be lines drawn" when it comes to the hip-hop superstar's courtside behavior during games.
"I think he has a better understanding now of where that line is," Silver said of Drake during an interview with Yahoo Sports.
If that's true, here are some things that apparently don't cross that line, based on Drake's shenanigans Thursday night during the Raptors' 118-109 victory over the Golden State Warriors in Game 1 of the NBA Finals:
— Wearing a vintage Dell Curry jersey from his playing days with the Raptors. Curry, of course, is the father of Warriors superstar Stephen Curry and was on hand to root for his son. Still, the former player who spent the final three seasons of his 16-year NBA career with Toronto seemed amused by Drake's wardrobe choice.
— Calling Draymond Green "trash" (at least that's what it looked like Drake said after the game during a heated exchange with the Warriors star).
That smug smile he gave Green also was worth a thousand words.
Green downplayed the run-in when speaking with reporters after the game. "We talked. We barked a little bit."
— Pulling lint out of Stephen Curry's hair during the game.
At least that's what Drake said happened when the two-time league MVP approached him during a stoppage in play. (Kinda gross that the former "Degrassi" star actually saved the hair lint, though, as shown in his Instagram post below.)
— Trolling Klay Thompson with the "Hotline Bling" dance. Thompson had said he was going to skip that particular Drake hit on his playlist during the finals. Drizzy wasn't about to let that comment slide.
— Covering his Curry and Kevin Durant tattoos with a Nike arm band.
So there you have it. Obviously, some of these antics are more outrageous than others, but it will be interesting to see if any of them actually did cross Silver's hypothetical line.
Sign up for our daily sports newsletter »
Twitter: @chewkiii
---