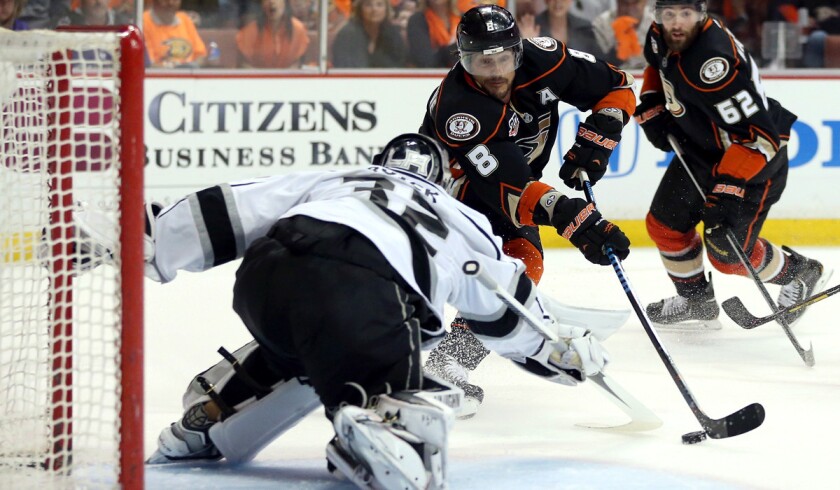 No one felt the sting of the Ducks' Game 1 overtime loss to the Kings more painfully than Teemu Selanne.
Anaheim's retiring No. 8 scored his team's go-ahead third-period goal precisely 8 minutes 8 seconds into the final frame of regulation. It was his 43rd career playoff goal, and it came at age 43.
Yet, seven seconds from providing Saturday night's defining play, Selanne joined his teammates in the horror of watching Kings forward Marian Gaborik score the tying goal. Gaborik then won it for the visitors 12:07 into overtime with another goal.
Losses like that break a team.
But Selanne and the Ducks have proved themselves a resilient bunch, their 28 comeback victories this season and franchise-record victories on the road helping, they said Sunday, to set aside any sense of doom after all that escaped them Saturday night.
"That was the story last night," Selanne said after a team meeting at their Anaheim practice facility with Game 2 on Monday night at Honda Center. "Now, it's a new opportunity. … I have a good feeling about this.
"We'll keep pounding, that's how we've been winning, that's our plan. … Let's enjoy it."
Ducks forward Corey Perry acknowledged "staying up late" in a replay of aching moments such as hitting the post on one shot and getting another blocked early in overtime by Kings defenseman Alec Martinez with a vacant spot of net in plain view.
"You think about what could've been," Perry said. "Couple bounces here and there, it could've been a different story. Frustrating, but it makes it exciting for the next game. You want to play right away. Play the same way and hope for a different outcome."
Ducks Coach Bruce Boudreau didn't sound as if he'd retreat from again starting veteran goalie Jonas Hiller, and said he doesn't expect to insert his top defensive line — Andrew Cogliano, Saku Koivu, Daniel Winnik — against the Gaborik-Anze Kopitar-Dustin Brown line that accounted for the three Kings' goals with Kopitar assisting each.
"We're not depressed," Boudreau said. "We're ready to play better and see where it ends up. I like the way we did things. … We had much better chances to score than they did, but there's a saying, 'You've got to make hay when the sun shines.'"
Boudreau said in studying Game 1 film, the Ducks allowed the Kings only three scoring chances playing five on five, with the Kopitar line scoring on both a first-period power play and with an empty net late in the third.
The Ducks outhit the Kings, 54-41, with Selanne taking out veteran Kings defenseman Robyn Regehr, and blocked nine more shots. A major misstep was looking so bad while going 0 for 4 on the power play.
Worse was losing how they did.
"We've just got to bury our opportunities and not let them hang around," said Ducks center Ryan Getzlaf. "Confidence can't change in the playoffs. We have to stick to what we do best."
Perry said the Ducks were braced all along for hockey's first Freeway Series to be a classic.
"We knew it wasn't going to be easy," he said. "It's going to be a long series — physical, exciting, low-scoring, great goaltending.
"Everything you can ask for."
Twitter: @latimespugmire
---