E-sports isn't just a kids game anymore. There's big money for the best
His father used to tell him that sitting in front of the computer, playing video games for hour after hour, was a waste of time.
So Cody Altman didn't quite know what to think when a college from halfway across the country called to offer him a scholarship — for playing video games.
"Honestly," he said, "I was skeptical."
The young man from Anaheim changed his mind when he learned that Maryville University in St. Louis had an e-sports team with a coach, daily practices and league matches against other schools.
Two years later, Altman — who goes by "Walrus" in competition — found himself back in Southern California, seated with his teammates at a row of monitors on a high-tech stage, ready to do battle in the "League of Legends" college championship.
Several hundred fans came to watch, filling the stands, as Maryville faced the University of Toronto in the final match.
Players banged away at keyboards and chattered commands — "Go, go, go … hold … I've got two" — over bulky headsets. Above them, a giant screen showed the game action, with fantastical creatures flittering across a jungle landscape, hurling spears and bombs and shooting cannons.
"There's the stun," a play-by-play announcer bellowed. "There's the CC chain coming out."
Glitzy college tournaments represent the latest evidence that competitive gaming is big-time.
At the professional level, tournaments pay as much as $20 million in prize money, filling basketball arenas and drawing millions of viewers online. Team owners spend in excess of six figures to sign the best free-agent players.
But as e-sports continue to expand at a breakneck pace, they may have reached a wake-up moment.
"It's this really interesting time where you have this industry that is growing but is still, at its core, made up of young gamers," said Nick Geracie, who covers gaming for the HOWLA web site. "It's like a boy trying to fit into a man's body."
It's this really interesting time where you have this industry that is growing but is still, at its core, made up of young gamers

— Nick Geracie
---
The term "e-sports" actually refers to a loose patchwork of leagues and tournaments around the world. People in the industry refer to them as "ecosystems."
It all started in the early 1970s when gamers and clubs began organizing small-time competitions. Things grew more serious with the explosion of online play in South Korea during the late 1990s.
The most-popular games — including "League of Legends," "Counter-Strike: Global Offensive," "Dota 2," "Hearthstone" and "Overwatch" — subsequently evolved in different ways.
Some game makers created and sponsored leagues for their products. In other instances, independent promoters stepped in. The structure often varied from continent to continent.
A separate economy grew up around live-streaming as top gamers found they could invite fans to watch their scrimmages in return for a subscription fee or donation.
"It's ridiculous how much you can make," said Zaqueri "Aphromoo" Black, who is regarded as a veteran player at 24. "The really good streamers make over $1 million a year."
In North America, much of the action takes place in Southern California, which serves as home base for game makers, leagues, teams and a UC Irvine program that includes school-sponsored teams along with a "computer game science" major.
The Wild West ethos that originally drove competitive gaming no longer seems to fit. Not with so much money at stake.
That's why e-sports have been forced to borrow from the likes of the NFL and NBA, adding mainstream business practices such as franchising, revenue-sharing and player unions.
"It's not a niche activity anymore," said T.L. Taylor, an MIT sociologist in the field of internet and game studies. "People are looking for whatever hooks they can find to stabilize the scene."
---
It might sound odd to refer to video games as sport, given their lack of physicality. Even players occasionally resist the tag, wanting no part of the conventions that mark, say, football or basketball.
But the competitive aspect is undeniable with published lists that rank players, no matter what age, in the major games. Maryville spotted Altman, newly graduated from Anaheim Canyon High, as a young talent and convinced him to put his professional aspirations on hold.
The ultimate goal for any serious gamer is to catch on with a "house" — one of the large homes where pros live and train under their team's careful supervision.
"We can teach them to see the game better," said Tony "Zikzlol" Gray, a coach in the Counter Logic Gaming organization, which operates a house in Arcadia.
The 23-year-old Gray began as an unpaid analyst, studying video of opposing teams for 16 hours a day, looking for tendencies and weaknesses. This work led to a salaried position as an assistant in charge of strategy and, eventually, the head job.
Counter Logic Gaming has employed a nutritionist to make sure players eat well — lots of bananas on game day — and a physical therapist to care for repetitive strain injuries, the e-sports equivalent of a pulled hamstring in football.
"All those things add up," Gray said. "People are trying to figure out the 1% that can make a difference."
Increasingly, the formula includes strength training. Maryville University offers weekly sessions in the weight-room, where the 22-year-old Altman focuses on his back, shoulders and biceps. Some pros — such as Black — have similarly found that staying in shape can improve focus and ward off sore wrists.
Teams have also turned to sports psychology to help gamers, who are overwhelmingly male, handle the stress of practicing 12 or more hours a day.
"You hear a lot of people talking about burnout," said Zachary "Sneaky" Scuderi, who plays for one of several Cloud9 teams. "That's been an issue."
Language and cultural differences can be just as problematic on rosters that blend young men from North America, Asia and Europe. During games, teammates face split-second decisions about attacking or playing it safe, spreading across the map or gathering in one spot for strength.
Team psychologists address what Gray calls "confrontation ability," the art of resolving squabbles that can doom a squad.
"Most of the time, we're anti-social people who play on the computer," Black said. "So it's really hard for most teenagers coming out of high school, playing this game, to talk to each other."
You hear a lot of people talking about burnout. That's been an issue.

— Zachary "Sneaky" Scuderi
---
It was 2004 when Sam Mathews joined an e-sports team in his native England. The players wanted to enter a Las Vegas tournament but couldn't find a sponsor, so Mathews sold his car to pay for the trip.
Though his team won, the prize money barely covered expenses. It didn't matter. He was hooked.
"E-sports gave me the same thrill you got from sports," the former rugby player said.
E-sports gave me the same thrill you got from sports.

— Sam Matthews
With help from his mother, Mathews gathered $40,000 to start Fnatic, signing players for teams in four different games.
E-sports took a giant step forward in 2011 when a video platform called Twitch began streaming tournaments and scrimmages. Not only could fans watch their favorite gamers practice, they could often type questions that might be read aloud and answered.
"It's the equivalent of a high school basketball player watching LeBron James run drills or play a pickup game," HOWLA website co-founder Geracie said.
Twitch soon attracted tens of millions of unique visitors watching billions of minutes of content each month. In 2014, it was purchased by Amazon for $970 million.
With e-sports spreading to YouTube and cable television, industry experts saw competitive gaming reach a young, male demographic in ways conventional advertising could not.
"That's where the money is," said Taylor, the sociologist. "And it's not going away … we're going to see e-sports continue to evolve as a broadcast product."
---
The windows were thrown wide open, allowing a cool afternoon breeze to drift through the Venice home that Fnatic uses as its American headquarters.
Standing over a long, wooden table, Mathews laid out T-shirts and hats that bore his team's logo. He showed off a headset designed for gaming.
To him, the future of e-sports looks like branding, merchandising and so much more.
"We're carving out a new entertainment sector," he said. "There are a lot of moving parts."
Tech industry executives and other mainstream investors have brought outside money to the table.
Last fall, Irvine-based Blizzard Entertainment announced plans to form a league for "Overwatch," its shooting game, with official franchises and guaranteed player benefits. Riot Games in Los Angeles followed suit with a similar effort for its "League of Legends."
The game maker streams college and pro competitions from inside the "Battle Arena" and an adjoining studio in West Los Angeles, producing slick broadcasts that include pregame studio shows and post-game interviews. Next season, the minimum player salary for "League" will rise from $25,000 to $75,000 and there will be revenue-sharing.
Riot has also promised to fund an independent players' association.
The days when teams formed makeshift leagues and promoters threw together tournaments with minimal investment are fading, but experts warn that competitive gaming will need a while longer to mature.
---
As the title match between Maryville and Toronto reached a crucial moment, Altman began rocking in his seat, the light glinting off his yellow-tinted glasses.
In a bold move, he launched his character head-long through the gates of the rival base, slaying one opponent after another.
"A triple kill for Walrus … he's got a quadra-kill," the play-by-play man said. "Can he seal the deal with a penta?"
The final victim — a lumbering beast — was too slow to escape Altman's dizzying array of blows. The crowd rose to its feet, cheering.
A fifth kill not only secured the championship for Maryville, it also got Altman named most valuable player. Confetti showered down as he and his teammates accepted the trophy.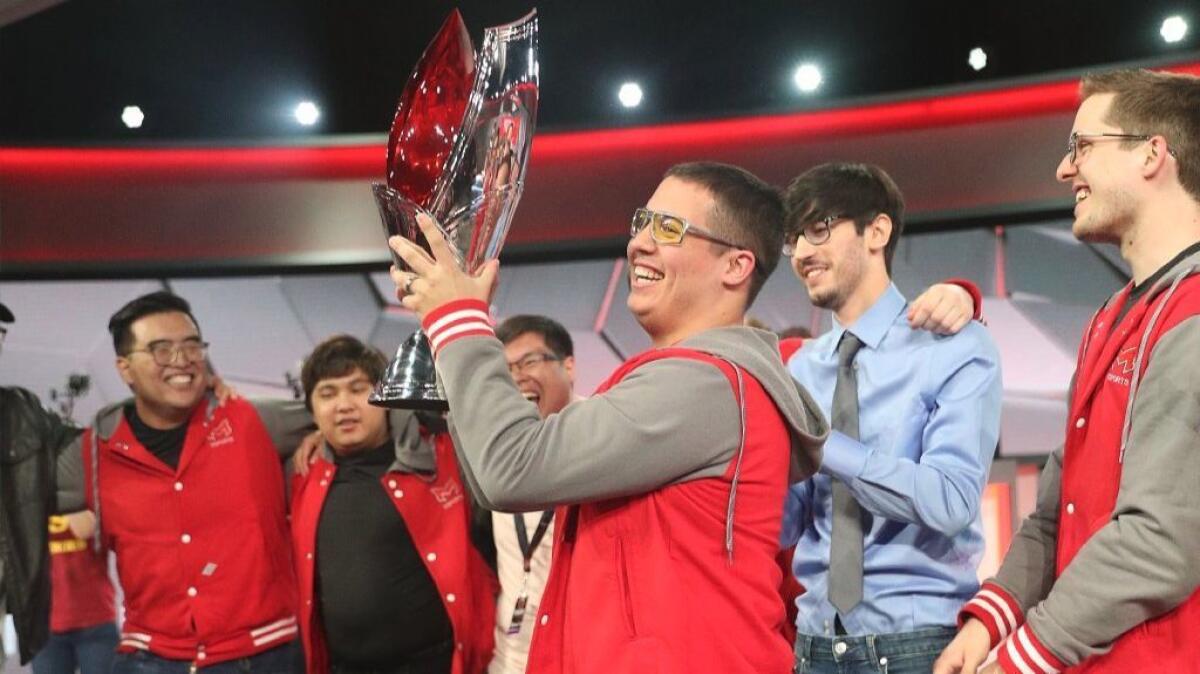 An older man stood off to the side. He had watched the match from the front row, raising his fists in the final seconds.
Never did Jeff Altman imagine all those hours at the computer would pay for his son's college education. Or offer a shot at pro money down the road.
Now a broad smile crossed his face.
"Yeah," the elder Altman recalled, "I was one of those fathers who said he hated video games."
Follow @LAtimesWharton on Twitter
Get our high school sports newsletter
Prep Rally is devoted to the SoCal high school sports experience, bringing you scores, stories and a behind-the-scenes look at what makes prep sports so popular.
You may occasionally receive promotional content from the Los Angeles Times.