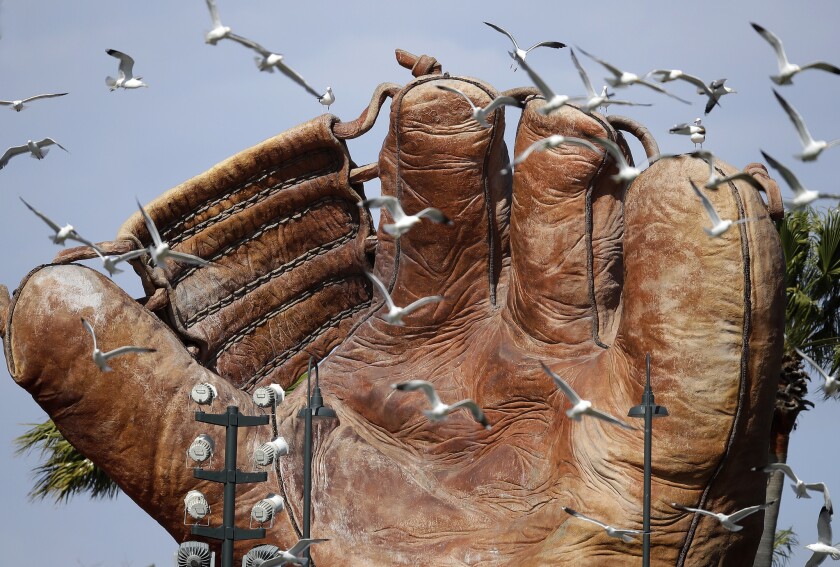 The regular season hadn't even started, but the seagulls at Oracle Park were in midseason form.
But they weren't the only ones.
The ubiquitous Bay Area birds seemed happy to see baseball's return after a long offseason and spring training, hovering above left-center field as the San Francisco Giants hosted the Oakland Athletics on March 25.
They didn't linger for long, though. The staff cued up the ballpark anthem "Cha-Cha Slide" starting at the 2-minute, 30-second mark, when Mr C The Slide Man shouts, "Everybody clap your hands."
The crowd did as they were told, joining in with the rhythmic clapping on the track — and the seagulls responded by flying off into the night. KNBR-AM reporter Sam Hustis tweeted a video of the scene, and it's quite the sight to see.
KNBR reported that the scene repeated itself multiple times throughout the game, prompting the station to ask in a headline on its website, "Are the Giants using the Cha-Cha slide to scare seagulls away from Oracle Park?"
After months of extensive research (presumably), the San Francisco Chronicle reported a definitive answer on Tuesday:
Yes, they are.
"We use the audio prompts [to deter the seagulls]," said Alfonso Felder, the Giants' vice president of administration. "These prompts, combined with crowd noise, can be effective in dispersing the seagulls in moments when they become highly visible."
Sign up for our daily sports newsletter »
Maybe it's all the clapping. Maybe they'd prefer something by 1980s hit-makers A Flock of Seagulls. Or maybe they just really, really hate that the "Cha Cha Slide."
But whatever the reason, that song seems to do the trick for the Giants, much like the kite Falcon McFalconface does for the A's across the Bay at Oakland-Alameda County Coliseum.
"There are all kinds of approaches that people take, ranging from physical devices that involve light or sound, to more natural approaches that involve predatory birds," Felder said. "All of them have ups or downs, and I think we've been fairly careful about what advice we've taken. We want to make sure whatever we do is both safe from the perspective of people and birds, and also humane."
Twitter: @chewkiii
---