Column: U.S. champion Gracie Gold is looking to stay in a figure-skating 'zone' this year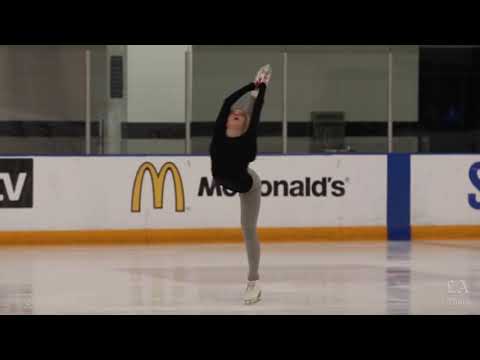 Gracie Gold, two-time U.S. figure skating champion
The quest to blend training and talent in a flawless performance drives figure skaters through tedious practices in frigid rinks, days when there's not a sequin or an adoring audience in sight. Gracie Gold has known the exhilaration of that moment. She also has learned how elusive it is.
"I remember Scott Hamilton said he had maybe only five or six performances when he really felt completely in the zone, where he was almost like a puppet to his work," Gold said of the 1984 Olympic gold medalist. "It was just not even hard and he did it so in the zone."
See the most-read stories in Sports this hour>>
Gold, 20, who trains in El Segundo, had that kind of moment with her "Firebird" long program at the U.S. championships last month in St. Paul, Minn. She had entered the second part of the competition in second place after she stumbled on a combination jump in her short program, the first time she could remember botching it this season. Skating last and unaware that previous competitors had performed well, Gold was precise but passionate, vaulting past Polina Edmunds to win her second national senior title.
"It felt like just me and my music and the ice," she said. "I don't even remember seeing anyone. There could have been a bunch of people or no people, but it felt like I was performing. It was kind of like me and the ice, me and the program."
Her venerable coach, Frank Carroll, doesn't toss compliments around. But he was almost bubbly in recounting Gold's performance.
"Stunning," he said. "In person it was an amazing moment because it's one of those moments in sports where somebody's back is against the wall, where you have two seconds left and you get the ball and you're on the other side of the court and you have about three steps and maybe you can reach the basket and you hit it situations. Like the final stroke in golf, and somebody gets a hole in one.
"Can you rise to the occasion of greatness or are you just going to be good?"
That performance gave Gold confidence that she can reach that level consistently, a feat that has remained tantalizingly out of her reach. She will get a chance to prove it starting Thursday in Taipei City, Taiwan, where Gold, U.S. fourth-place finisher Mirai Nagasu of Montebello and eighth-place finisher Karen Chen will compete in the Four Continents championships.
That event should prepare Gold for the world championships March 30-April 2 in Boston. No U.S. woman has won a medal at the world competition since 2006, when Kimmie Meissner finished first and Sasha Cohen took third in Calgary, Canada. That's a shockingly long drought. Gold will be joined in Boston by Edmonds and U.S. third-place finisher Ashley Wagner.
Carroll said he was surprised when Gold told him she wanted to compete in the Four Continents event.
"I was pleased with her optimism and her decision to put it on the line," he said. "She has practiced consistently every day and done the job, and to me there was no reason she couldn't go to Four Continents and do well and go to worlds and do well.
"I think her approach is more like tennis now. Tennis players don't play one time a year. They play at different events, and I think figure skaters need to get a little more like that so that they're able to adapt from one thing to the next."
Sustaining a level of excellence could make her a medal contender at the 2018 Winter Olympics in Pyeongchang, South Korea. Gold finished fourth in 2014 at Sochi, Russia, and helped the U.S. win a bronze medal in the inaugural team event.
"She's much more in control of herself. She's the best she's ever been right now as far as being in charge of herself, of being able to sensibly look at what she's doing and take some of the emotions and throw them in the waste basket," Carroll said. "Because as we know in sport, it doesn't matter how we feel. Nobody cares. They just care about the final score."
She knows that consistency will be crucial for her to win a medal at this year's world championships.
"It's really putting the two great programs together. Having one OK and one perfect, you end up maybe third on a good year but there's that fourth through sixth, fourth through seventh," she said. "And if you look at all of those, the top eight usually skate really well but it's usually paired with an OK performance and then an amazing performance. You have to skate two great performances."
All that's left is for her to do that.
"I think it's just time, and there's no reason for me not to have a world medal this year," she said. "Obviously, everybody wants to win, and being in the United States, of course, I want to be first. But looking at it, a podium finish would be fantastic."
Follow Helene Elliott on Twitter @helenenothelen
Get our high school sports newsletter
Prep Rally is devoted to the SoCal high school sports experience, bringing you scores, stories and a behind-the-scenes look at what makes prep sports so popular.
You may occasionally receive promotional content from the Los Angeles Times.