Column: Brian Holton, the forgotten Dodger of '88, struggles to live in the present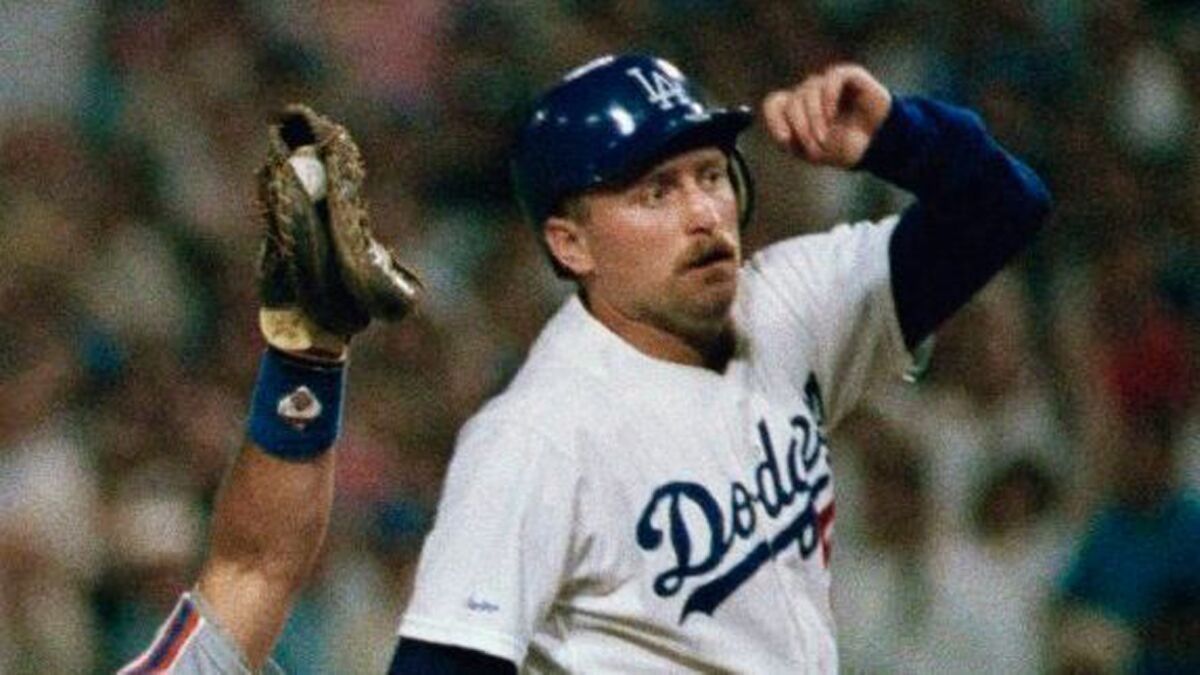 As Brian Holton lay in a Wisconsin hospital preparing for knee-replacement surgery a few days ago, he was comforted by a number on his medical chart.
It is a number that, while legendary among Dodgers fans, has held an even greater importance to the team's former relief pitcher. It has defined both the best six months of his life and the disillusioning 29-year journey to relive it.
It has chased him through homelessness, jail and substance abuse. Yet, for all the pain it has caused, it still fills Holton with blinding hope.
"On my chart, for whatever reason, there was the number 88," said Holton. "I saw that and said, 'Doc, this surgery is going to turn out just fine.' "
::
You remember Kirk Gibson's home run. But do you remember Brian Holton holding the Oakland Athletics hitless for two innings to help set up Gibson's blast?
"He was a guy who nobody had really counted on, yet a guy who helped deliver a world championship," said Fred Claire, the Dodgers general manager at the time.
You remember Mike Scioscia's home run. But do you remember Holton pitching out of a runner-on-third-none-out jam against those New York Mets to set up Scioscia's drive?
"He had big outs in big moments in close games, a vital part of our team," Orel Hershiser said.
For the last Dodgers World Series title, in 1988, Holton was their suffocating middle reliever, their Andrew Miller, the best WAR in the bullpen, the best year of his life. In 45 appearances, he was 7-3 with a 1.70 ERA, ending the season with a 17 2/3-inning scoreless streak.
I was kind of overshadowed. They always talk about the stars from that season, and rightfully so, but I'm like, 'Hey, I also had a pretty good year.'
— Brian Holton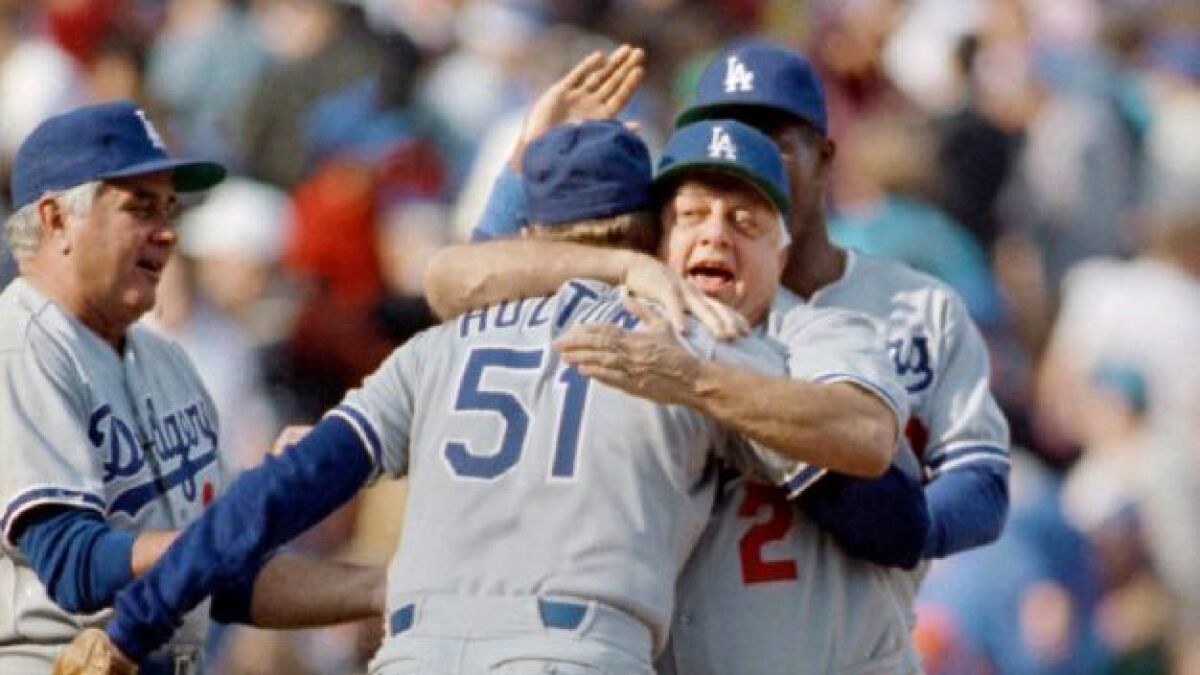 But he pitched during a time when middle relievers were anonymous. He was lost in the glory of Gibby and Bulldog and even closer Jay Howell, even though Holton earned the save against the Mets in Game 5 of the National League Championship Series while Howell was serving a suspension for pine tar.
"I was kind of overshadowed," said Holton, 57. "They always talk about the stars from that season, and rightfully so, but I'm like, 'Hey, I also had a pretty good year.' "
Today, he would have been one of those stars. But in 1988, he was little more than an oddity, a charmed Dodgers lifer who, at 28, finally struck gold in his 11th year in the organization.
Then when it was over, it was over. Barely a month after the championship parade, Holton was traded to the Baltimore Orioles with Juan Bell and Ken Howell for Eddie Murray.
"When I was told about the trade, I cursed and slammed down the phone because I thought it was a joke," Holton said. "It hurt. We had just won a World Series, and I wanted to get my ring at Dodger Stadium, but instead I got it in the mail from Federal Express."
It was a blow from which he never emotionally recovered. In two years with the Orioles he was 7-10 with a 4.18 ERA and never pitched in the big leagues again. He returned to the Dodgers for two minor league seasons, but was never recalled and retired at 32 with a great sense of loss.
"I knew I would miss the game," he said. "I didn't realize how much I would miss the game."
He missed it so much he got lost in a dizzying array of personal afflictions and setbacks, and eventually fell off the grid. The Dodgers couldn't find him. When tracking down the 1988 team for anniversary columns a couple of years ago, I found every former player but him. When he was found, Claire was so surprised that he taped a message to play for Holton during our interview.
"Hey Brian, Fred Claire … the Dodgers, will never forget, ever, what you meant to the last world championship. You were huge, you were absolutely huge. I know what you did, and how many times you did it, in a role that got so overlooked."
Holton heard the message in that hospital bed in Wisconsin and his voice thickened.
"Holy cow, that was really Fred Claire, that gave me the goose bumps," he said. "Best year of my life."
Holton decided to finally talk about his life because, with this year's Dodgers seemingly on an unstoppable journey toward their first World Series championship since 1988, he wanted to give his potential successors some advice.
"I want tell them to slow it down, step back, try to enjoy every moment," he said. "Because it goes by so damn quick."
One minute Holton was running out of the Dodgers bullpen and past left fielder Gibson, who greeted each of his home appearances with the same warning.
"Gibby would shout to me, 'Don't screw this up,' " he said. "With that kind of intimidation, how could I screw it up?"
The next minute he was dancing in Oakland, parading through downtown Los Angeles, appearing on the "Gong Show."
"I remember thinking, 'So this is what it's like to win a World Series,' " he said. "Today I'm like, 'Holy cow, I was actually there.' "
And then he wasn't.
"I kept chasing that feeling from 1988, but I just never got it back," he said. "I was living my dream, then it came down to the other part of my life, the reality part, and it wasn't real good."
He saved his Dodgers uniform, never even washed it, keeps it in a plastic laundry bag with his stained cap, pulls it out sometimes, says it still smells like musty champagne. But after becoming addicted to alcohol and pain medication, he lost everything else.
He pawned his World Series ring to stay out of bankruptcy. His marriage ended in divorce. He spent time in a Wisconsin jail when he didn't make child-support payments for his two daughters. He entered a substance-abuse program. He lived in a homeless shelter.
He says he tried to make life work. He unloaded trucks. He worked in a mailroom. He ran a country store. He managed a discount variety store. He sold mulch. None of it could compare to working at Chavez Ravine.
"It still seems like yesterday when I was coming into the game, I can still almost smell the pine tar in my glove," he said, pausing, laughing. "Yeah, I used pine tar. What can they do to me now?"
He spent a lot of his time in a drug and alcohol haze, battling demons that still confront him today.
"I was depressed, drinking a lot, taking pain pills, didn't care about anything, my life turned into crap," he said. "I kept thinking, there has to be more to life than this. A lot of times I went to sleep thinking, if I don't wake up, c'est la vie.''
He now lives in suburban Milwaukee in the home of longtime friend Kathlene Wells, who is helping him recover from two knee replacements in recent months. He has no job. He is living off savings and a major league pension. He believes his life is turning around. He knows it is a daily struggle.
"He wants to be back in the past, when he was a great baseball star, but that's back there, that's not here now," Wells said. "He hit the big time, then he had it taken away. I just hope he's on the way back."
He is planning on it. He has a souvenir Dodgers cap that he wears when he watches their games. He plans on watching all of their postseason games, cheering like a kid, cheering not just for today, but for their tomorrows.
"Just like them, probably, I couldn't imagine in my wildest dreams I would have a season like I had," he said. ''Slow it down. Keep it. It's magic. And then it's gone."
Get more of Bill Plaschke's work and follow him on Twitter @BillPlaschke
Get our high school sports newsletter
Prep Rally is devoted to the SoCal high school sports experience, bringing you scores, stories and a behind-the-scenes look at what makes prep sports so popular.
You may occasionally receive promotional content from the Los Angeles Times.