Column: Unbeaten Songbird is pointed for Kentucky, but not the Kentucky Derby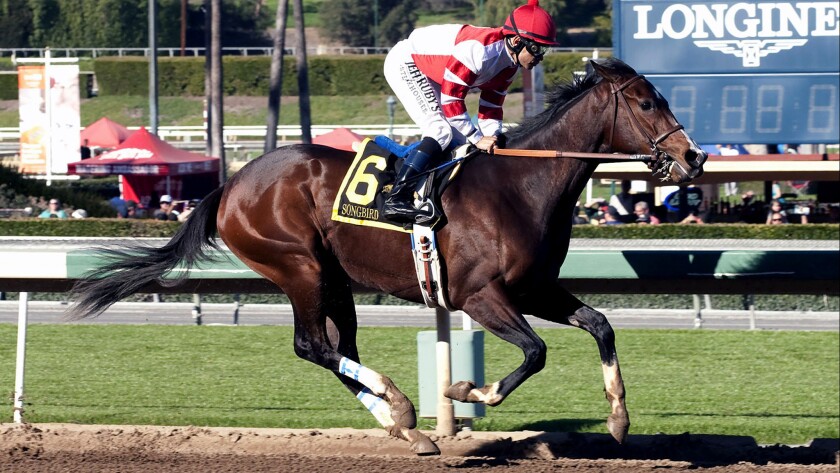 The word around the racetrack is the best 3-year-old in the country isn't even trying to run in the Kentucky Derby.
The assessment is based partly on facts known, partly on the unknown, with a dash of sentimentality.
It's known that Songbird is undefeated in five starts, having won those races by a total of 28 1/2 lengths. Three of the races were Grade 1 stakes and another was a Grade 2.
What's unknown is how a still-growing horse could handle the rigors of a full-blown 20-horse charge in May at Churchill Downs, plus all the lead-up prep races considering Songbird's late birth date of April 30, 2013.
The sentimentality is easy. Songbird is a filly.
Songbird goes for her sixth win Saturday at Santa Anita in the Santa Ysabel Stakes. She is listed at morning line odds of 1-9. The last time opening odds were that low was six years ago when Zenyatta was racing for the first time after winning the Breeders' Cup Classic.
The Kentucky Derby has been run 141 times and only three fillies — Regret (1915), Genuine Risk (1980) and Winning Colors (1988) — have won it.
"There is no reason to run her in the Kentucky Derby unless you want to say you won the Kentucky Derby," Songbird's owner Rick Porter said. "It's asking too much of her at her age to do it."
Songbird is targeted for the Kentucky Oaks, a race for 3-year-old fillies the day before the Derby.
"Getting to the Oaks is a tough proposition," trainer Jerry Hollendorfer said. "Getting to the Derby is an even tougher proposition and a lot of horses get beat up. We just don't want to beat her up."
Rick Arthur, equine director at both the UC Davis School of Veterinary Medicine and California Horse Racing Board, agrees.
"Day in and day out a colt is heavier and more able to withstand the rigors of training at that age," Arthur said. "Fillies don't really catch up [with colts] until near the end of their 3-year-old career."
Arthur said that generally fillies are easier to train than colts because they learn quicker. They also can compete at shorter races, but the Derby distance of 1 1/4 miles is just asking too much at that age.
Zenyatta didn't run against males until she was 5, same with Beholder. Rachel Alexandra was an exception, winning the shortest Triple Crown race, the Preakness, as a 3-year-old in 2009.
Porter says his experience in the 2008 Kentucky Derby was not a factor with Songbird. Eight Belles, a filly, finished second in the race but took a bad step just after the finish line and broke both ankles and was euthanized.
"Sure, it entered my mind, but it had nothing to do with my decision." Porter said. "It was a fluke. I was very comfortable running her. She was entered in both the Oaks and the Derby. But she drew the 14 [post position] in the Oaks and the five in the Derby. We based which race to run on post position."
Porter admits that he has no idea how good Songbird can be but says she's "the best horse I've ever had."
Jockey Mike Smith, who has been aboard every race, says, "We haven't seen the best of her yet."
In each of her races, when Smith has asked her to run, she immediately accelerated, but she has not even come close to emptying her tank.
"She came out of the Las Virgenes like she didn't even run," Smith said of the mile race at Santa Anita on Feb. 6. "The last eighth of a mile I even eased her up." She won by 6 1/2 lengths.
Smith, while emphasizing 100 things can go wrong in a race, sees Saturday's race as something to keep her sharp.
"There's a lot of time between races, so we would have to work her anyway," he said. "If all goes well and she runs her race, I'm breezing her for $100,000."
Hollendorfer says it's all about timing.
"Timewise it makes sense because it's a month after her last race and a month before her next," Hollendorfer said.
Smith has a personal fondness for the filly but points out there are two sides to her.
"In the morning you can rub her and love all over her, but when it's in the afternoon [on race day] don't mess with her. She means business," Smith said.
Porter hopes to run her a while longer before turning her into a broodmare. "If she continues to improve, I might see how she stands up against the boys, but that will be at a later date," he said.
The current plan is to run Songbird as a 4-year-old as long as she is competitive in Grade 1 stakes.
"If she's still kicking strong, I might run her as a 5-year-old. I would rather race her."
New turf course
Santa Anita will suspend turf racing June 20 for the rest of its spring meeting while it installs a new course. A Bermuda grass course will be ready well in advance of the Breeders' Cup on Nov. 4, getting its debut Sept. 30 when the fall meeting starts.
Work on the hillside course will start on June 6. The goal is to have all the grass installed by July, giving it time to grow before racing.
Shuttle service
The Metro Gold Line will now be an option for racegoers. Starting Saturday, Santa Anita will offer a free shuttle from the newly opened Arcadia stop to the track between 10 a.m. and 6 p.m. The shuttle will run about every 20 minutes.
---
Get our high school sports newsletter
Prep Rally is devoted to the SoCal high school sports experience, bringing you scores, stories and a behind-the-scenes look at what makes prep sports so popular.
You may occasionally receive promotional content from the Los Angeles Times.