Meet the top-ranked American fencer who's also a male model
Race Imboden knows what some people thought when he left New York — his longtime home and a mecca for American fencing — to train in, of all places, Southern California. "Everyone looked at me like I was crazy," he says.
Things could get ugly — shouting, maybe cursing — if Race Imboden shows up late for his workout.
So he arrives well before 9 a.m. on a recent weekday morning, fiddling with switches on the wall as a few more banks of fluorescent lights sputter to life inside this storefront club beside a cell phone repair shop.
There is time to chat and wrap his fingers in white athletic tape as he waits.
"You have to be early," he says. "It's the rule."
Even for one of the best fencers in the world.
Imboden knows what some people thought when he left New York — his longtime home and a mecca for American fencing — to train in, of all places, the Orange County suburbs.
"Everyone looked at me like I was crazy," he says. "That happens any time you do something outside the normal path."
Normal never has been an issue for someone who walked away from a college scholarship because NCAA rules made no sense to him. In the years since, Imboden has paid the bills by working as a fashion model while shifting from one coach to another, searching for the right fit.
Built tall and lean, his red hair bleached, the 25-year-old has put his faith in a former champion from Ukraine who settled in Southern California, a voluble and occasionally gruff man for whom punctuality is a must.
Sergei Golubitsky barges into the club a few minutes later, telling a raunchy joke as he pulls on a black fencing jacket and mask. Glaring at his prized student, he says: "I think today … I am going to make you cry."
Soon they dive into an intense session, scurrying back and forth across the fencing strip, dancing to the music of scuffled feet and jangling blades. Every few minutes, the teacher focuses on a new action.
Flick. Remise. Parry riposte.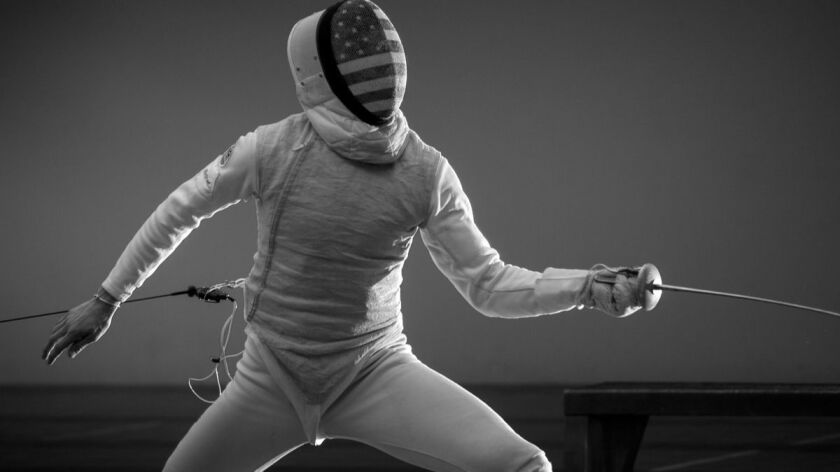 Though Imboden has risen to No. 1 in foil this season, there is work to do before the world championships in mid-July. He did not come all this way for mere technique.
"There's a feeling you get on the strip," he says. "When you're really free."
::
Let's answer this question right away — his parents named him after Race Bannon, a character from the Jonny Quest cartoons.
It was either that, he says, or Elvis.
Imboden was the sort of kid who always picked up loose sticks and waved them around in imaginary sword fights. A stranger noticed him playing with a toy light saber in the park and suggested he try fencing.
"We were like, oh, what's that?" recalls Fiona, his mother.
The sport comes in three varieties, each with distinct rules and a slightly different weapon.
In saber, opponents tend to charge each other like medieval knights. Epee is more subtle, with back-and-forth feints and quick movements. Foil lies somewhere between, blending strategy and athleticism, and that was where Imboden landed.
One visit to a club in his hometown of Atlanta was all it took.
"I could sword-fight as a sport?" he says. "How would I not do that?"
Love at first sight helped carry him through the early years with so much intricate footwork to learn, so many new techniques.
His mother describes him as "a little chubby" and "not the best athlete" back then. She remembers more than a few bouts when he stomped away in tears. But Imboden grew more devoted as his family moved to New York with its top-notch clubs.
The turning point came around 2009 with a string of victories in major youth tournaments. A gold medal at the 2011 Pan American Championships put him on the international radar and the following year, at 19, he made the U.S. team for the 2012 Summer Olympics in London, where he finished ninth.
"My career kind of exploded," he says.
At the same time, modeling agencies were starting to call. The chunky kid had shot up to 6 feet 1, his features distinctive, with a lean face and hollow cheeks, bright red hair contrasted against a pale complexion.
Back home from the Games, he went on his first casting call for the designer Marc Jacobs.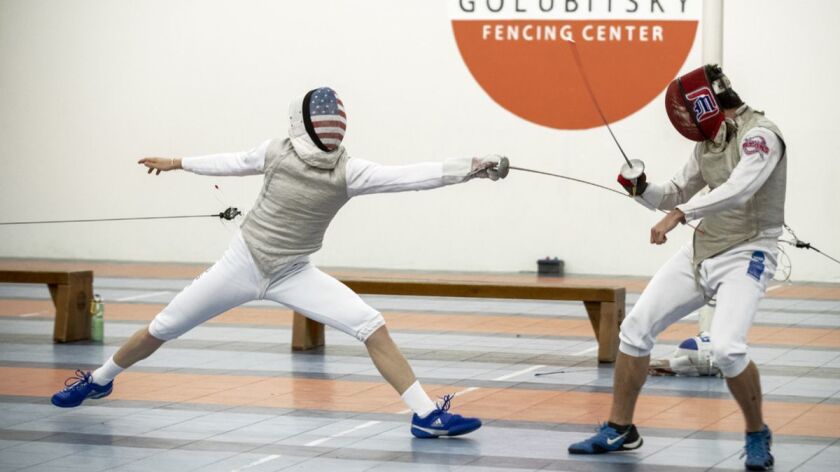 "There was this little woman and she asked me to walk for her," Imboden says. "I had no idea what I was doing, so I walked to the end of the room and back, just like I'm walking down the street, and she said, 'Can you do it again like you give a [darn]?'"
Trying a second time, he moved a little faster.
"OK," he recalls her saying. "You got the job."
::
The U.S. isn't like other countries where top fencers live at state-run academies or train full time with a particular club or coach. Here, young talent tends to funnel through the college system.
In the fall of 2012, Imboden took this conventional route, accepting an athletic scholarship to St. John's. "My parents were very happy," he says.
Believing the NCAA would allow him to continue modeling, he flew to Miami for a lucrative shoot early in his freshman year, then returned home and did a holiday spread for the New York Times.
The second job got him in trouble.
"I didn't even get money for that one," he says. "I ate a snack on the set, so the NCAA said I had to repay a couple hundred bucks."
Modeling ran afoul of the eligibility rules, and the thought of putting fashion on hold for four years — missing out on all that income — irked him.
"Race voluntarily left school," St. John's coach Yury Gelman says. "I don't want to judge if he made the right decision."
The fencing establishment had its first taste of Imboden as an outlier, maybe even a rebel, and he believes people started looking at him differently. "Suddenly," he says, "I wasn't the poster boy anymore."
College wasn't the only issue. Though fencers, like figure skaters, are known to switch coaches, these moves can be quietly scrutinized within the sport.
As a teenager, Imboden left the esteemed Buckie Leach for former Olympian Jed Dupree. Later, when Dupree stepped away from the sport, Imboden bypassed bigger names to work with another top fencer turned coach, Dan Kellner.
The move went well at first as Imboden won another gold medal at the Pan Ams and, in 2015, became the first American to capture the overall World Cup title. But his performance suffered the following season.
"You go through cycles," he says, adding that with Kellner "we just had bad timing."
Though his ranking still hovered in the top 15, Imboden had to settle for a reserve spot on the U.S. team that traveled to Rio de Janeiro for the 2016 Summer Olympics. He got to participate in the team competition, helping the Americans to a bronze medal, but came away frustrated.
His discontent extended beyond rankings and results.
"When I looked at myself fencing," Imboden says, "it wasn't the fencing I dreamed of."
::
Something about the new coach had always been different. Back when he was a fencer, Golubitsky had elegance, a knack for inventing moves and, even better, personality.
Once, in the middle of a championship bout, the Kiev native bumped roughly into his opponent and faced getting a penalty. He quickly reached out to embrace the other guy, petting his mask. The referee did not pull a red card.
Through the late 1990s, Golubitsky dominated the foil circuit, winning three consecutive world titles. Years after he retired, his highlight DVDs remained a must-see for young fencers.
That included Imboden.
"Sergei's fencing was almost like ballet, so effortless and flowing," he says. "I'd always been a fencer who was very mechanical and rigid … I admired him."
Rigid might be too harsh a word but, well into his professional career, Imboden had settled on a limited repertoire. He sought to win through perfection, and perhaps caution, rather than creativity.
So, when Golubitsky moved to Southern California and opened the Tustin club in 2012, it got Imboden thinking. Even before the 2016 U.S. Olympic team was announced, he sent the coach an email.
"I was like, what the [heck]?" Golubitsky recalls. "Why change? He was still fencing at a very high level."
They met for a week of training before the Rio Games and Golubitsky says, "I didn't know how screwed up Race was. Some things were a disaster." Mostly, he worried about the "small suitcase" — the relatively few tricks Imboden had in his bag.
An odd partnership took shape, the meticulous fencer learning from the rough-talking coach with his tousled, dark hair. They butted heads and shouted at each other.
"Sergei is the craziest, toughest coach I've ever had," he says. "He tested my resilience, my patience, my ego."
For every step forward that first year, there were just as many uneven performances and losses to lower-ranked opponents. Fencing wasn't the only challenge.
For the first time, Imboden was living on his own and — after all those years in New York — learning to drive. If he showed up late for practice, Golubitsky angrily sent him away.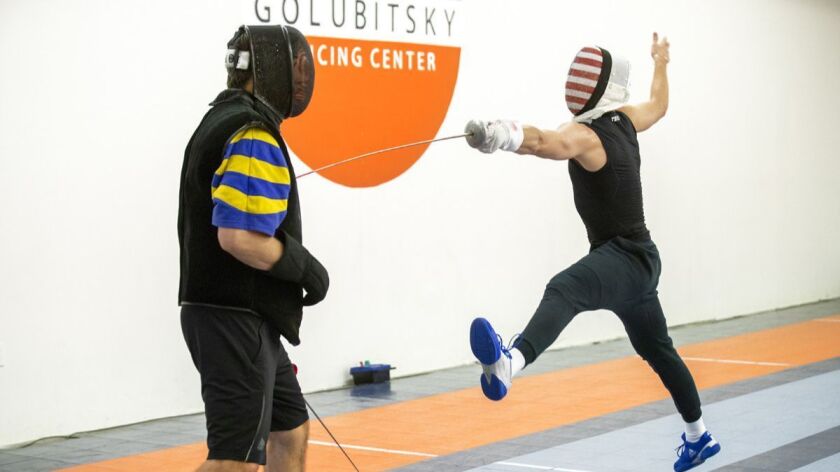 All of which provided ammunition for skeptics around the sport.
"People can wonder and say whatever," says Greg Massialas, the U.S. foil team coach. "I think the timing was tricky but it was something Race felt like he needed to do. On more than one level."
::
The phone rings during a break in practice. A department store might hire Imboden for a shoot, so his agency wants to know about his hair color, which he recently changed from its natural auburn.
"It's blond on the ends," he says. "Just tell them I have no problem dyeing it."
Though his mother still seems puzzled by this side career — "He's a cute kid but he looks bloody gorgeous in those photographs. They can Photoshop anything" — modeling continues to pay the bills.
Transitioning from high fashion to steadier work for the likes of Banana Republic and Levi's, Imboden tries to fit at least one job into his fencing schedule each month. His home life is now more settled with girlfriend Ysaora Thibus coming from France to live with him.
"Race had to change many things and he had some doubts," says Thibus, who is highly ranked in women's foil. "But this year I feel like a switch turned on and he is in the right place."
It is a good time to be an American fencer, especially in foil, in which the U.S. has joined the likes of Italy and France among the sport's elite. Imboden recently combined with Alex Massialas, Gerek Meinhardt and Miles Chamley-Watson on a team that made history by sweeping the World Cup season.
His return to No. 1 in the individual rankings was fueled by gold at a springtime tournament in Anaheim, followed by bronze in Shanghai. Last weekend, he defeated Massialas in a semifinal on the way to yet another Pan Am title.
That makes Imboden a favorite to win at the world championships in China. Not that Golubitsky is ready to celebrate.
"It's still imperfect," the coach says. "But you can see improvement."
Their session this day concludes with a practice bout against a college fencer who shows up at the club. A visceral sort of energy bristles from each move that Imboden makes.
Deflecting his opponent's attack, he pauses a moment before pushing forward, stalking, then lunging for a touch. On the next point, fighting in close quarters, he rises onto his toes and scores with an underhanded flick.
This is why he upended his life, gambling everything on a former champ he used to watch in videos as a kid. He wanted to fence with that same air of ingenuity, an intuitive flair.
"Gut feeling," Imboden calls it.
"I'm getting back to why I started fencing, the passion and the love of exploring," he says. "I'm doing my thing."
Follow @LAtimesWharton on Twitter
---
Get our high school sports newsletter
Prep Rally is devoted to the SoCal high school sports experience, bringing you scores, stories and a behind-the-scenes look at what makes prep sports so popular.
You may occasionally receive promotional content from the Los Angeles Times.