Oklahoma's Jamelle Holieway is the only true freshman quarterback to lead his team to a national title, Georgia's Jake Fromm could be the second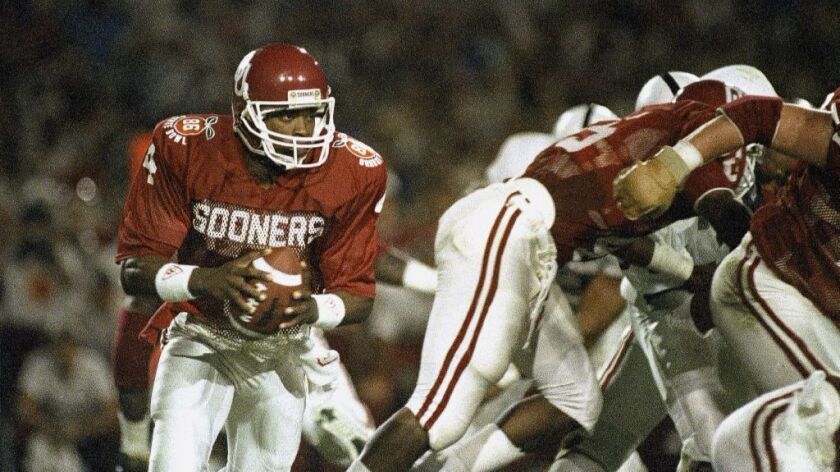 It would be easy for Jamelle Holieway to say he only wants revenge.
The former Oklahoma quarterback did not like watching his alma mater lose to Georgia in the Rose Bowl the other night. Didn't like it one bit.
But he has another reason for rooting against Georgia in the national championship game on Monday. He knows what will happen if the Bulldogs win.
"Nobody will talk about me," he says to a reporter. "Guys like you won't be calling."
Three decades past his playing days, Holieway remains the only freshman in college football history to guide his team to a national title, a feat he accomplished after replacing an injured Troy Aikman in the 1985-86 season.
Things will change if 19-year-old Jake Fromm pilots Georgia to victory over Alabama in the College Football Playoff title game at Mercedes-Benz Stadium in Atlanta. Holieway will have to share the honor.
"I say I want my record broken, but not really," he concedes. "I'm just being real."
It seems a lifetime ago that Holieway was a star at Banning High, a kid from Carson lured away by legendary Coach Barry Switzer and dreams of running the Sooners' wishbone offense.
His explosive start gave way to injuries that hampered the latter portion of his college career and a brief foray into professional football.
After that came run-ins with the law and allegations that he had accepted improper benefits during the Wild West-era under Switzer that eventually got the Sooners placed on NCAA probation.
Now, at 50, Holieway lives in Oklahoma, mentoring kids and running football camps during the summer. He stays connected to the game through the legacy of his freshman season.
"It keeps me in the loop," he said.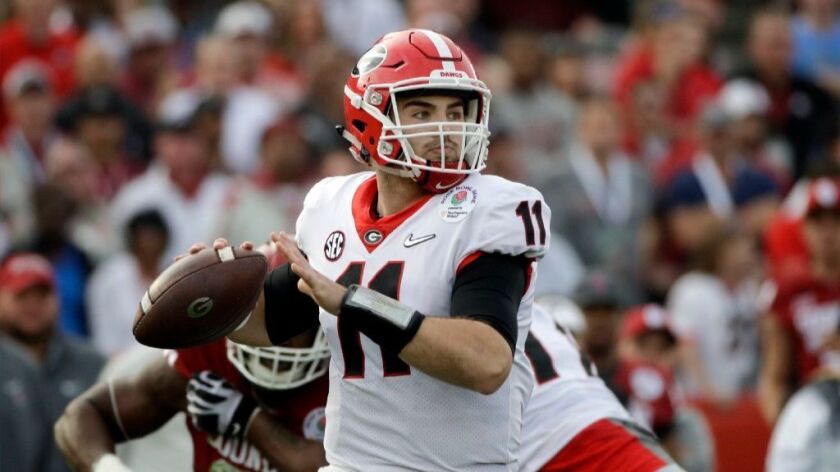 This isn't the first time that another young player has threatened to join his exclusive club. Last season, Alabama's Jalen Hurts had an opportunity but came up short when the Crimson Tide lost to Clemson in the final seconds of the CFP title game.
A quarterback known for running the ball — much like Holieway was — Hurts returns as a sophomore.
"This is Jalen's second time around and I think he'll perform a little better," Holieway said. "He knows what stage he's on."
The hype surrounding the national championship will be new to Fromm.
"The kid from Georgia has a chance, don't get me wrong," Holieway says. "But …."
All three quarterbacks in this story have one thing in common — they started their college careers on the bench.
Holieway never figured to see the field as a freshman, listed well down the Oklahoma depth chart. His stock quickly improved with impressive play on the scout team in practice and injuries to the guys ahead of him.
When Aikman broke an ankle against Miami in the fourth week of the 1985 regular season — he would subsequently transfer to UCLA — Switzer took a gamble and put Holieway in the game.
Just 5-11 and 175 pounds, the teenager was actually a good fit because he was quick and had played the option since Pop Warner days. The Sooners lost to Miami but trampled Iowa State, 59-14, the following week.
"He's the best running quarterback we've ever had," Switzer said at the time. "He's a knuckleball runner. He jumps around and reverses field and is hard to get ahold of."
Oklahoma was on its way to a Big Eight Conference title and 25-10 victory over Penn State in the Orange Bowl, a game in which Holieway threw a 71-yard touchdown pass.
The win lifted the one-loss Sooners to No. 1 in the final polls.
"Everybody talks about Holieway being a freshman," Penn State linebacker Shane Conlan said. "But he's a very mature football player."
So many years later, Fromm is drawing similar praise.
The stylistic comparisons between Holieway and Hurts do not apply to the Georgia quarterback, who can move around the pocket but is more of a pro-style passer.
Fromm took over when sophomore Jacob Eason injured a knee in the season opener against Appalachian State. The very next week, he made his first start in the unfriendly confines of Notre Dame Stadium and guided his team to a 20-19 victory.
After a regular season in which the Bulldogs lost only once, Fromm was instrumental in Monday's comeback, double-overtime victory at the Rose Bowl, passing for 210 yards and two touchdowns.
"Makes great choices and decisions," Alabama Coach Nick Saban says. "Always puts his team in the best play they can be in."
Though his statistics are not glittery — not in a ground-based offense that averages a hefty 267 rushing yards — Fromm currently ranks as the nation's fourth-most efficient passer and has limited his mistakes, throwing for 23 touchdowns against five interceptions.
"If you had told me this season was going to be written this way, I would not have believed you for one minute," he says, adding: "Man, this has been an incredible experience."
Asked to evaluate Fromm's performance this fall, Holieway cannot get past what happened in Pasadena.
The questionable squib kick that allowed Georgia to kick a field goal just before halftime, the conservative play-calling and lack of a pass rush at key moments — all of that still irks him.
"That whole third quarter," he says, "we just weren't ready to play."
Still, there's no way Holieway will skip the CFP title game on Monday, even without his Sooners on the field.
The former quarterback wants to see how the freshman from Georgia does in the bright lights. He wants to root for the Crimson Tide to preserve his place in history.
Also, he figures, "I'll be mentioned sometime during that game."
Follow @LAtimesWharton on Twitter
---
Get the latest on L.A.'s teams in the daily Sports Report newsletter.
You may occasionally receive promotional content from the Los Angeles Times.