Column: Why did Lakers lose Kawhi Leonard and Paul George to Clippers? Their biggest weakness
As the balloons continue to fall upon the most joyous party in Clippers history, it is time to acknowledge the purple-faced elephant in the room.
How on earth did the Lakers blow this?
The Clippers pulled off an incredible Friday night heist in reaching an agreement to sign Kawhi Leonard and trading for Paul George, they've earned every bit of the awe that's being showered upon them, but above the buzzing local basketball landscape looms an aching question.
How could the Lakers have let this happen?
How could the NBA's most glamorous franchise fail to acquire either of the two Southern California kids when, in the previous two years, both Leonard and George had professed their Lakers love and wanted to come home? And how could they have lost them both to the Clippers?
Two years ago, George wanted to be traded to the Lakers. They couldn't pull it off. Last year they wanted to sign him as a free agent. He wouldn't even give them a meeting.
Last year, Leonard wanted to be traded to the Lakers. They couldn't pull it off. Then last week the stage was set for him to join them as a free agent, and at least this time they got a meeting, but they couldn't close the deal.
The Clippers moved smartly and strongly to grab both, even at great cost, because that's what focused and unified organizations do. Their triumph Friday night stands in stark contrast to the Lakers' disjointed failure, obvious with George last year and repeated with Leonard now.
The Lakers still will be a great team with LeBron James and Anthony Davis, but they missed an opportunity to become a potential championship dynasty. They again stumbled when everything was set up for them to succeed.
Think about it. It isn't like the Lakers lost Leonard to another country, or a defending NBA champion, or a team that could pay him more money. They didn't lose him to the Toronto Raptors. They lost him to a team that will pay him essentially the same amount of money, a team that never even has advanced as far as the conference finals, and a team that dresses right down the hall.
In the traditional way of thinking that has dominated this town's basketball mindset forever, it was an outcome that, at first glance, would appear to make absolutely no sense.
Leonard clearly was intent on coming back to his Southern California roots. The Lakers checked that box.
Leonard evidently wanted to play with another superstar. The Lakers checked that box with two superstars.
Leonard plainly wanted a chance at winning at least his third NBA championship. The Lakers checked that box with a team that, if it included Leonard, would have waltzed to the championship and perhaps been one of the greatest teams ever.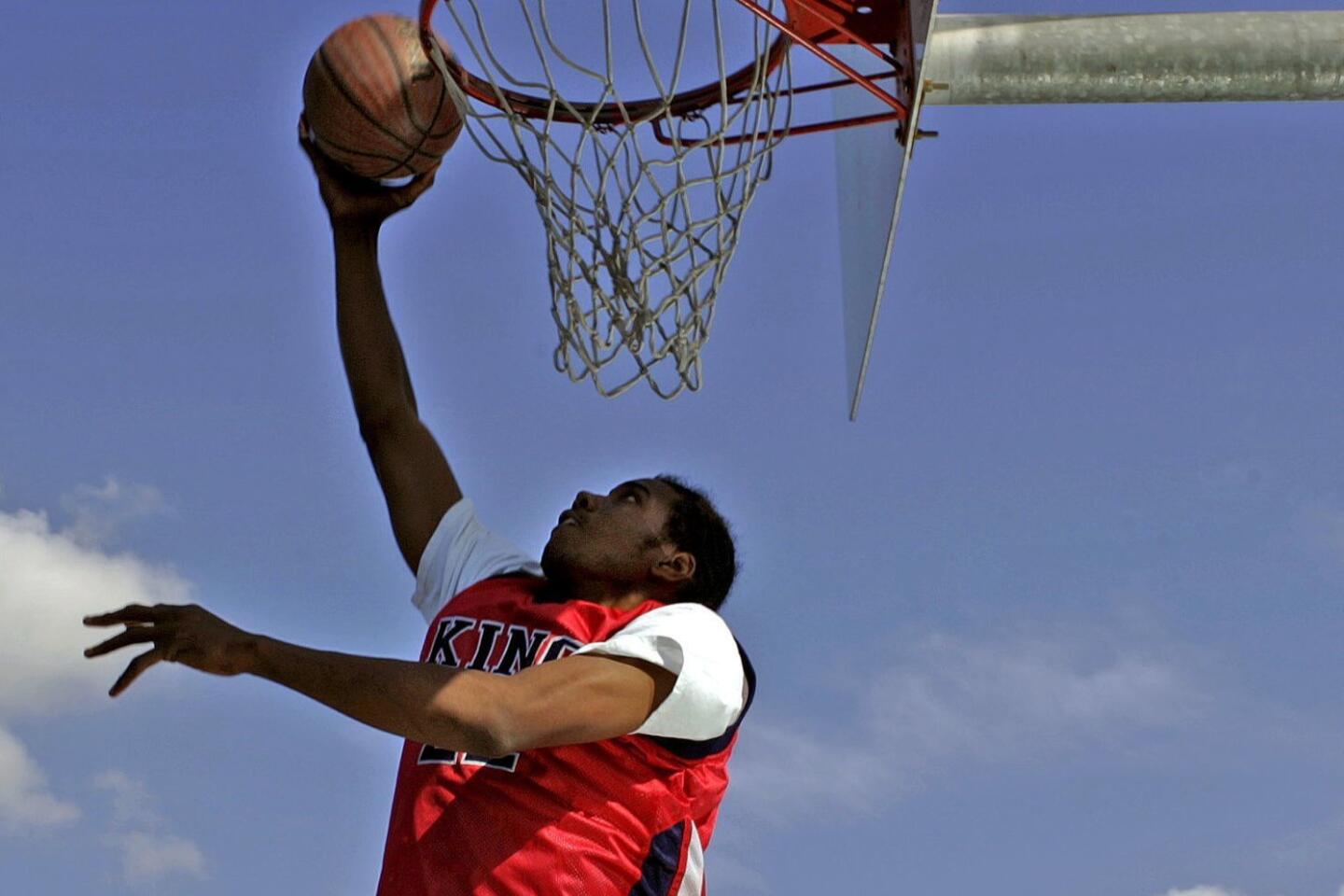 Kawhi Leonard rose to stardom at Martin Luther King High in Riverside.
(Gina Ferazzi / Los Angeles Times)
Riverside King's Kawhi Leonard is fouled by Taft's Bryce Smith a Southern California Regional semifinal playoff game on March 6, 2008.
(Richard Hartog / Los Angeles Times)
SanDiego State forward Kawhi Leonard reacts after he was mistakenly called for a foul during a game against UNLV Rebels on Feb. 12, 2011 in Las Vegas,.
(Ethan Miller / Getty Images)
Kawhi Leonard of San Diego State Aztecs takes off on a fast berak during a game against Temple during an NCAA tournament game on March 19, 2011, in Tucson.
(Harry How / Getty Images)
San Diego State forward Kawhi Leonard tries to keep possession of hte ball against UConn defenders during an NCAA West Regional semifinal at Honda Center.on March 24, 2011.
(Robert Gauthier / Los Angeles Times)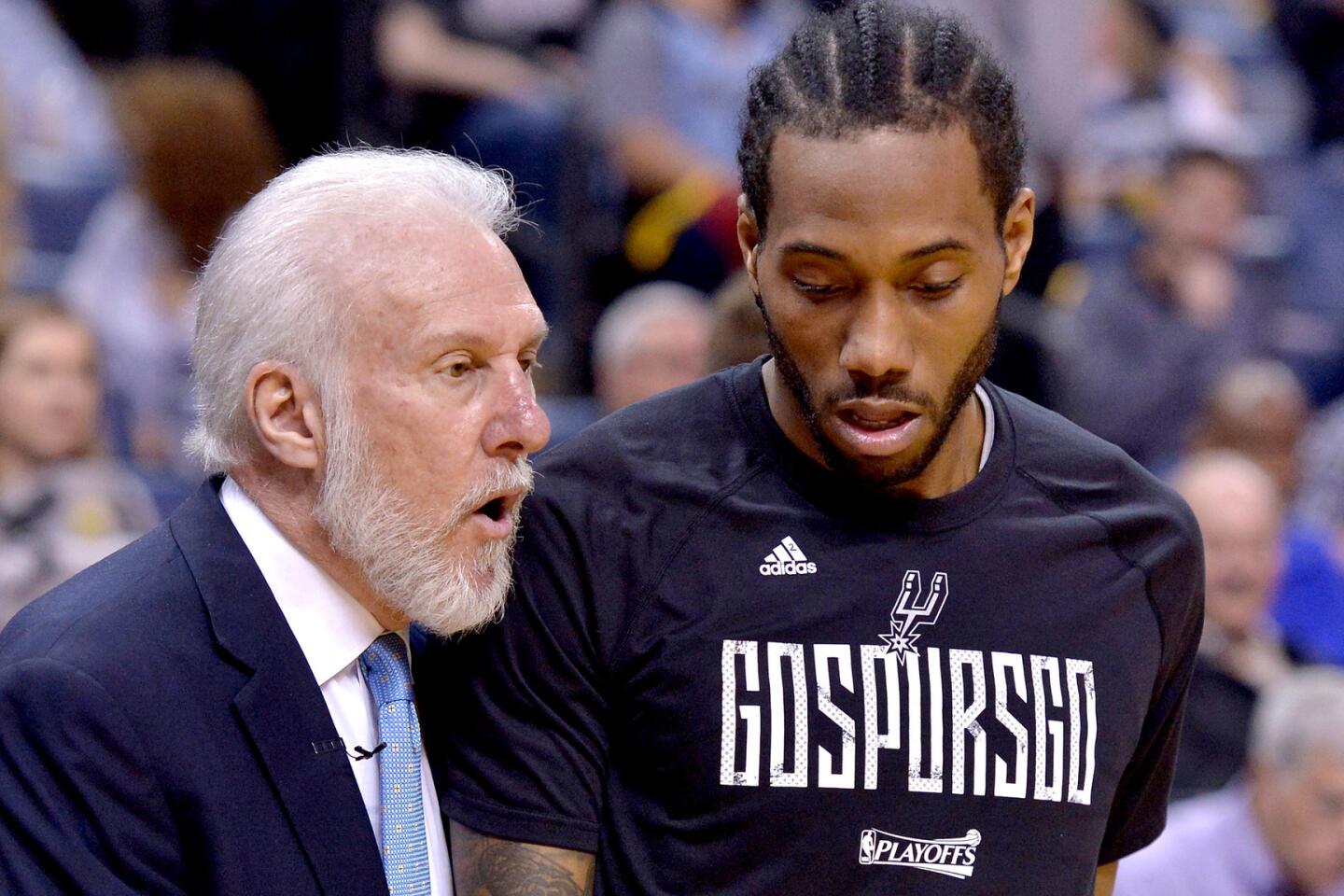 Spurs coach Gregg Popovich talks to Kawhi Leonard during a game in 2017.
(Brandon Dill / Associated Press)
Cavaliers forward LeBron James tries to drive past Spurs forward Kawhi Leonard during a game on Jan. 21, 2017.
(Tony Dejak / Associated Press)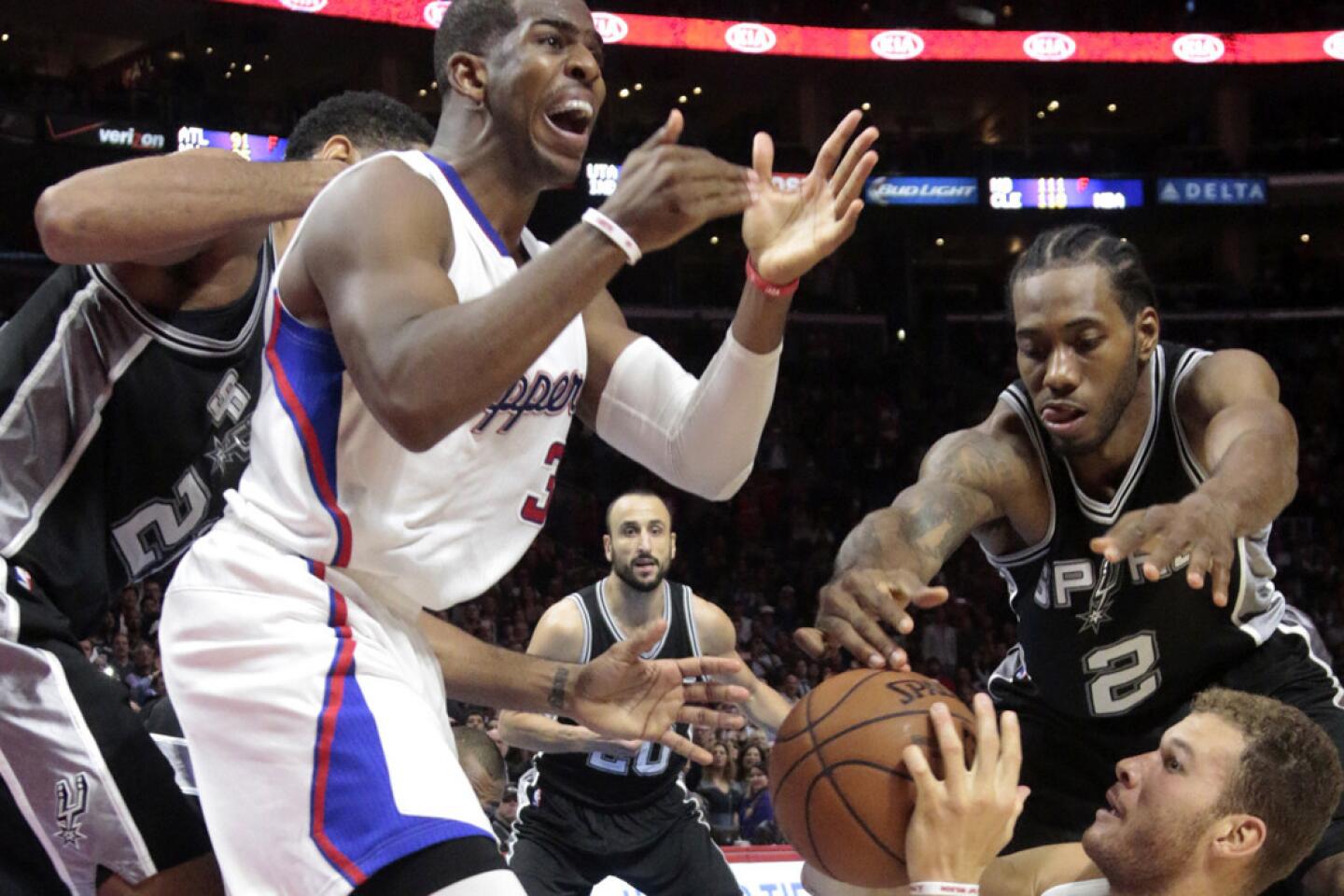 Clippers point guard Chris Paul calls for a timeout as Spurs forward Kawhi Leonard tries to steal the ball from af allen Blake Griffin.
(Lawrence K. Ho / Los Angeles Times)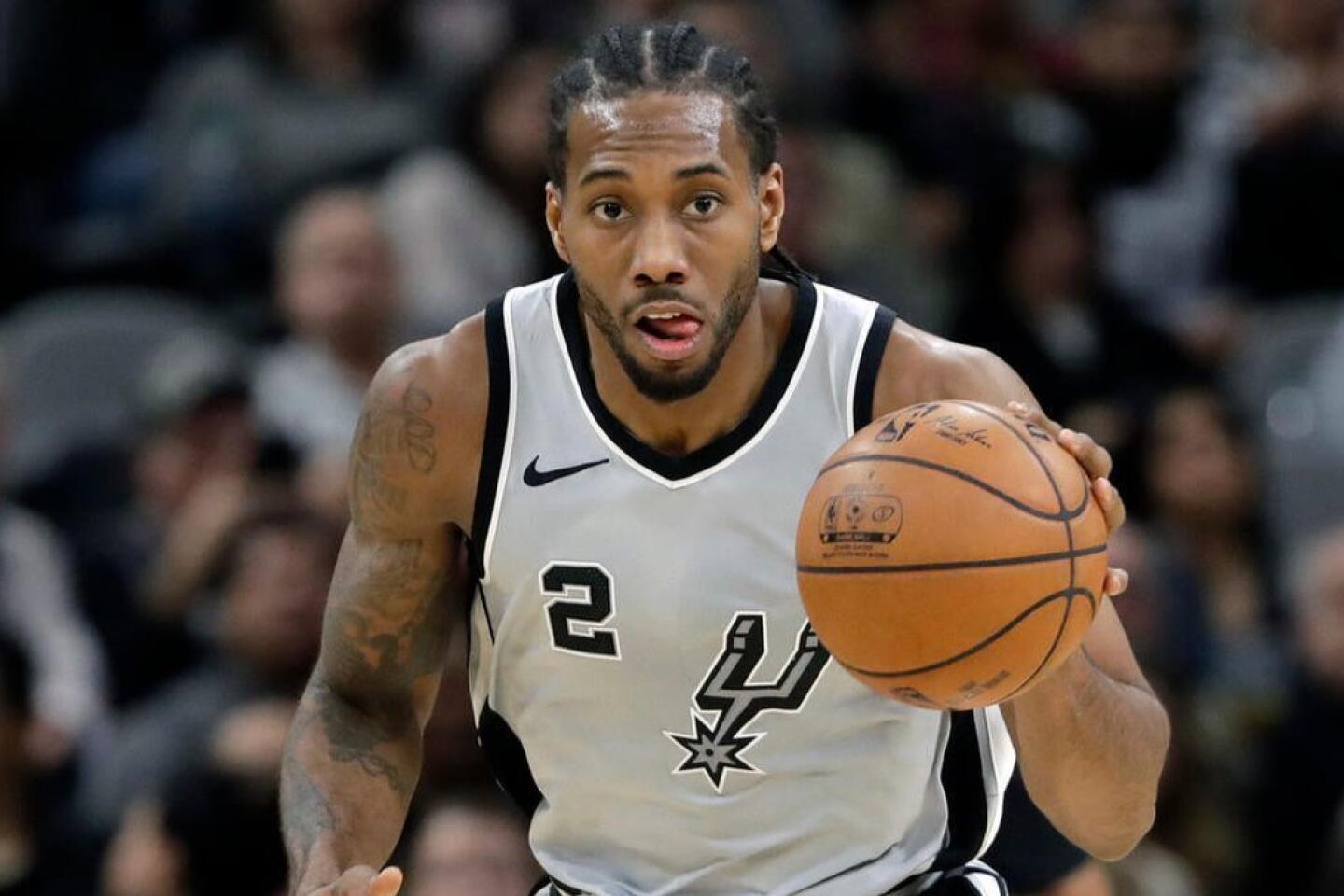 Spurs forward Kawhi Leonard only played nine games during the 2017-18 season.
(Eric Gay / Associated Press)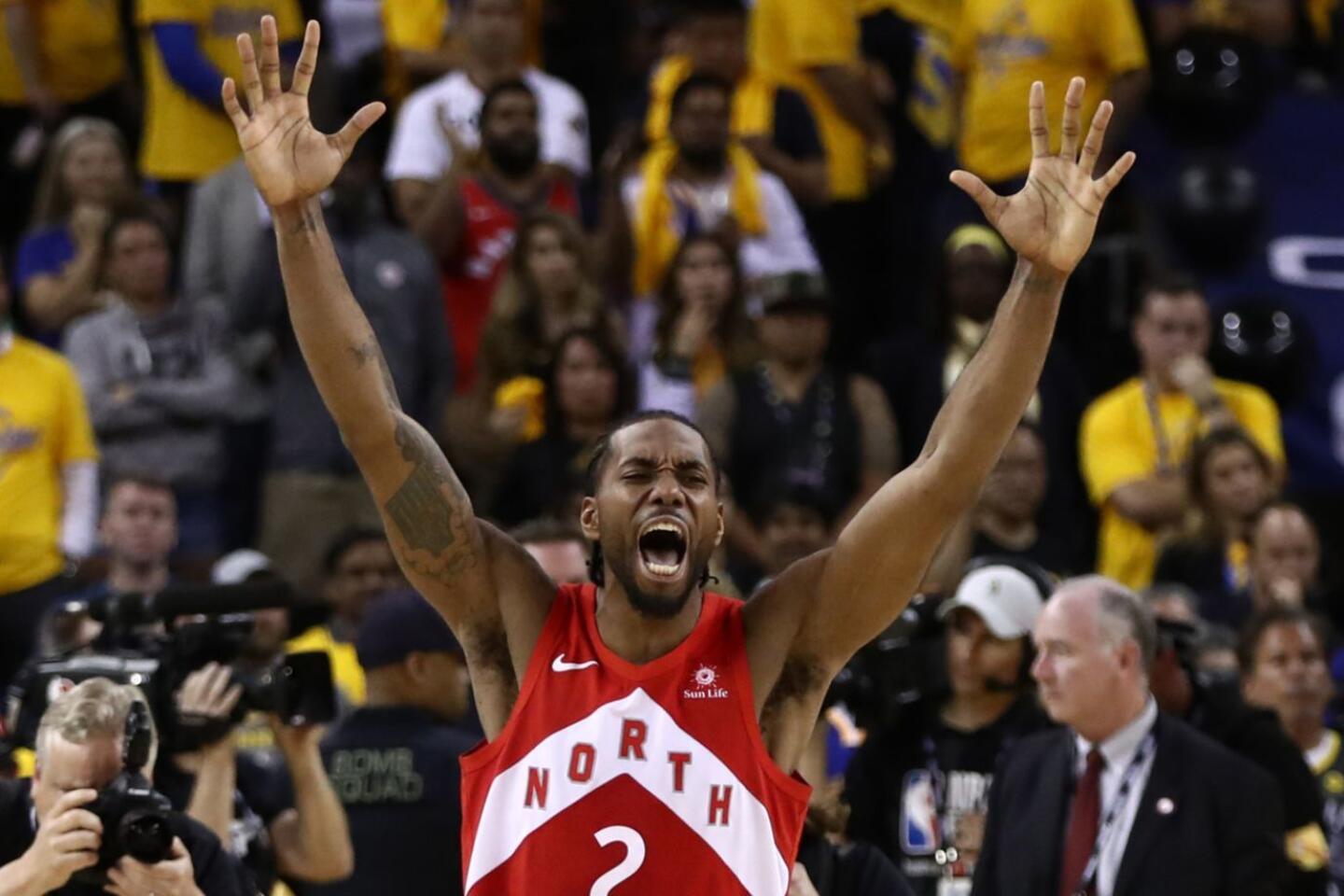 Kawhi Leonard celebrates after the Raptors won the NBA title with a victory over Golden State in Game 6 of the NBA Finals on June 13, 2019, in Oakland.
(Ezra Shaw / Getty Images)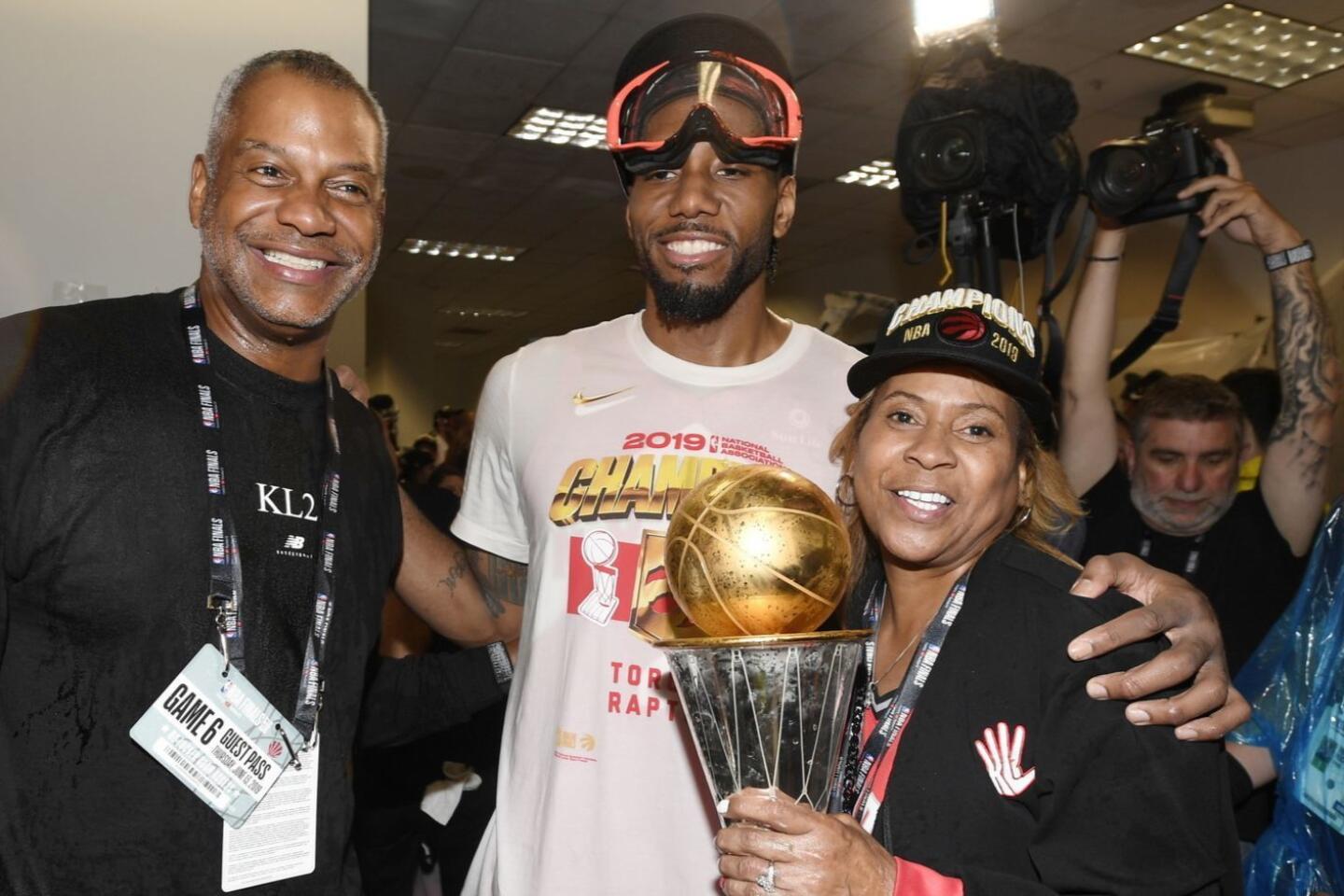 Raptors forward Kawhi Leonard holds the NBA Finals MVP trophy as he poses with his uncle Dennis Robertson and his mother Kim Robertson.
(Frank Gunn / Associated Press)
Leonard already told people he wanted to be a Laker; this could have been the easiest big-name signing in franchise history. Yet it wasn't, they didn't, they couldn't, and what occurred next is best described with a new verb that illustrates what happens when style submits to substance.
The Lakers got Clippered.
The Lakers lost to an owner who was more determined, a front office that was better prepared, a coaching staff with more credibility, and a culture that was all basketball. While the Lakers were fussing and feuding and finger-pointing during recent months, they were losing ground to a Clippers franchise that spent the last couple of years slowly and quietly building solid credibility while creating a championship mission that led the team to that Friday night moment when it shocked the world.
Yet, really, it shouldn't have surprised anybody.
The difference in the current state of the franchises' leadership was epitomized by where and how Leonard was wooed.
While he met with Clippers officials at Coach Doc Rivers' house in Malibu, he met the Lakers at the Four Seasons in Westlake Village, according to the Times' Tania Ganguli.
In one setting, the Clippers displayed a showcase front office with deep roots. In the other setting, the Lakers presented Jeanie Buss and Rob Pelinka in a hotel.
The Lakers' leadership already was being questioned by Leonard's camp, according to the Times' Broderick Turner. These meetings apparently only cemented the perception that the Clippers were a more stable place to play basketball.
The Clippers brought out proactive owner Steve Ballmer, who spends money smartly and pushes the envelope daily. The Lakers could counter only with the reactive and lately distracted Buss.
The Clippers brought out Jerry West, who surely cemented his reputation as the greatest executive in basketball history now that he's been involved in the recruiting of Shaquille O'Neal to the Lakers, Kevin Durant to the Golden State Warriors, and Leonard to the Clippers. The Lakers countered with, well, they couldn't counter West with anybody.
They once had West, but he quit a long time ago and they never asked him back. They could have utilized Magic Johnson as their in-house icon, but he recently quit too, and actually didn't help the Lakers much as a recruiter. Reportedly the news leaks of his discussions with the famously private Leonard and his camp were a factor in the Lakers' loss. Throw in Johnson's refusal to give up some since-traded young assets for George a couple of years ago, and his fingerprints were all over Friday's transactions.
Then there was the appearance of the smart and savvy basketball junkie Lawrence Frank, who led the Clippers negotiations. The Lakers countered with Pelinka, who is such a maligned figure that Leonard's camp initially didn't even want to meet with him.
Finally, the Clippers closed the deal with the irrepressible Rivers, whom the Lakers tried to hire a couple of months ago, but Ballmer wouldn't let him leave. The Lakers, who botched a couple of negotiations before settling on Frank Vogel, did not bring their new coach to the meeting.
While everyone is comparing the two great lineups of today's Clippers and Lakers, let's compare the two front offices as perhaps an outsider like Leonard would view them.
Ballmer, West, Frank and Rivers …versus … Buss and Pelinka? That's a mismatch. That's a knockout. That's getting Clippered.
In the wake of Friday's news, one recalls a March story by The Times' Nathan Fenno in which several email exchanges between Lakers officials involving the Clippers' proposed new Inglewood arena are revealed. In one from 2017, Buss refers to Ballmer as "Ballz,'' vows to squash his arena hopes, and sarcastically cites her opinion of his team.
"Didn't Ballz see what we did to my brother?? He will have nothing but Clippers basketball. Whoopee.''
On a day when the Clippers' front office has turned them into Southern California's premier pro basketball destination, her rivals actually would agree with her.
The Lakers owner is right, Clippers basketball, whoopee!
Sign up for our daily sports newsletter »
Get more of Bill Plaschke's work and follow him on Twitter @BillPlaschke
Get our high school sports newsletter
Prep Rally is devoted to the SoCal high school sports experience, bringing you scores, stories and a behind-the-scenes look at what makes prep sports so popular.
You may occasionally receive promotional content from the Los Angeles Times.