Lakers' pitch to Kawhi Leonard couldn't include one key element — Paul George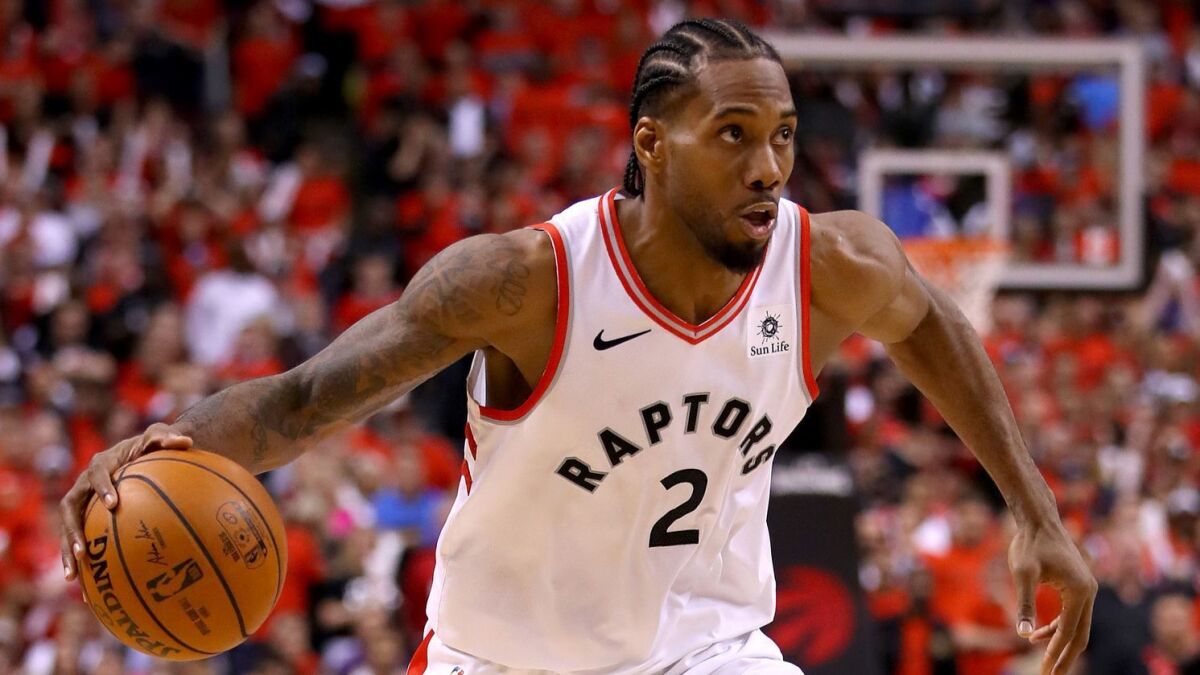 Lakers owner Jeanie Buss and general manager Rob Pelinka traveled to a hotel 41 miles north of the Lakers' facility Tuesday for a meeting they hoped would create a super team of unprecedented talent.
In a meeting room at the Westlake Village Four Seasons, Kawhi Leonard met them along with his uncle, Dennis Robertson, and his agent, Mitch Frankel, according to people familiar with the meeting.
Leonard's information gathering was well underway. He and Robertson had spoken with Magic Johnson multiple times that Sunday, calling as Johnson was leaving church. They wanted to know if the Lakers had tried to trade for Leonard the summer before when the then-Spurs forward told the team he wanted out of San Antonio. They had questions about Pelinka, given Johnson's recent comments accusing Pelinka of betraying him. Johnson offered positivity about the Lakers as an organization and its front office.
While, at first, they had only wanted to meet with Buss, they later reconsidered and asked Pelinka to be there.
With Johnson's involvement, and with LeBron James and Anthony Davis helping recruit Leonard, rumors began swirling about the Lakers' becoming frontrunners for Leonard's services. Behind the scenes, though, Leonard's camp remained steadfast that wasn't the case.
He met with the Clippers on Monday at Doc Rivers' Malibu home. He traveled to Toronto on Wednesday and met with the Raptors, having taken a flight tracked by Canadian television stations.
In between, it was the Lakers' turn. Buss and Pelinka made their pitch.
Where in years past the Lakers had tried to woo free agents with the prospect of stardom and off-court fame, the Lakers knew that wouldn't work with Kawhi Leonard. They stuck to basketball in that hotel meeting room, trying to sell Leonard on the idea that he could win championships with superstar teammates James and Davis. The meeting lasted two hours.
Famously soft-spoken, Leonard didn't say much. His uncle had questions, but Johnson's comments about Pelinka never came up, according to a person briefed on the meeting. Leonard's camp came away feeling that the Lakers conducted themselves professionally throughout the process.
As three teams recruited Leonard, he was recruiting Paul George.
The Lakers couldn't have traded for George if they wanted to. They had emptied their cupboard in trading for Davis and had nothing left to give. According to a person familiar with their thinking, they had no idea that the Clippers and Raptors were attempting to trade for George to give Leonard his desired teammate.
When the Clippers did it, there was no doubt in Leonard's mind.
---
All things Lakers, all the time.
Get all the Lakers news you need in Dan Woike's weekly newsletter.
You may occasionally receive promotional content from the Los Angeles Times.