Column: Hockey star Kendall Coyne is creating shots for herself while her husband tries to limit the shots taken on his quarterback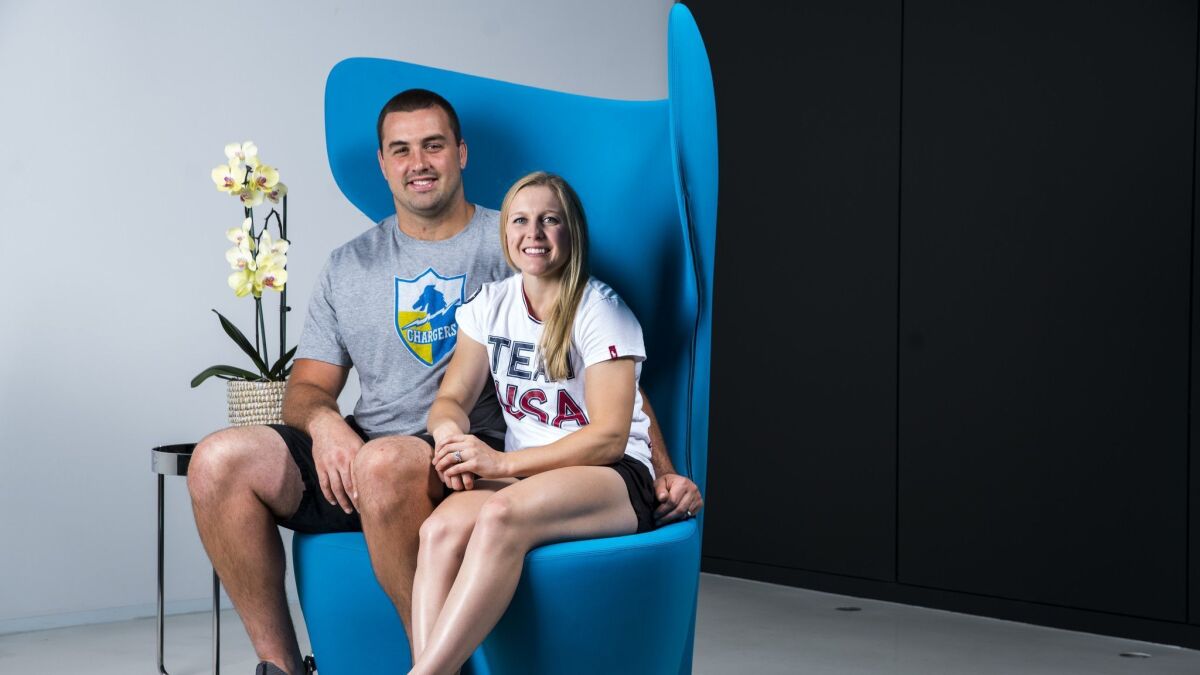 Last Sunday was a game day in the Coyne-Schofield household, but it was unlike a game day for pretty much anyone else, anywhere else.
In Carson, Michael Schofield III was preparing to face the Oakland Raiders and make his fifth consecutive start on the Chargers' offensive line.
In Saint Paul, Minn., Kendall Coyne Schofield, a key forward on the gold medal-winning U.S. women's hockey team at the Pyeongchang Olympics, was enjoying a rare chance to play a game in the National Women's Hockey League.
Married only three months, the couple hate being apart and eagerly follow each other's athletic achievements.
"I think her game started at noon here and my game started at 1," he said. "We go out on the field for our pregame at 12:30 and I'm looking right before. I turn on and refresh Twitter. I don't know if coach would be happy with that but I had to see how she was doing."
It was tougher for Coyne Schofield to monitor her husband's performance.
"After the first period I grabbed my phone and clicked on the ESPN app just to see the score," she said. "As you know, there's not many stats …" Schofield finished her thought, saying, "To tell you how an offensive lineman is doing." She added, "So I just kind of look."
He again stepped in. "She just looks at every sack and hopes it's not me," he said.
She nodded. "I know he's going against [defensive tackle Maurice] Hurst and I don't see any sacks so they're winning. So I was able to get refocused," she said.
It was a triumphant day for both. Schofield and the Chargers won to record back-to-back victories for the first time this season.
"I think we've got a team that can do something special this year, for sure," he said.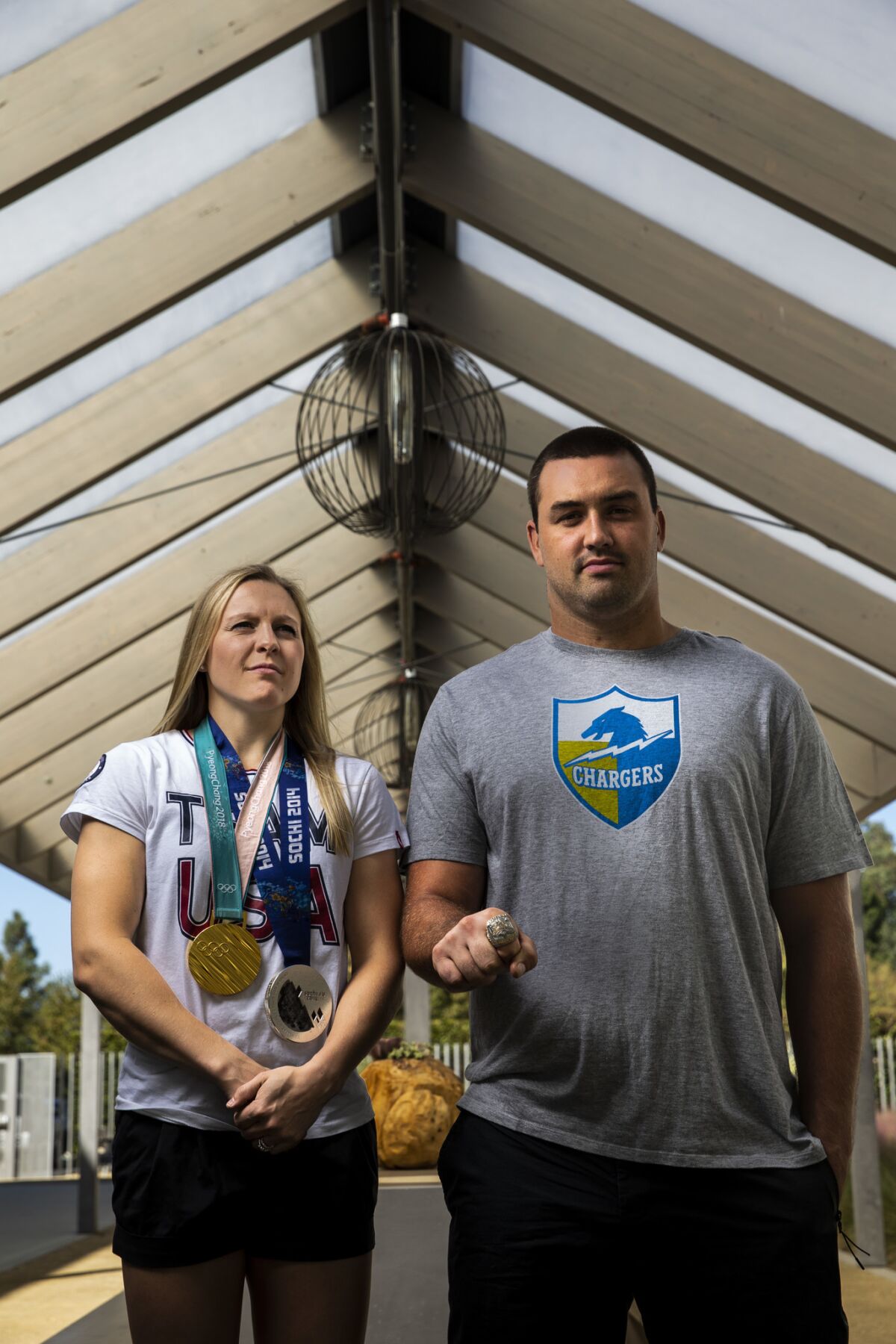 Coyne Schofield and the Minnesota Whitecaps finished a sweep of two games against the Metropolitan Riveters. In that game, the not quite 5-foot-2, 125-pound Coyne Schofield was penalized for bodychecking, which is illegal in women's hockey. "That's my wife," beamed Schofield, a massive 6-7 and about 300 pounds.
Coyne Schofield, who played on the runnerup 2014 U.S. Olympic team at Sochi and has won five gold medals in six World Championships, is 26 and probably at her athletic peak. But because women's professional hockey is still in its developmental stages, she gets few chances to showcase her remarkable speed and instinctive scoring skills.
The two women's leagues — the five-team NWHL and the six-team Canadian Women's Hockey League — are concentrated in the northeast, with Minnesota as the western-most outpost. Games usually are played on weekends. During the week Coyne Schofield skates with the under-16 and under-18 Junior Ducks boys' teams and on her own at KHS in Anaheim in addition to working out in Costa Mesa. She and her husband barely see each other on Thursdays, his busiest day and a day she skates.
"We're like a team," she said. "We've played team sports our whole lives, so when it comes to our marriage, this is pretty simple. We support each other with whatever we need."
A women's league that spans North America and pays reasonable wages would help her build up to the 2022 Winter Olympics, but financial and logistical support haven't materialized.
"I do see it getting better in the future," she said. "What we need is one league and we want one league under the direction of the NHL, and I think that's the next big step in our game. We need to hopefully operate like a WNBA, and that's the future. It's a blessing in disguise that I'm able to be here with Michael but I hope one day I can't be here because that means our sport has advanced enough to where I need to live elsewhere — or hopefully there's a pro team in California."
Both attended Carl Sandburg High in Orland Park, Ill., a suburb west of Chicago, but because he was a year ahead and she was gone so often for hockey tournaments — she made the national team at age 15 — they never met.
In 2014 he had finished his time at Michigan and was working out at a gym while awaiting the NFL draft; she was prodded to work out while recovering from surgery to repair problems related to a broken wrist she'd suffered in 2010. In the gym at hours when others their age were at work or in school, they noticed each other and had a post-workout lunch one day.
At the restaurant, she didn't understand why his phone rang so often. "I'm thinking, 'Either this guy knows a lot of girls or I don't know what,'" she said.
When he said the calls were about the NFL draft, she was incredulous. "Oh, my gosh, I'm ruining this guy's career," she said. "I'm like, 'Answer the phone. Don't talk to me.'"
They've basically been together since. "We feed off each other's energy for sure," said Schofield, who was chosen by the Denver Broncos in the third round and played on their 2016 Super Bowl team before he was waived in 2017 and claimed by the Chargers.
"And times when things aren't going well, we can talk to each other, like, 'I've been in this situation and this is how I got through it,' and she can do the same. We both say we're both each other's biggest fans by far. When I was in the Super Bowl there was no one more stressed than her. When I was watching her at the Olympics, there was no one more stressed than me."
Coyne Schofield hopes to work with young female hockey players, in part to repay the inspiration she got when she was 7 and met women's hockey pioneer and 1998 U.S. Olympian Cammi Granato.
"I held her gold medal and then turned to my parents and said, 'I want to go to the Olympics,'" said Coyne Schofield, who was in tears when Granato sent her a congratulations text after the U.S. beat Canada at Pyeongchang. "I remember that feeling of empowerment. I will never be Cammi Granato but if I can offer that, I want to do that."
Follow Helene Elliott on Twitter @helenenothelen
Get our high school sports newsletter
Prep Rally is devoted to the SoCal high school sports experience, bringing you scores, stories and a behind-the-scenes look at what makes prep sports so popular.
You may occasionally receive promotional content from the Los Angeles Times.