Column: Dodgers' Kenley Jansen feels like his old self again after offseason heart surgery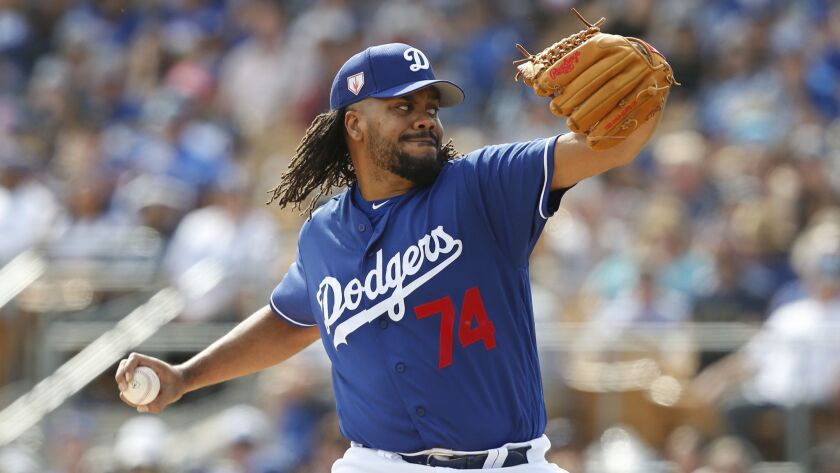 Reporting from phoenix —
The thumping began in his chest, pounding into his throat, grabbing at his breath.
Kenley Jansen was scared. His heart was literally broken. He wanted to walk off the mound and shut down his season and fix it.
But he couldn't. He wouldn't. There was pennant race to survive. There was a World Series to win.
He worried about his health, but he cared about his team. He didn't want to risk a stroke, but he didn't want to miss October.
He suffered an irregular heartbeat episode on Aug. 9 in Colorado, he was told he could need ablation surgery, but 11 days later he came back anyway. He kept pitching. He swallowed his medicine and smothered his fears and kept pitching.
"I was two personalities," he admitted one recent evening at Camelback Ranch. "One personality wanted to be there for my guys. The other personality wanted to call it a season and go do the surgery and get off the medication."
He kept pitching, but the dueling attitudes fought for space in his head, bled distraction into his right arm, and, in the end, everyone lost.
After returning from the disabled list Aug. 20, armed with only that blood-thinning medication and a November surgery date, Jansen gave up four home runs in his first three games, and seven total runs in his first four games.
While his numbers calmed down for the rest of the regular season, he was never again a sure bet. Everyone held their breath with every pitch. He missed a late-season trip to Colorado because of fears that the altitude would trigger another heart episode. He didn't miss many bats with his trademark cutter, and wound up giving up the most homers of any National League reliever with 13.
In the end, the worst baseball fears were realized at the worst of times. In his first two World Series appearances against the Boston Red Sox, Jansen gave up two home runs and blew two saves and the Dodgers blew a second consecutive shot at their first World Series championship in three decades.
Standing in front of his locker on those dark nights, Jansen took the blame. He never mentioned the heart. Only now, and only when pressed, will he acknowledge what everyone saw and nobody could understand.
"I'm saying it now, I didn't say it then, because I didn't want somebody feeling sorry for me," he said. "But once my heart issue happened, it was in my head, it switched up my life, it messed up my whole season, my second half was ruined."
He sighed for a second, stared at the floor, then looked up and smiled, because this spring, everything in his life has switched back. He had the 5½-hour heart procedure on Nov. 26 and now he looks and sounds and apparently pitches like everyone's favorite Kenley Jansen.
Check that. He looks like a stronger version of Kenley Jansen. He has lost 30 pounds from his 6-foot-5 frame, making him look less like a tight end and more like a shooting guard. His giant smile has never been bigger. His booming laugh has never seemed more appropriate as it resonates through a clubhouse that thrives off his energy — and last season wilted with his uncertainty.
"I did the surgery and it was like, good God, all the weight came off me," said Jansen, 31. "I was like, I'm fine again."
He is no longer on any sort of heart medication. He no longer takes the mound worried about that thumping. He has pitched four scoreless spring innings, allowing three hits with four strikeouts.
"What I went through, it made me mentally stronger than I used to be, I'm not going to lie," he said. "Dealing with all that, it made me better and tougher."
He will be helped this year by the addition of legitimate setup man Joe Kelly. It's his 10th Dodgers season, but Jansen is bouncing around like it's his first.
"He's a different player,'' said manager Dave Roberts. "He has clarity, he's healthy both physically and emotionally, I expect a really big year from him."
Last season when Jansen was different in a bad way — he had a career-high 3.01 ERA — Roberts figured out what was wrong, but never acknowledged it because Jansen didn't want anyone making excuses. But Roberts saw the inner turmoil surrounding his star, and was awed by Jansen's willingness to fight it.
"He wants to be accountable on the field, he doesn't want to make excuses, but it was a tough year for him, a really tough year," Roberts said. "I can't imagine what he was going through. To carry all of that with the weight and expectations that come with being the closer for the Dodgers, I just can't imagine."
Jansen said he handled it with prayer, and pushing. He would pray every day for strength, and then use that strength to push through his fears.
"One thing in life you learn, you got to continue to keep pushing yourself, pushing yourself, no matter what," Jansen said. "Keep fighting, keep pushing, I'll always do that."
When Jansen got shoved back last season, you could see it in his teammates. The bullpen was a mess without its anchor. The clubhouse was filled with a sense of dread after one of his failures.
This is why he stuck it out. Jansen couldn't stomach the idea of walking out of a place he was so needed.
"I couldn't do that to my team or the fans," he said. "They've waited 30 years for a championship, they're not giving up, and I'm not giving up."
When he finally gave in and underwent the surgery in Los Angeles, the first person he saw when he opened his eyes afterward was Roberts.
"Going through all he went through for us, I wanted to see him there," Roberts said. "This is a special man."
Soon thereafter, while lying in his hospital bed, Jansen recorded a 16-second video he posted on Twitter. It ended with him pointing to the camera and saying, "2019, stronger than ever."
It might sound cliché to say he was speaking from the heart but, well, he was.
Sign up for our daily sports newsletter »
Get more of Bill Plaschke's work and follow him on Twitter @BillPlaschke
---
Get the latest on L.A.'s teams in the daily Sports Report newsletter.
You may occasionally receive promotional content from the Los Angeles Times.