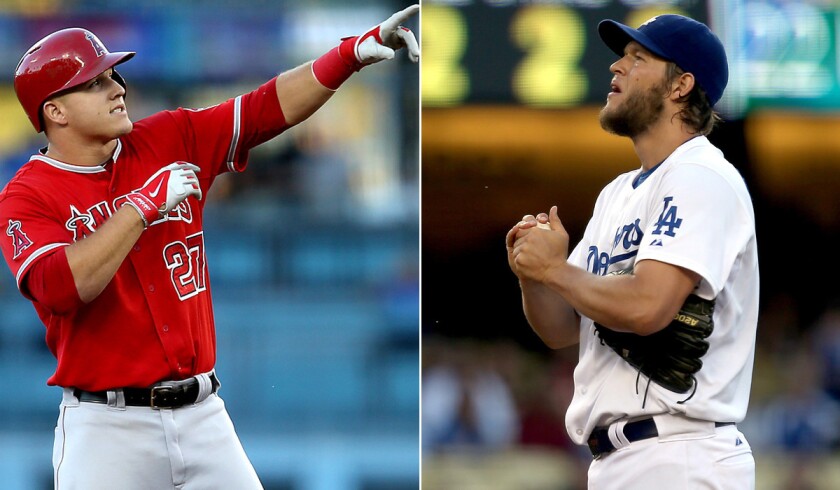 For six months they shared the wide eyes and wild cheers of witnesses from a grateful region that fell in love with its baseball supermen.
Standing atop the mound at Dodger Stadium, Clayton Kershaw would throw faster than a speeding bullet. Racing through the outfield at Angel Stadium, Mike Trout would vault a fence in a single bound.
Together, in cartoonishly creative fashion, the best players from Los Angeles' two major league baseball teams shared a greatness that transcended their connecting freeway and transformed a Southern California summer.
It was only fitting then that on Thursday afternoon, Kershaw and Trout were honored by sharing baseball history.
Kershaw was named the National League's Most Valuable Player shortly after Trout was unanimously named the American League's Most Valuable Player, marking the first time in 55 years that the MVPs from both leagues were from teams that play under the name of the same city.
"That's amazing, I can't even believe it. Just to be associated with that award, I'm blown away right now," Kershaw said during the televised ceremony.
Trout was even more emotional, fighting back tears during his interview, the award breaking through the 23-year-old's trademark cool. "It feels great," Trout said haltingly. "It's something special for sure. I'm just very excited.''
It was only appropriate that they followed each other into the record books after mimicking each other on the field during a dazzling summer duel, each creating a moment more memorable than the previous one, competing for highlights as if placing alternating hands on the handle of a bat.
One moment, Kershaw was throwing a no-hitter against the Colorado Rockies with 15 strikeouts and no walks, statistically one of the best single pitching performances in baseball history. The next moment, Trout was driving an 0-and-2 pitch off the dirt and into the left-field bleachers for a walk-off home run against the Houston Astros.
From the middle of June until early July, Kershaw compiled a 41-inning scoreless streak, the fifth longest since baseball's expansion era began in 1961. That streak ended just in time for Trout to reclaim the national baseball stage by hitting a triple and double with two runs batted in to become the All-Star Game MVP.
Kershaw finished with one of the greatest seasons for a pitcher in modern baseball history — a 21-3 record with a 1.77 ERA — yet he had to overcome the long-held belief of the voting baseball writers that a pitcher doesn't appear in enough games to deserve an MVP award.
He also had one of the greatest seasons for a team leader, as the Dodgers won 20 of his final 21 regular-season starts to take the NL's West Division championship. It was enough for him to become the first National League pitcher in 46 years to win both the Cy Young Award — he won it Wednesday — and MVP award in the same season.
Trout, meanwhile, had finished second in the American League MVP voting the previous two seasons, and some of his hitting numbers decreased this season. But he was still an MVP lock for his young career body of work after leading the American League with 111 RBIs and 115 runs scored while leading all of baseball with 338 total bases. He is the fifth-youngest player to win an MVP award, and the youngest to win unanimously.
There was only one little thing that neither player accomplished. A big thing — the one trophy won by those dreaded San Francisco Giants.
While the Dodgers and Angels can boast of their MVPs, the honors resulted in zero World Series appearances, not even one playoff series win. It turns out, the only thing more legendary than Kershaw's regular season success was his postseason failure. He lost both starts to the St. Louis Cardinals in the division series while being racked for a 7.82 ERA.
Trout didn't do much better for the Angels in their division series sweep by the Kansas City Royals, batting .083 with just one hit in his first career playoff appearance.
"You feel like when your team puts such a big investment in you, you definitely want to come through for them," said Kershaw, who signed a $215-million contract extension before last season. "The regular season is one thing. I need to try to do it in the postseason now too."
Both players could have many more chances in October, as both now have contracts that won't expire until after the 2020 season. That's as many as six more seasons of Hollywood's coolest sports buddy movie, now with a new and improved soundtrack.
You know how it goes. Get used to it. It will be sung in both Southern California stadiums throughout next summer. For once, it will actually be more than a wish. It will be a reality, times two.
"M-V-P … M-V-P … M-V-P.''
Twitter: @billplaschke
---