Kings beat Blackhawks in overtime to advance to Stanley Cup Final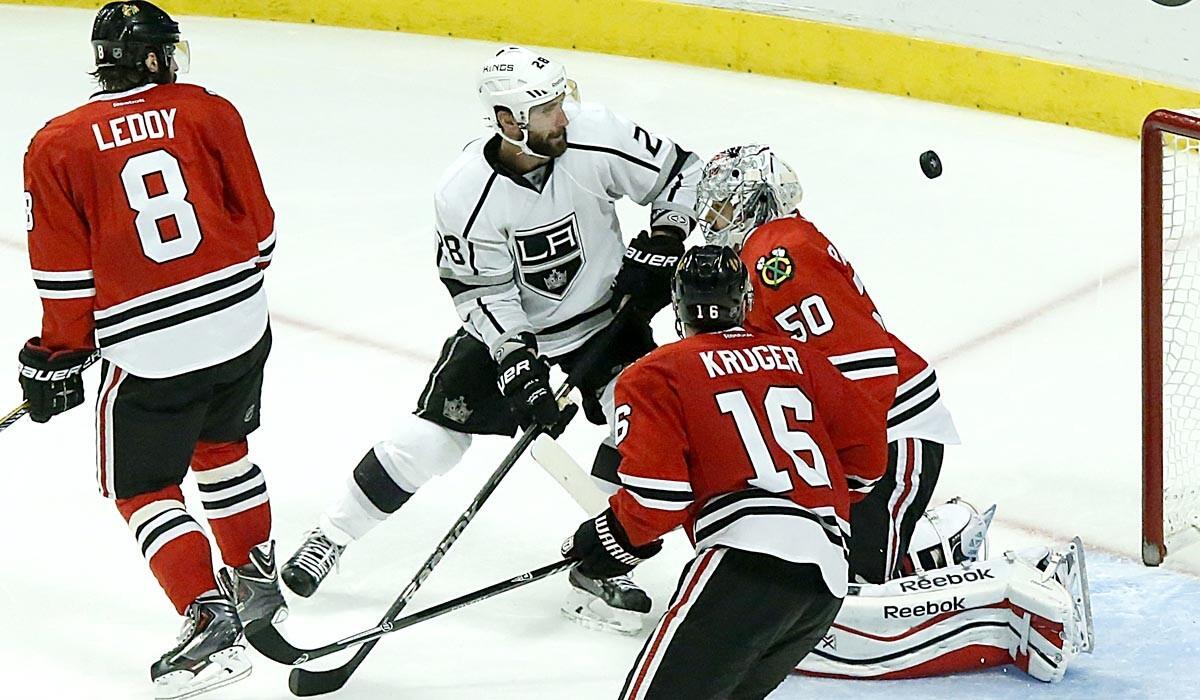 Reporting from Chicago —
The Kings have advanced to the Stanley Cup Final by defeating the defending champion Chicago Blackhawks, 5-4 in overtime, tonight at the United Center in Game 7 of the Western Conference finals.
Kings defenseman Alec Martinez shot inside the blue line off a pass from Justin Williams -- who's now 7-0 in Game 7s -- and the puck deflected off Blackhawks defenseman Nick Leddy and into the goal past teammate Jarret Stoll and Chicago goalie Corey Crawford at 5:47 of overtime.
The Kings, who won the 2012 championship, will host Game 1 of the Stanley Cup Final on Wednesday night at Staples Center against the Eastern Conference champion New York Rangers.
The Kings became the first NHL team to win three Game 7s on the road in the playoffs. They are also 7-0 in elimination games this postseason.
The Blackhawks, who never trailed in the game until the finish, scored the first two goals of the game and led, 3-2, at the end of a wild first period. Kings rookie forward Tyler Toffoli tied the score midway through the second period before winger Patrick Sharp gave Chicago its final lead eight minutes later.
Kings left wing Marian Gaborik tied the score at 12:43 of the third period when he knocked in a rebound after right wing Dustin Brown's shot from the slot was deflected by Blackhawks goalie Corey Crawford.
Kings goaltender Jonathan Quick, who finished with 37 saves, made some clutch stops in the final minute, smothering a last-ditch shot by Blackhawks center Andrew Shaw with 5.3 seconds left.
Crawford stopped 27 of 32 shots in the game.
Kings 5, Blackhawks 4 (final)
Kings right wing Dustin Brown tries to get a shot through traffic but it hits a body.
Blackhaws right wing Patrick Sharp looking for hat trick, can't get an open shot.
Left wing Patrick Kane on the ice for Chicago. Kings goalie Jonathan Quick grabs a shot that flipped up off Kane's stick. Kane sighs. Kane tries again but is wide to Quick's right.
Fans loving the effort here. On feet again, waving red towels, barking "Let's Go Hawks!"
Kings defenseman Alec Martinez fires a shot through traffic, and it goes in. Kings win!
Kings 4, Blackhawks 4 (early in overtime)
Overtime is underway in Game 7 of the Western Conference finals at Chicago's United Center.
Kings right wing Dustin Brown moves in, but can't penetrate for a shot.
Goalie Jonathan Quick knocks away a shot by Blackhawks defenseman Duncan Keith. Kings defenseman Matt Greene fires wide after L.A. collects a turnover.
Kings defenseman Alec Martinez dives to stop a Chicago rush. Blackhawks winger Brandon Saad is denied on a counter attack and goes hard into the boards. He gets up slowly but appears uninjured as he returns to the bench.
Kings 4, Blackhawks 4 (third intermission)This will be the first Game 7 overtime in the conference finals since 1994, when the New York Rangers and New Jersey Devils waged such a war.
Jonathan Quick has stopped 32 of 36 shots and was beaten by a couple bad bounces. Corey Crawford has 25 saves for Chicago.
Drew Doughty leads the Kings with 26 minutes 55 seconds of ice time; defenseman Duncan Keith leads the Blackhawks with 29:51.
The Kings have out-hit Chicago, 40-27, but trail in faceoffs won, 37-32. Chicago has also blocked more shots, 20-11.
The winner of this one will host the Rangers in Game 1 of the Stanley Cup Final on Wednesday night.
Kings 4, Blackhawks 4 (end of third period)
Face-off in front of Kings goalie Jonathan Quick again late in the third period. Blackhawks get nothing.
Less than three minutes in regulation. Left pad save by Quick on a shot by Blackhawks right wing Marcus Kruger. Moments later, Quick holds a Patrick Sharp blast to his rib cage.
A close hybrid icing call on the Kings so a face-off by Quick. A blue-line blast by Chicago defenseman Duncan Keith misses, as does another. There's 1:06 left. Kings forward Tanner Pearson staves off a good Chicago chance.
Kings right wing Dustin Brown skates around defenseman Johnny Oduya but can't score. Blackhawks attack but Quick stops a shot, barely, with his left pad to deny center Andrew Shaw with 5.3 seconds left.
A final regulation face-off is wiped away. Game 7 is going to overtime.
Kings 4, Blackhawks 4 (4:00 left in third period)
Blackhawks center Andrew Shaw is wide left with an open shot, and a stoppage in play comes with 5:34 remaining in the third.
The Chicago crowd of 20,000-plus is standing after the timeout. There's great tension in the building knowing Blackhawks goalie Corey Crawford let in 14 goals in Games 2-4.
Kings goalie Jonathan Quick covers a puck that got loose on a rush. Face-off on the Kings' end. Quick stops Marian Hossa and Jonathan Toews in a big way on back-to-back, close-range shots.
Kings 4, Blackhawks 4 (7:17 left in third period)
Kings left wing Marian Gaborik puts away a rebound after right wing Dustin Brown's shot from the slot was deflected by Blackhawks goalie Corey Crawford. Anze Kopitar gets the other assist for starting the scoring play from the defensive zone.
Before that, Kings defenseman Drew Doughty knocked down Kris Versteeg to keep him from taking a point-blank shot at Kings goalie Jonathan Quick, who was forced a minute later to stop a shot by Chicago's Michal Handzus.
The goal is Gaborik's 12th of the playoffs.
The Kings are now trying to knock out the champions with pressure by defenseman Jake Muzzin and rookie forward Tanner Pearson. Crawford holds on, though, as the clock ticks to 6:37 left at a stoppage.
Shots on goal are 28-27 in the Blackhawks' favor in what has been a gripping series headed for a dramatic final act.
Blackhawks 4, Kings 3 (midway through third period)
A shot by Kings defenseman Drew Doughty from the blue line is snared by Blackhawks goalie Corey Crawford.
The Kings try a better angle but defenseman Alec Martinez's shot from Crawford's right is knocked down and covered. Tanner Pearson later makes a push toward Crawford but the puck is deflected away by a Blackhawks defenseman.
The Kings are struggling for a good look at Crawford. tyler Toffoli tried to get to him back door but Crawford knocked it away.
Kings goalie Jonathan Quick keeps hope alive with a save as the Blackhawks collect a turnover and skate in two on one. The third is almost halfway over as Crawford makes another save, and a full house of appreciation from the home crowd.
Blackhawks 4, Kings 3 (13:56 left in third period)
Kings center Jarret Stoll has returned to the ice.
The Blackhawks get a good look at the goal but Kings goaltender Jonathan Quick knocks away the threat by Chicago center Marcus Kruger.
There's 15:45 left in regulation. A long-distance shot by Kings defenseman Slava Voynov is caught by Blackhawks goalie Corey Crawford.
The Blackhawks are looking for a dagger goal with their best line of Brandon Saad, Andrew Shaw and Patrick Kane on the ice but it doesn't happen. The Kings get a face-off in the Chicago end, but Crawford deflects a Marian Gaborik blast.
Blackhawks 4, Kings 3 (early third period)
Kings center Jarret Stoll, who left nearly midway through the second because of an apparent injury after two collisions, has returned to the team's bench at the start of the third.
A charge by Kings center Mike Richards was denied by Chicago goalie Corey Crawford in the opening 90 seconds of the period.
The Kings were outshot, 16-4, in the second, so that's the response they need given the circumstances.
--Lance Pugmire
Blackhawks 4, Kings 3 (end of second period)
The Blackhawks are 20 minutes away from reaching another Stanley Cup Final.
They retook the lead in Game 7 of the Western Conference finals late in the second period, going ahead 4-3 at 18:25, on yet another power play.
This man-advantage goal came from winger Patrick Sharp, who blasted a shot past Kings goalie Jonathan Quick, who had lost his stick earlier during the Blackhawks' power play. It looked as though Quick was also screened by teammate and defenseman Jake Muzzin.
Kings forward Trevor Lewis had been sent off for holding Andrew Shaw on a two-on-one breakaway.
The Kings only mustered only four shots on goal in the second period, and didn't record their first shot of the session until the 9:25 mark.
They were also missing a key centerman and penalty killer in Jarett Stoll for the latter part of the second period. He left the bench and there was no word from the Kings about his status.
Kings 3, Blackhawks 3 (9:29 left in second period)
The Kings were drifting through the second period, and fortunate to be trailing by only one goal.
They didn't get their first shot on goal in the second period until Justin Williams challenged Blackhawks goaltender Corey Crawford at 9:25.
Then, just like that, the score was tied, 3-3.
Kings winger Dwight King found defenseman Matt Greene at the right point. Chicago center Michal Handzus blocked Greene's shot, which went to an open Tyler Toffoli on the far side of the crease.
Toffoli one-timed the puck into the net for his seventh goal of the playoffs, coming at 10:31.
Blackhawks 3, Kings 2 (end of first period)
Momentum shifted wildly in the opening 20 minutes.
The Kings got off to a ragged start, falling behind 2-0 on goals by Brandon Saad and, later, captain Jonathan Toews on the power play. They fought back to tie it on goals by Jeff Carter and Justin Williams.
Only 12 seconds after the King tied the score, Patrick Sharp put Chicago ahead, 3-2, after a Kings turnover in the neutral zone with a shot from the right side, which skipped off the ice and went past goalie Jonathan Quick on the far side.
It was hardly a goaltending clinic from Quick or Chicago counterpart Corey Crawford.
Chicago grabbed the momentum back after the Kings had seized it. The first positive signs for the Kings came when rookie Tyler Toffoli beat Crawford but hit the post at 15:34.
Less than a minute later, Carter cut the Chicago deficit in half, knocking the rebound of a Dustin Brown shot out of the air past Crawford. The goal was reviewed to see if it was a high stick but it was called a good goal. The other assist on the goal went to Toffoli.
Carter's goal, his ninth of the playoffs, came at 16:31, and then Williams tied it, 2-2, at 17:22. Chicago defenseman Michal Rozsival blocked the shot of Kings defenseman Slava Voynov but it went right to an open Williams.
For Williams, it was his seventh goal in a Game 7, tying him with Glenn Anderson for most Game 7 goals.
Blackhawks 2, Kings 0 (11:24 left in first period)
Only 8:36 into the game and the hill turns into a mountain for the Kings.
Kings winger Justin Williams is called for tripping while in the offensive zone, and Chicago needs just 43 seconds to double its lead.
Blackhawks captain Jonathan Toews converted a shot by Patrick Kane into a simple-looking tap-in, one of the easier playoff goals of his impressive career.
And the legend of Kane continues to grow: That is now nine points for him in the last three games and the first period is far from over here in Chicago.
Blackhawks 1, Kings 0 (15:00 left in first period)
The Blackhawks could not have scripted a better start, scoring just past the five-minute mark.
Winger Brandon Saad, who has been a revelation in the postseason, put the puck in from a sharp angle to goalie Jonathan Quick's left side. The assist on the goal went to Patrick Kane and Andrew Shaw, at 5:05. It was Saad's sixth goal of the playoffs.
Kane has eight points in the last three games, having a hand in all but two of the Blackhawks goals since Game 5.
Pregame
Kings defenseman Robyn Regehr, who has been out because of a knee injury since Game 1 of the Anaheim series, raised some expectations when he took part in the pregame warmup shortly before Game 7.
He is obviously closer to returning to the lineup but still not quite back to 100%.
On Saturday, Kings Coach Darryl Sutter dismissed the notion that Regehr would be ready for Game 7.
"Yeah, Robyn is doubtful," Sutter said. "You know, he's been skating for a week, he's been out for a month, so he hasn't had contact, per se, so he would not be available. And I think our two other [defense] pairs are, for the most part, playing as well as they can."
There were no changes for the Kings in their lineup.
The Blackhawks made a minor tweak, re-inserting struggling forward Kris Versteeg and taking out defenseman Sheldon Brookbank, a former Duck who played in Game 6, giving the Blackhawks seven defensemen.
::

Why not just say it again? The morning of Game 7 is like Christmas morning for hockey players.
That's when accomplished NHL players turn into little kids. They talk about playing Game 7s as youngsters on ponds and arenas throughout Canada and the United States.
Who did Blackhawks winger Brandon Saad pretend to be as a kid?
"Probably Jaromir Jagr or Mario Lemieux, one of those two," Saad said, smiling, today after the morning skate.
Kings defenseman Drew Doughty was animated by yet another Game 7.
"It's fun. It's fun hockey," he said. "It's times you dream of: Western Conference finals, playing against a team like Chicago. One of the Original Six is cool.
"It should be a great atmosphere in here tonight. Chills will be running down your body before the game starts. When the puck drops, it's all business. We want to win and that's it."
Said Chicago winger Ben Smith: "We want to be on the winning side of it. The loser of this series probably won't be remembered."
That's the unfortunate nature of this epic series. The Kings led 3-1 in the series and now it is down to Game 7. This is their third Game 7 of the postseason, all coming on the road, and seventh elimination game.
"We don't want to be forgotten and we don't want our ultimate goal to end," Doughty said. "Everyone knows what our ultimate goal is, but we obviously can only take it one step at a time. It's going to be tough to do."
It's been fun to watch. And they players agree the battle has been intense and wildly intriguing.
"It's been fun to play in," Doughty said. "These kind of series, when it is such a battle, it's two teams that have so many competitive guys out there and every single shift is a hard shift, that's when it's fun to play in.
"The fun games are the battles, the wars out there. Tonight is going to be this way."
--Lisa Dillman
Get our high school sports newsletter
Prep Rally is devoted to the SoCal high school sports experience, bringing you scores, stories and a behind-the-scenes look at what makes prep sports so popular.
You may occasionally receive promotional content from the Los Angeles Times.