Column: Kings say ENOUGH is ENOUGH as they spread the word of acts that 'can't be accepted'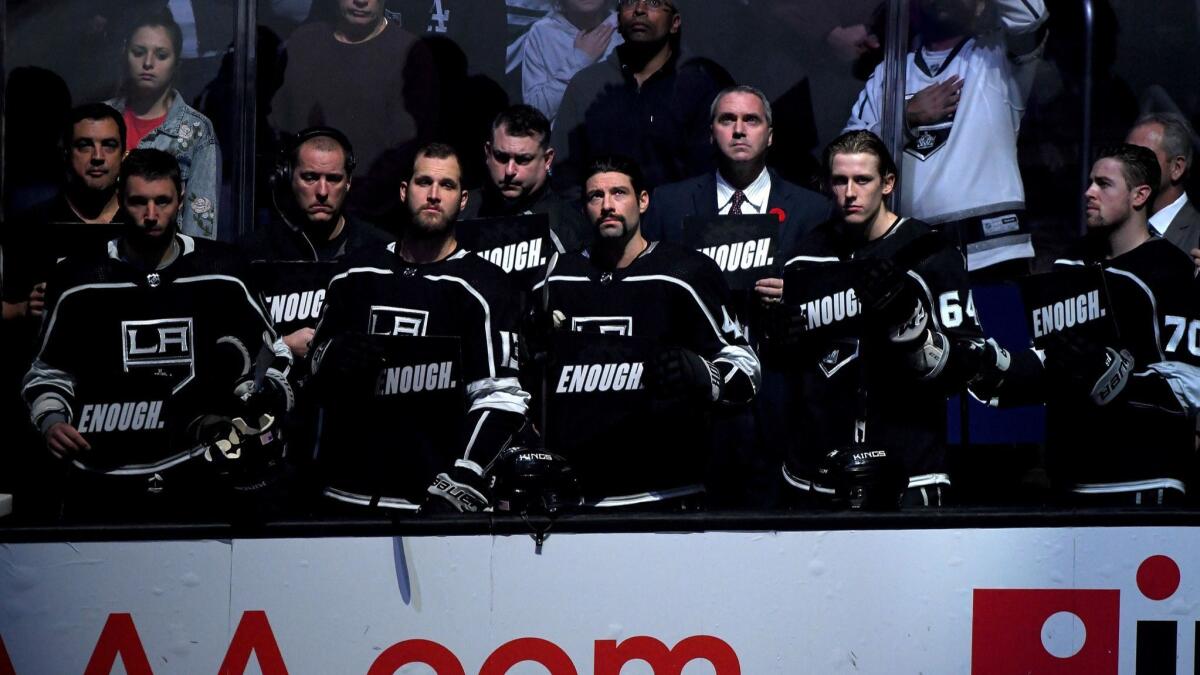 They said ENOUGH because they've seen the pain an act of violence can cause its victims and those left to stumble through shattered lives.
They said ENOUGH because the shooting last Wednesday that killed 12 people at the Borderline Bar & Grill in Thousand Oaks was close to home and inspired them to do something more enduring than pausing for a somber moment before they went on with their daily routines.
The Kings said ENOUGH because they've become too practiced at mourning. They lost one of their own, fan service associate Chrissy Duarte, in the Route 91 Harvest Music Festival shootings last year in Las Vegas, and they honored her by placing her initials in a decal on players' helmets and donating money to her family and a fund for victims. More recently, they held a moment of silence for the 11 people shot and seven injured at the Tree of Life Synagogue in Pittsburgh.
Kings President Luc Robitaille had watched a news report about the Thousand Oaks shooting before entering a meeting last Thursday. He didn't want it to fade away and become another hashtag in a mind-numbing series of tragedies. "I'm so sick and tired of us doing a moment of silence, and then we're going to get up tomorrow morning and we're going to move on with our life," he said. "That was really it for me, because we just did it," for the synagogue victims.
From that meeting came a stunning logo comprised of the word ENOUGH written in stark white letters on a black background. The Kings printed it on cards held up by their players and by members of the Minnesota Wild last Thursday during a moment of silence. The logo appeared on the video board at the Ducks' home game on Friday. After Clippers executives contacted the Kings, the logo appeared on T-shirts worn during warmups on Saturday by the Clippers and the Milwaukee Bucks, with the victims' names added on the back. Public address announcer Eric Smith proclaimed, "The entire Clippers organization is heartbroken," and it was.
"I was probably as proud of this franchise as I've been since I've been here, before the game, because instead of doing the moment of silence and saying nothing, we said something. We wore something and more importantly, then we spoke about it before the game," Clippers coach Doc Rivers said Monday. "It's a shame, the gun violence. We keep talking about doing something but no one's doing anything. I just think the more everyone gets involved and uses their voices and continues, that's what we have to do.
"But it shouldn't just be us. It should be everybody out here. We have to do something. Mental illness is a problem as well. But mental illness and guns are a serious problem and the fact that you can have both and neither one is treated, is a problem. We haven't done anything about it. I'm very proud of our franchise that we took a stand. We all have to."
Versions of the shirt are available for purchase, with 100 percent of the net proceeds going to the Ventura County Community Foundation.
The Lakers and Atlanta Hawks wore the same style T-shirts Sunday. The victims' names were displayed on the scoreboard and solemnly read aloud by public address announcer Lawrence Tanter before a moment of silence was held. Also on Sunday, the Rams held a moment of silence before they beat the Seattle Seahawks at the Coliseum. Offensive tackle Andrew Whitworth donated his check for the game to the Ventura County Community Foundation's Conejo Valley Victims Fund; the Rams donated money to aid victims of the shooting and of the devastating wildfires that have come so close to their homes and training facility.
Warriors coach Steve Kerr, whose father was murdered in 1984 while serving as president of the American University of Beirut, applauded the basketball teams for taking a stand. "I thought it was a great show of unity in the NBA and a statement that we have to address this issue as a country. Our government has to address it," he said Monday. "We can't just keep spewing out the same garbage about, 'Well, the second amendment is the price of freedom.' Give me a break. We don't have freedom if we can't walk into a bar, a movie theatre or a concert without being worried [about] getting murdered."
For the Kings, saying ENOUGH wasn't politically motivated. It was visceral, born of seeing the Duarte family's anguish and of having been asked, as if it were normal, to provide trauma kits to South Bay schools for use in classroom shootings. "It was a behavioral statement. It's behavior that we want to impact, and the behavior of someone choosing to take another person's life," said Mike Altieri, the club's senior vice president of marketing, communications and content. "These things can't be accepted."
The Kings won't let this be forgotten. Their staff met on Monday to discuss follow-up efforts and they plan to exchange ideas with every other local team. Robitaille hopes fans will be swayed when they see athletes speak out against violence. "If we can influence one person that had a bad thought — one — that could be one restaurant, one bar, that something was going to happen but maybe that person changes his mind," Robitaille said. "I don't know. But I know I would rather try to do something than do nothing, than just have a moment of silence and move on."
Follow Helene Elliott on Twitter @helenenothelen
Get our high school sports newsletter
Prep Rally is devoted to the SoCal high school sports experience, bringing you scores, stories and a behind-the-scenes look at what makes prep sports so popular.
You may occasionally receive promotional content from the Los Angeles Times.