Column: Tiger Woods isn't done. He could win The Masters. Are you kidding me?
Reporting from augusta, ga. —
Barely eight years ago, he was lying unconscious in the middle of a Florida street in the middle of the night, his Escalade smashed into a tree, the car's back window shattered by a golf club, his wife screaming about his mistress.
Tiger Woods was done, and America laughed at his shame
Less than a year ago, he was standing in the middle of a different Florida street in the middle of the night, slurring the alphabet before being led away in handcuffs.
Tiger Woods was done, and America laughed at his mug shot.
Around six months ago, after four back surgeries, Woods shared a belief he might never play competitive golf again, acknowledging he couldn't hit a golf ball the length of a football field.
Tiger Woods was done, and America shrugged, because America was finally done with him.
"Those are some really dark, dark times,'' Woods said.
Fast forward, very fast and far forward, to Tuesday in an amphitheater in the Southern mansion that is the Augusta National media center.
Woods walked into the room and glowed, as bright as the azaleas, as powerful as the scent of pine straw, this fallen man now floating into America's golf cathedral on the precipice of what could be the greatest personal and athletic comeback in American sports history.
Tiger Woods is not done. Tiger Woods can win this week's Masters. Are you kidding me?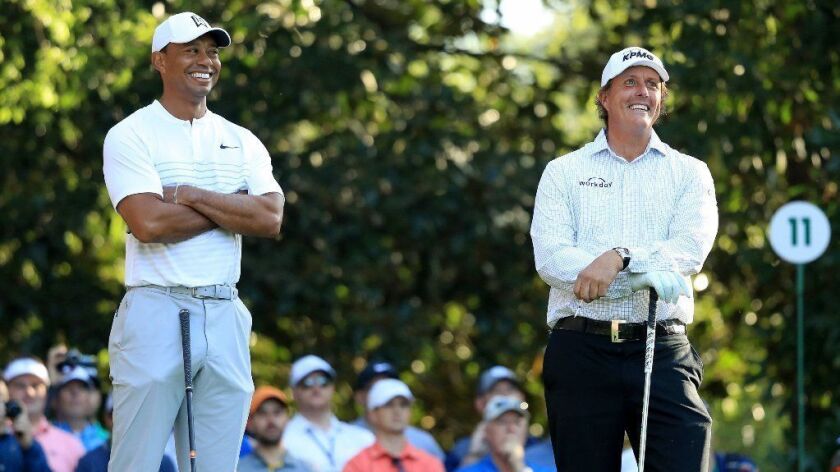 He's fixed his back. He's rediscovered his swing. He's resurrected his swing speed. He's finished in the top five in his last two tournaments, has four top-12 finishes in five events this season, and now seems primed for his first win in five years, and first major title in 10 years, at a place where he's won four times.
"All of a sudden, I have this pop,'' Woods said.
Pop? What? How does this happen? Where did this come from? Can this be real?
"It's crazy,'' said Woods. "I'll be honest with you, it is crazy.''
What's crazy is that Woods is speaking in understatement. Even in a sports landscape that is quick to forgive personal transgressions — even in a medical age when no injury seems unbeatable — what Woods could be doing this week is like Jack Nicklaus making that Sunday putt on the 17th hole in 1986 … blindfolded.
This would be like "Amen Corner" turning atheist. This is akin to Augusta National draping its winners in orange.
Woods used to be the world's most daunting sports goliath, at once swaggering and stony, admired by some, resented by more, feared by all.
Today, with a fused back and receding hairline and disarming smile, he actually has become lovable. Television ratings have skyrocketed, casual attention to the game has doubled, and the crowds are going wild even at the practice range.
"As soon as Tiger walked in, everybody stood up and started clapping,'' said Jon Rahm of a range revival here. "It doesn't happen for anybody else.''
Woods used to be one of the most distant and aloof golfers on tour, feuding with some, ignoring others, known by few.
Now, well, he actually played a practice round Tuesday with longtime nemesis Phil Mickelson for the first time in 20 years. Two guys who once cursed each other were now joking with each other. It was really, really weird.
"I never thought I would see the day, Tiger and Phil playing a practice round at Augusta,'' McIlroy said he remarked to Woods on the practice range.
What's more strange is Mickelson later admitted that during a recent tournament he was cheering for his former rival.
"When he was playing at Valspar … it felt like it was a different time continuum because I found myself pulling so hard for him,'' said Mickelson. "It was unusual.''
It does seem like a different dimension, especially when Woods starts waxing poetically about guys he once tried to destroy.
"We have gone through it a long time, and the better part of 20 years, our friendship has certainly gotten a lot better,'' Woods said of Mickelson, adding, "We're at the tail end of our careers, we both know that. We've had a great 20-year battle, hopefully we'll have a few more.''
So Tiger Woods has finally become an embraceable kid at age 42, and you wonder, is it him, or is it us?
The answer is both. Since Woods ran into his father's arms after winning his first Masters 21 years ago, society has changed, and so has that kid in the red shirt.
The America that is rooting for Woods is a different America than the one that once demonized him. The sexual assault and harassment narratives that dominate today's headlines make Woods' marital infidelities seem mild by comparison. Judgment is no longer so broad because there's so much more to judge.
Eight years ago, months after his infamous fight with then-wife Elin Nordegren, and in the wake of 15 women confessing to having affairs with Woods, then-Augusta National Chairman Billy Payne ripped him in his annual Masters news conference.
"He disappointed all of us and more importantly, our kids and our grandkids,'' Payne said. "Our hero did not live up to the expectations of the role model we saw for our children.''
He wasn't the only one wielding a sword. Many journalists listening to Payne issued the same type of condemnation.
In December of 2009, I wrote, "How many majors must Woods now play before he makes us feel anything other than disgust?"
The bar for disgust has risen greatly since, and Woods was asked Tuesday if he thought he was treated unfairly.
"Yeah, I'm really excited to play the Masters this week,'' he said with a grin, answering by refusing to answer.
Also changing is Woods himself. The back issues have brought him to his knees. The substance abuse issues, which led to last summer's DUI and for which he completed an inpatient drug treatment program last summer, also have humbled him.
When he grew from a kid hacking around the Navy Golf Course in Cypress to the winner of 79 tournaments including 14 majors — making him arguably the second-greatest golfer behind Jack Nicklaus — Woods never called any of it a miracle.
But now, in describing himself, he uses exactly that word.
"The reason why I say I'm a walking miracle is … I don't know of anyone who has had a lower back fusion that can swing the club as fast as I can swing it,'' Woods said. "That's incredible. It is a miracle.''
The real miracle is that for four days beginning Thursday, America will be cheering for Woods to create another one.
Get more of Bill Plaschke's work and follow him on Twitter @BillPlaschke
---
Get our high school sports newsletter
Prep Rally is devoted to the SoCal high school sports experience, bringing you scores, stories and a behind-the-scenes look at what makes prep sports so popular.
You may occasionally receive promotional content from the Los Angeles Times.