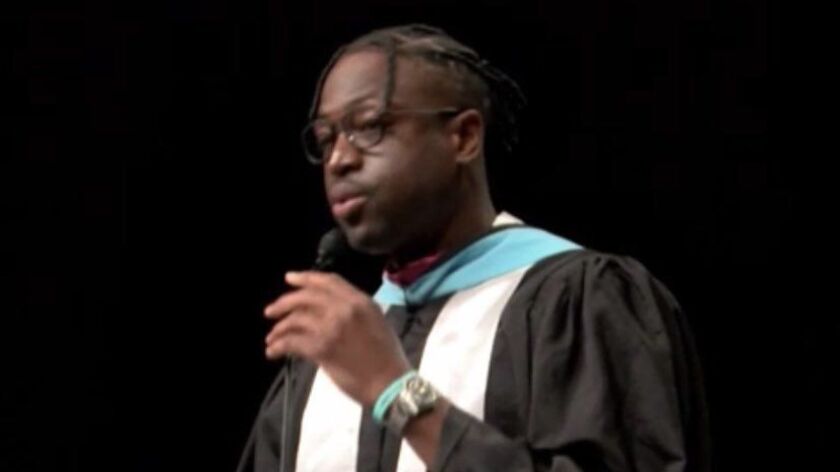 Dwyane Wade, newly retired from the Miami Heat, has a lot of free time on his hands now. He decided to use some of that time to surprise the graduating class of Marjory Stoneman Douglas High in Parkland, Fla., the site of a mass shooting that killed 14 students and three staff members on Feb. 14, 2018. Wade was the unannounced guest speaker at graduation on Sunday.
Wade had visited the school three weeks after the shooting and talked about that on Sunday. "I remember walking to the school, and I remember hearing absolutely nothing. I remember thinking to myself, 'I've never heard this kind of silence before in my life.' I immediately started getting butterflies in my stomach. ... What would I say?"
"I grew up in the inner city of Chicago, and I've experienced a lot of awful things. But I've never experienced anything to the magnitude of that you guys have experienced.
"As I was walking in, students started seeing me, I remember seeing smiles, people running, pulling out their phones," Wade said. "I remember thinking, 'Wow.' It was packed. I didn't expect that."
"I'm proud to say I'm from this state because of you guys."
Good deed
Fort Wayne, Ind., is hosting the 2019 International Blind Sports Federation Qualifying Competition from June 28 to July 9. More than 600 athletes from 40 countries will take part in the event, the largest international event to be held in Fort Wayne. Top performers will qualify for the 2020 Paralympic Games in Tokyo.
City planners are making arrangements to make their city easier to navigate for those who are blind by installing auditory crosswalks to help them navigate the streets around town. The crosswalks, which give an auditory beep and give voice instructions, are being installed at multiple crosswalks around the city at a cost of $6,000 each.
Tiger speaks
Golf swing coach Hank Haney was suspended last week from his show on the SiriusXM PGA Tour Radio channel for saying that a Korean probably would win the U.S. Women's Open and that he couldn't name six players on the LPGA Tour. He then said he would go with "Lee," and if he didn't have to mention a first name, "I'd get a bunch of them right."
Haney was the swing coach for Tiger Woods when Woods won six majors from 2004-10, but Woods has no sympathy for his old coach.
"He deserved it," Woods said at the Memorial tournament over the weekend. "Just can't look at life like that. And he obviously said what he meant, and he got what he deserved."
Haney has apologized for his comments.
McIlroy also speaks
Woods is three major-championship wins away from tying Jack Nicklaus for the most titles in a major. Woods has 15, Nicklaus has 18.
But Rory McIlroy, also at the Memorial this week, finds another record Woods is closing in on to be even better than winning 15 majors. Woods has 81 PGA Tour victories, one short of the record held by Sam Snead.
"Especially this day and age, I think it's more impressive than his major tally," McIlroy said. "Eighty-two wins ... if you're around for 20 years, that's four a year, every year. It's very, very impressive. I think if you're winning multiple times a year, you're doing pretty well. So to have the average that he's had — eight-win seasons, nine-win seasons — if he does pass that record of Snead's ... it's almost more impressive than the 15."
---