Joey Logano gets third straight NASCAR win in wild finish at Talladega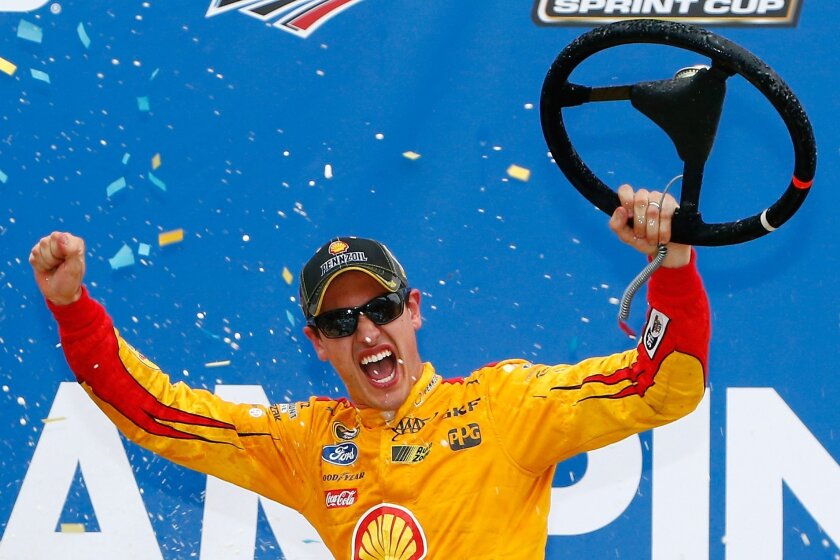 Reporting from Talladega, Ala. —
The chaos came in Talladega, as it always does. But it wasn't the usual flying collection of bumper cars.
Joey Logano's third consecutive NASCAR Sprint Cup victory was etched in the technicalities of an aborted attempt at a green-white-checkered finish Sunday afternoon under a shady caution caused by Kevin Harvick.
That was not to be confused with what everyone thought was the first attempt at the only green-white-checkered finish. NASCAR officials ruled that pack leaders Logano and Dale Earnhardt Jr. had not reached the start-finish line, negating that effort.
Confused? Check out the rants in cyberspace over NASCAR's on-the-fly calls. Regardless, Earnhardt ended up in Talladega's bridesmaid suite, a second-place finish that knocked him out of the Chase for the Cup playoffs on a day he needed a victory.
"When he gave me the bottom, I was thinking this is mine right here," Earnhardt said. "Me and the 2 [Brad Keselowski] were going by [Logano] when the caution came out. I was feeling really good about my position in the restart."
"You thought you had him?" he was asked.
"Hell, yeah, I had him," Earnhardt said. "Of course, we had him."
Other than Logano, who had already clinched, 11 drivers came here trying to advance to the next round of the playoffs. Eight advanced while Earnhardt, Denny Hamlin, Matt Kenseth and Ryan Newman were eliminated.
Logano, Jeff Gordon, Carl Edwards, Kurt Busch, Kyle Busch, Martin Truex Jr., Keselowski and Harvick will move on to Martinsville Speedway this weekend still having a shot at the season title four races down the line in Homestead, Fla., on Nov. 22.
But the man-down situation that stings the most for NASCAR Nation is Earnhardt, who had done a masterful job coming back from a one-lap deficit after his pit crew was penalized during a stop.
Junior was all the way back in 29th after his issues and a lap down before charging to the front.
"I told myself I was going to work as hard as I could every single lap," he said. "I've never been in a situation where you have to pass guys like that. I crawled and crawled and crawled and got back into the top three, finally into second."
And then into position for a run at victory, until Harvick may or may not have spun on purpose because his car was having engine problems and he probably would have been bounced from the Chase field had he tried to complete the last lap.
Presume that Harvick won't get tagged with a penalty for causing a caution after bouncing into Trevor Bayne's car. Intent would be very hard to prove.
"We don't see anything there that is suspect so far," NASCAR President Mike Helton said. "But I've been around long enough for something to crawl out of the woodwork."
Said Bayne: "That's a crappy way for Harvick to have to get in the Chase — to wreck somebody, which I believe to be on purpose. Maybe it wasn't."
And there was this Twitter explosion from Hamlin: "What a joke we have a car with no motor wreck the field to end the race. Complete crap. Sorry to anyone who spent $ coming to this circus."
Free from the fray — at least most of it — was Logano with his three consecutive victories.
"We have confidence," Logano said. "We have momentum."
---
Get the latest on L.A.'s teams in the daily Sports Report newsletter.
You may occasionally receive promotional content from the Los Angeles Times.