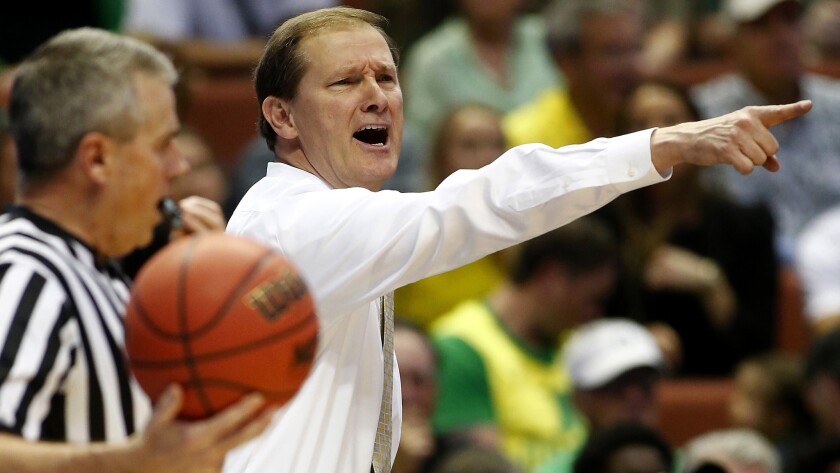 Lon Kruger and Dana Altman are one win away from the Final Four, and each man can't bare to lose.
They can hardly stomach a win, either.
Kruger, the Oklahoma coach, gave Altman, the Oregon coach, his first Division I job, as an assistant at Kansas State. In return, Altman brought his star junior college player, a young man named Mitch Richmond. In their brief stretch together, along with point guard Steve Henson, they built one of the best stretches in Kansas State basketball history.
Both coaches moved on, but remained what Kruger called "best friends." They're both naturally calm, studiously dull and undeniably effective. They talk every 10 days throughout the season, play golf together and have avoided playing each other throughout their careers — they didn't want one man to lose.
But they couldn't avoid this game, the West Regional final on Saturday at the Honda Center, one of the biggest games of either coach's career.
It has put Richmond, the former Laker, in a bind.
"I wanted to wear an Oklahoma shirt and an Oregon shirt," Richmond said.
Richmond, a six-time NBA All-Star who averaged 21 points a game in 14 pro seasons, knows he probably wouldn't have had a Hall of Fame career without either coach. And Kruger and Altman know their careers were sent into orbit by Richmond.
"I owe so much of my career to Coach Kruger," Altman said Friday. "I probably owe more to Mitch."
The path that brought them all together began with an awkward exchange at a Missouri airport. Richmond flew in to visit Moberly, the community college coached by 26-year-old Altman. The two had spoken before, but never in person. Altman greeted Richmond. Richmond was confused. Who was this baby-faced kid?
"Where's the coach?" Richmond said.
Altman: "I'm the coach."
Richmond: "OK. Where's the head coach?"
They drove 45 minutes to the campus. They bonded.
Before his first season, Richmond lived in Altman's basement. They worked out once each morning and once at night, tweaking Richmond's shot. Altman's wife would cook. And Altman would bug Richmond about his grades.
That was Altman, firm but caring. Richmond learned he could coach, too. Moberly was getting too good for junior college.
After Richmond's second season, Kruger took the head coaching job at Kansas State, and he told Altman he wanted him as an assistant.
"I'm not sure he hired me," Altman said. "I think he wanted my team."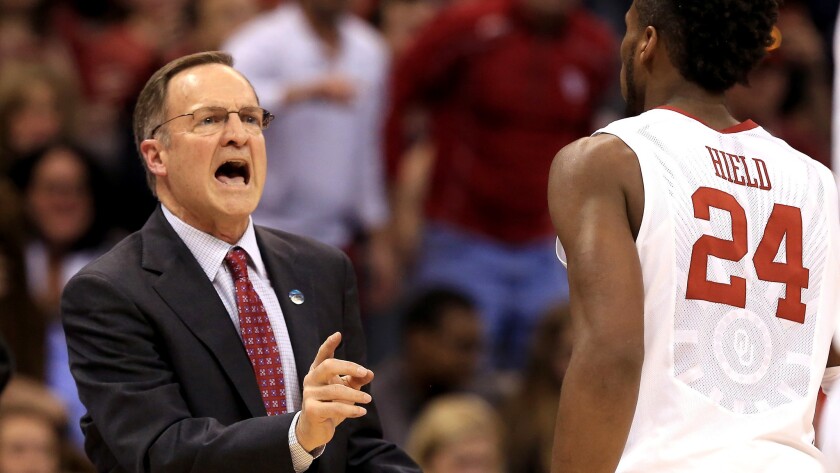 Altman brought along Richmond and several other players. Kruger told Richmond he was going to build the team around him, and Kruger was right. In their second and final season together at Manhattan, with Henson playing point guard and distributing heavily to Richmond, they reached the final eight of the 1988 NCAA tournament before losing to eventual champion Kansas.
Altman tired to soak up Kruger's basketball knowledge. Kruger, Altman said, "would see things during a game and say something, and I'd nod my head like I knew what he was talking about — and run to the film room and see if I could see it."
It is easy to see why the coaches have remained friends. They are cut from the same Midwestern cloth.
Kruger was one of six children born in Silver Lake, Kan. His father, a mailman, taught him many things, but above all else, he taught baseball and humility.
"If we ever sat down at the dinner table and said 'I,' he'd say, 'Who? What? It's we, OK?'" Kruger once told The Oklahoman. "He always said if you do something well enough, others will take notice."
He remained his father's son. Once, at Oklahoma, Kruger and his coaching staff were driving back from lunch and passed, on the side of the road, a student lugging groceries. A bag ripped and spilled on the ground. Kruger stopped, pulled over and helped clean up. "Who does that?" Oklahoma assistant coach Chris Crutchfield recounted to Sports Illustrated.
Kruger was a natural athlete. The Dallas Cowboys once invited him to try out, and he played a season of minor league baseball. (He had a 2.81 career earned-run average.)
Compared to Kruger, Altman was a grinder. Born in Crete, Neb., Altman made it only to the Division II level, where he was a "bad player," he said. But he was a quick study as a coach — a lot like Kruger.
Both are polite and reserved.
"They're just steady," said Henson, who played seven seasons in the NBA. "Really, really steady."
They are so placid that it can seem neither is capable of anger. But Richmond knows better.
In his two seasons playing under Kruger, Richmond never heard him swear. But when he got really angry, "his lip would kind of twist up, and he'd say 'Gosh darnit!'" Richmond said. "You'd know he was pretty pissed at you."
Altman, meanwhile, still had some of his youthful brashness. Winters got cold in Kansas, and Richmond came from Florida. He wasn't used to it. Altman would run through the snowdrifts, and then, Richmond said, "He would always take off his shirt and call us" sissies.
Neither is a splashy name in the coaching world. But Kruger is 38th on the all-time Division I wins list, with 589. Altman is 41st, at 564.
Kruger is the only coach to win an NCAA tournament game at five different schools. He reached the 1994 Final Four with Florida.
Altman has won three of the last four Pac-12 coach-of-the-year awards but has never reached a Final Four.
Each has been around long enough to know a shot like this comes only so often. And each knows how special it is that it comes among friends.
Richmond will be there to watch. His son, Phil Richmond, wants to be a coach, and Mitch Richmond couldn't think of anywhere else to send him but Oregon, with Altman. Phil Richmond is now a manager turned walk-on for the Ducks.
Henson will be there too. He's an assistant coach for Oklahoma.
"I knew I wanted to coach," Henson said. "And I knew I wanted to coach for him."
The game is something neither coach wanted, but Altman said, "If we are fortunate enough to win, I'm sure he'll be happy for us. And if we lose, I know I'll be happy for him."
Anyway, they'll have to put their feelings aside quickly. This summer, after the recruiting season, both have booked a vacation to Scotland to play golf.
"We're doing that, I guess, regardless of what happens tomorrow," Kruger said. "I still plan on doing it. I hope he does, too."
Follow Zach Helfand on Twitter: @zhelfand
---