Noelle Quinn, a legend at Bishop Montgomery and WNBA champ, develops another talent: Coaching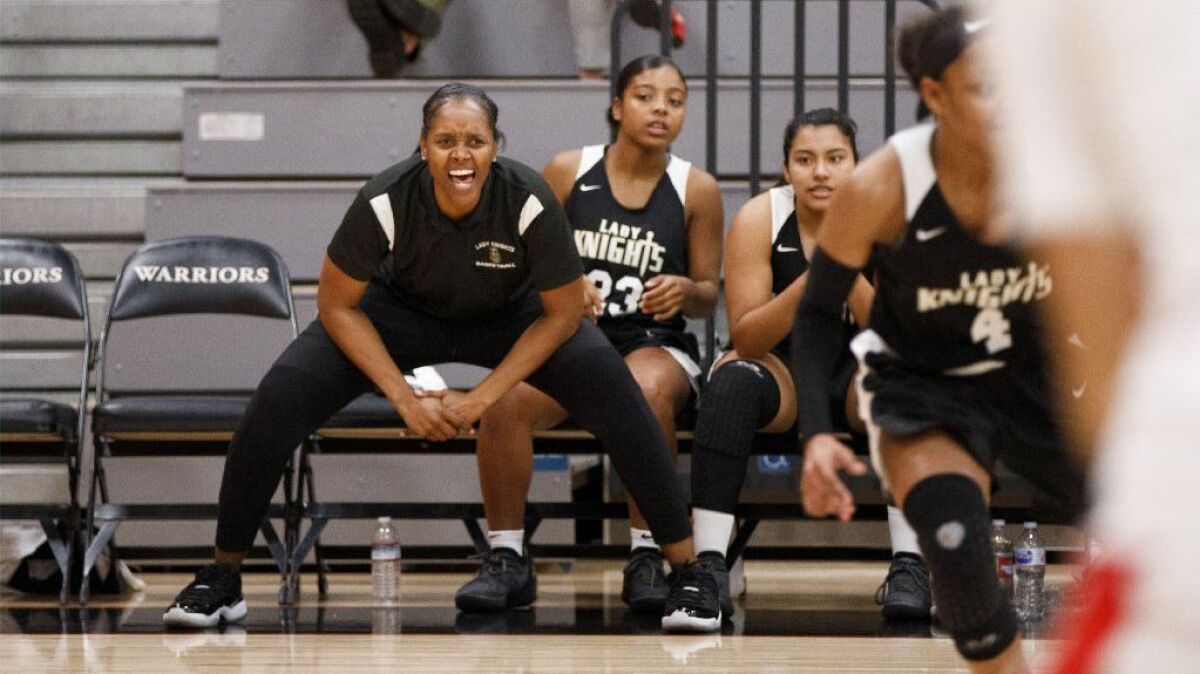 Alongside lunch tables nestled between the white cinder block buildings of Bishop Montgomery High in Torrance, one gray door is propped open wider than the others.
Inside a WNBA champion sits at her desk.
Seattle Storm point guard Noelle Quinn leaves her office door ajar as an invitation her players regularly accept. At least once a day, members of the girls' basketball team visit Quinn, 33, who is in her third year coaching the team, her second as solo head coach.
The players usually come during lunch, sometimes between classes or before practice. Quinn cracks jokes with them, and asks about school and their families.
"It's nice that she always leaves her door open, because she knows we want to talk to her," senior Kayla Padilla said. "So that's cool that she's so open to us hanging out with her."
Quinn runs sprints with the players and goes against them in drills, emphasizes academics and builds relationships beyond basketball.
"I think they understand that my heart is fully in it," Quinn said, "and I'm fully invested in them."
Quinn only discusses her WNBA career if she can use it as a lesson. But to see Quinn's legacy, her players only need to look up in the gym at the 15 banners surrounding the court that Quinn helped earn as a player at Bishop Montgomery.
Those accolades include five Southern Section player-of-the-year banners (four for basketball and one for volleyball), four for basketball Southern Section and state titles, three more for volleyball, and three for Quinn's McDonald's All-American selections. Behind a basket, a large black frame holds her Bishop Montgomery, All-American and UCLA jerseys — the only player in school history whose jersey has been retired.
"This is Noelle's school …" said Camille LeNoir, the girls' basketball assistant coach. "She's a living legend. They're being coached by a living legend. I just think that's something special."
This is Noelle's school … She's a living legend.
— Bishop Montgomery assistant Camille LeNoir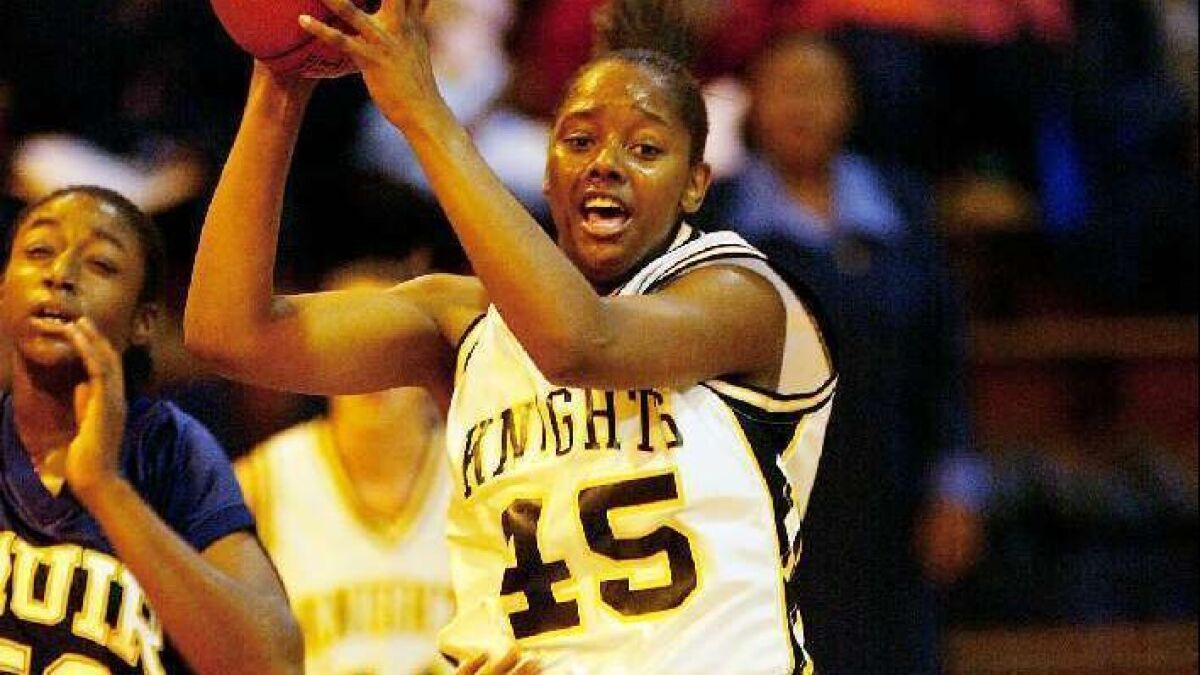 From a 31-point game to a school-record six straight games with more than 20 points as a freshman, Quinn maintained her momentum at UCLA. She earned Pac-10 freshman-of-the-year honors and was a three-time All-Pac-10 first-team selection and two-time All-America honorable mention. The Minnesota Lynx drafted Quinn with the No. 4 overall pick in 2007; her WNBA career has spanned 12 seasons.
Bishop Montgomery faculty followed Quinn's career through social media and text messages, and she visited the school when she was home to see teachers and watch her niece's high school basketball games. As a player for the Sparks from 2009-11, she regularly met with the girls' basketball team to work out and impart advice.
Quinn had not given coaching much thought, despite how many people told her otherwise. When she was on the bench, she strategically sat close enough to hear the coaches react and make adjustments, simply out of curiosity.
Seattle coach Dan Hughes could see Quinn's potential even before he started coaching her in 2018. He noticed that she could see where other players should move before they did, sense when the team needed a timeout and direct her teammates through plays.
"She seemed to be able to communicate the game as it was playing," Hughes said. "And that's something that you just don't see all the time."
Said Quinn: "Coach's mind in a player's body, I guess you can say."
After the 2016 season, Quinn decided to forgo playing overseas for the WNBA's internship program, where athletes work full-time in the off-season to prepare for their career after basketball. Working as an athletic director intrigued Quinn, so she contacted Bishop Montgomery.
She seemed to be able to communicate the game as it was playing.
— Seattle Storm coach Dan Hughes
She pushes us every day. I couldn't ask for a better coach.
— Bishop Montgomery senior Kayla Padilla
The principal hired her as an assistant athletic director but asked an additional favor of Quinn — to be the co-head coach of the girls' basketball team. Quinn questioned her coaching ability but agreed, bolstered by the principal's faith.
Her self-doubt faded once she stepped on the court.
"I was nervous that first game, I remember, but it just flowed," Quinn said. "It was like, oh, OK. I know what people are talking about. I am a coach."
In Quinn's first season, Bishop Montgomery won a Southern Section championship. The Knights won the Del Rey League last season and are 10-4 this season.
Quinn has molded her coaching style around her favorite traits in coaches she admired — remaining calm like her high school basketball coach, demanding hard work like her volleyball coach, building relationships beyond basketball like her coach at UCLA.
"It's rare when you find coaches that understand not only are they coaching, but they're also a role model for the kids," Bishop Montgomery athletic director Eric Wood said of Quinn.
She uses her WNBA connections to punctuate lessons, calling Storm teammates Breanna Stewart and Jewell Loyd on FaceTime to talk to the Bishop Montgomery players.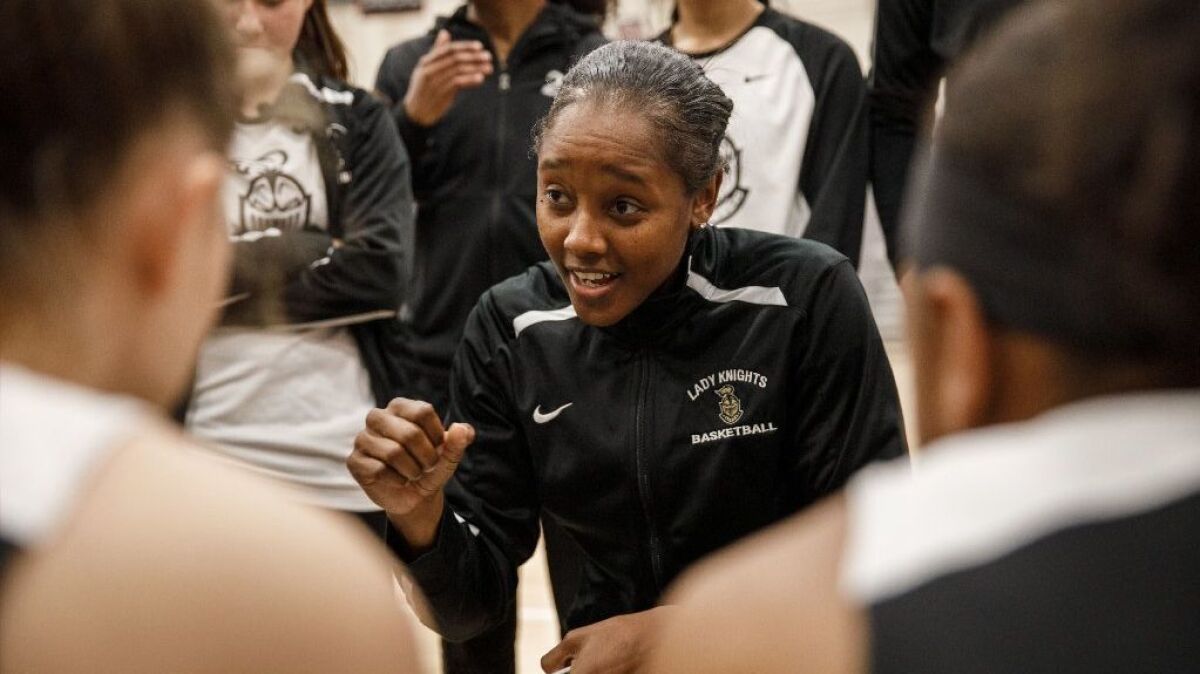 "Sometimes you think it just happens," Padilla said, referring to the success of Quinn and the Storm. "But she really lets us know about the hard work that goes into it and the hard work that's required to achieve such success. So making those goals realistic for us and sharing her experiences … makes it worthwhile."
Hampered by injuries, Quinn averaged only 9.1 minutes per game with the champion Storm last season. But she made up for her lack of play time with her leadership. Hughes saw it after timeout huddles, before games, at airports and hotels. Quinn's conversations with her teammates prepared them to execute plays.
"That's why a lot of people, including myself, think that Noelle will be a very good coach," Hughes said. "There's a lot of nondescript moments that have a lot to do with players getting in the right spot for the moments that are very public. And I saw a lot of examples of that with Noey."
At practice, Quinn addresses her players conversationally as she corrects their technique or implores them to play harder. When Quinn speaks, the court is silent. When a drill is in progress, the athletes are engaged. But in between sprints she laughs with them, pairing her expectations for intensity and punctuality with jokes and high-fives.
"She pushes us every day," Padilla said. "I couldn't ask for a better coach."
A couple of years ago, the Storm talked to Quinn about joining their coaching staff once her playing days are done. She said her ideal situation after retirement would be just that — working for the Storm during the WNBA season and for Bishop Montgomery in the off-season. But she has learned from her unexpected passion for coaching to plan for the future with flexibility.
Quinn is still fine-tuning her coaching philosophy, but she knows her goal: to give her players knowledge that applies beyond the court.
"I always tell the girls it's not about just being the best basketball player," Quinn said. "It's about being well-rounded young women."
Get our high school sports newsletter
Prep Rally is devoted to the SoCal high school sports experience, bringing you scores, stories and a behind-the-scenes look at what makes prep sports so popular.
You may occasionally receive promotional content from the Los Angeles Times.